Who is Gabbie Hanna and why is everyone on TikTok rinsing her?
I have no idea what's going on but these memes are 🔥🔥🔥
You might have been wondering why your TikTok For You page has been overloaded with audios of a woman talking about high school bullies, screenshots, poison in her brain and other equally bizarre stuff. Who is this woman? And why is TikTok going in on her so much now? If you were into Vine back in the day or if you were a peruser of terrible mid 2010s YouTube then you'll recognise the dulcet tones of Gabbie Hanna straight away. But if you didn't grow up in the worst corner of the internet, here are the salient points:
Who is Gabbie Hanna?
Gabbie is, like Logan and Jake Paul, an ex-Vine star turned YouTuber. She specialises in vlogging, podcasts, beauty and occasionally making pop music.
Why are people making memes about Gabbie Hanna on TikTok?
Much of the Gabbie-rinsing began when she cryptically tweeted to say something might happen to her and  that it wouldn't be an accident if so, but it doesn't stop there.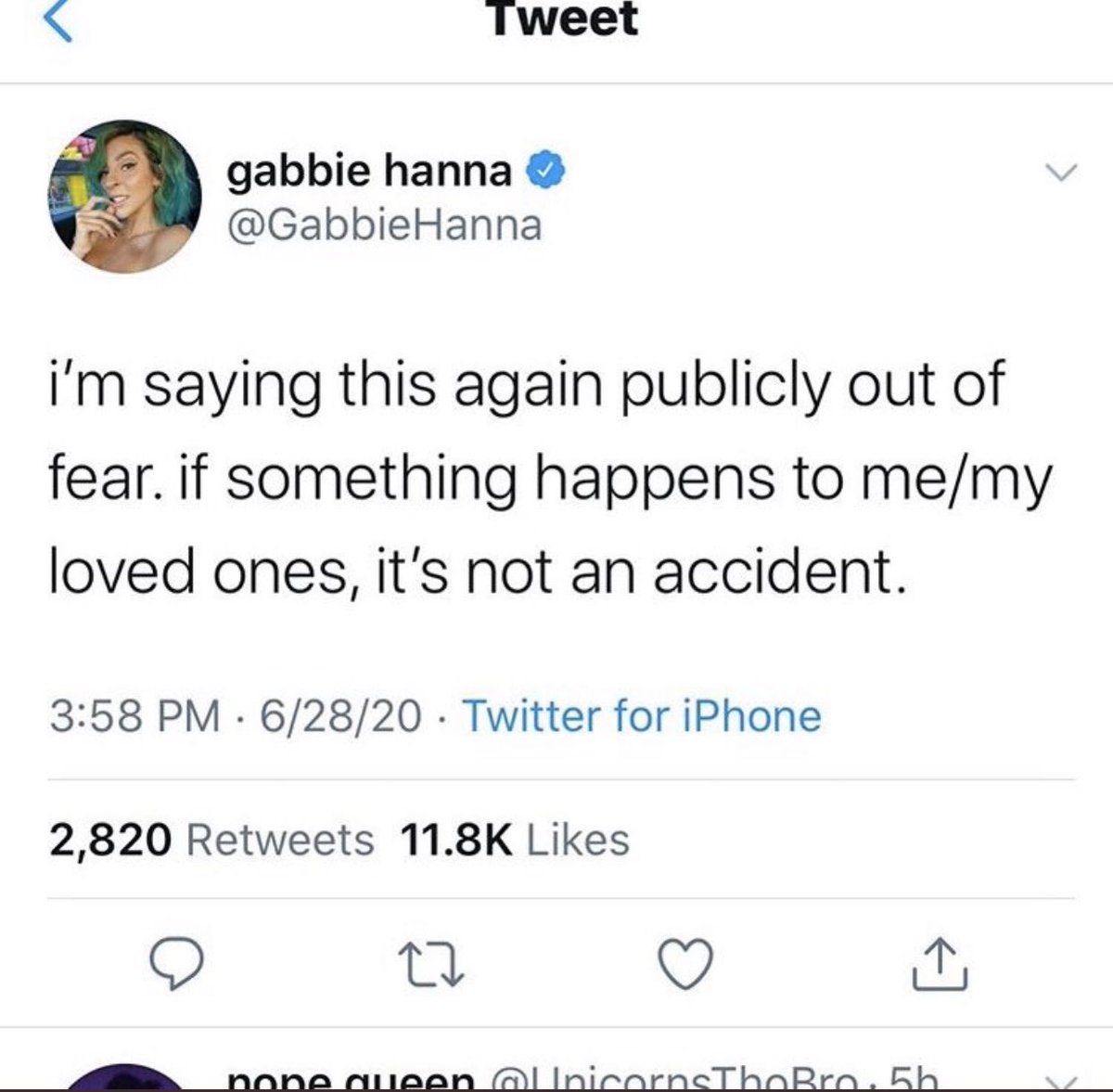 More recently, Gabbie has spoken on her YouTube podcast Box of Thoughts about ongoing internet beef between her and fellow YouTuber Trisha (among others). I'll be real with you, it's all super tedious, petty, and like everything on YouTube is served up multiple hour-long videos which aren't much fun to delve into.
In the video (47:50) she says: "I'm not gonna show you the facts and the evidence because I'm 29 fucking years old. And I'm not gonna sit down and make a video with screenshots exposing my bullies. These are bullies. These are high school fucking bullies and they wanna come at me saying 'you're 29 years old how you're acting'? Fuck you. You're in your 30s."
Later (53:27), in a display which can only be described as beyond self-parody, Gabbie breaks off a sentence and starts singing lyrics from her own songs. The other hosts look very perturbed by the whole thing. You cannot make this shit up.
We're not done, either. Another old clip of Gabbie's is going the rounds on TikTok in which she reads her own poetry. One in particular has come in for a kicking, which reads: "I climbed out of my head and watched myself implode. A thought without a body oughta be a shot to take a load off. My brain is poisoned and I'm searching for the antidote, but every time I find it my defences scream, "Oh no you don't! Woah."
The clip is taken from one of Gabbie's attempts to release a diss track directed at herself and… well… yeah. Honestly the whole backstory of the drama isn't all that interesting and general consensus (YouTube commenters) seem to agree that Gabbie is just a ridiculous character. But now that you're as caught up as you need to be, you're ready to indulge in the memes.
All the best TikToks about Gabbie Hanna
Related stories recommended by this writer:
•
•
•