These 33 memes about Gigi and Zayn's baby rumours are even better than the news itself
Can't believe Zayn's having a baby with someone else how could he x
Last night, we were all equal parts over the moon and shook to our cores when it was announced that Gigi Hadid and Zayn Malik are apparently expecting their first child together. Obviously the internet went into meltdown and Gigi and Zayn memes flooded everyone's feed.
The entire world can't get over the power this unborn baby already has. I mean, its parents would be Zayn and Gigi, its aunt and uncle Bella and The Weeknd, uncles in every member of One Direction and pals like Taylor Swift. But let's also take a moment for the 1D stans who have all simultaneously ripped down their Zayn posters this morning out of utter disgust that he could even THINK about having a baby with someone that wasn't them. Unthinkable.
Here are all of the best Gigi and Zayn memes reacting to the news.
1. Can we just let this sink in for a moment
2. Lmao don't mean to brag x
3. I'M NOT CRYING YOU ARE
4. Think about it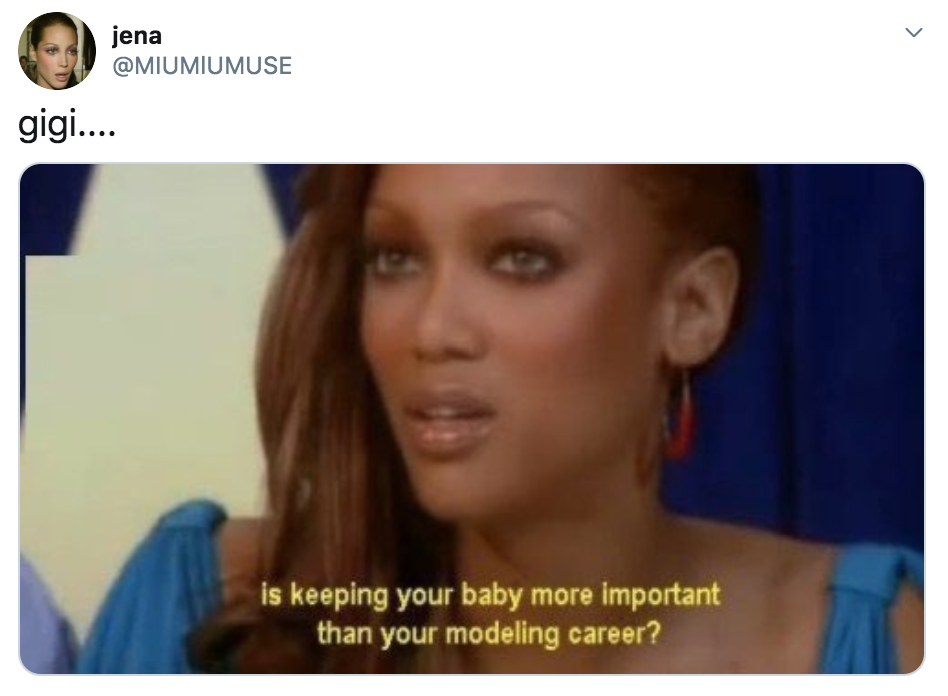 5. The power is unreal
6. Hahahaha yes it is ME
7. He cried. A million per cent he cried
8. Can't believe you would do this to me???!
9. We've all got to start somewhere
10. I've never been so jealous of an unborn child?!
11. YOU JUST DON'T UNDERSTAND ME
12. I'm not sure how to process this news
13. Hi I think I'd be great x
14. A CONSPIRACY
15. This baby is such a winner I can't
16. Yikes
17. The biggest news of the year !!
18. hahHAhHAha wbu x
19. THE WORLD IS NOT FAIR
20. I am not ok with this
21. Nope, cannot relate
22. Big genetics here
23. I mean, obviously
24. Yes, still not over this
25. Oops over did it x
26. An unbothered king
27. Interesting x
28 HOW. COULD. HE ?
29. I'm free like… forever?
30. The crown has been taken
31. Pretending I'm coping x
32. AND I NEVER WILL
33. Lol old news x
TMZ has reported Gigi is 20 weeks pregnant and both of their families are said to be "very excited" with the news. Honestly, I am shook.
Related stories recommended by this writer:
• Gigi and Zayn are reportedly expecting a baby!!!
• Meet the kids of Liam and Noel Gallagher who are far cooler than you will ever be
• Ok so just who is this viral 'giant baby' everyone has gone wild for?