Revealed: All the universities that aren't providing no detriment policies
42 universities have failed to provide a safety net for their students
| UPDATED
42 UK universities have failed to provide blanket no detriment policies for their students, a policy which means all students' grades cannot fall below their current average.
Most universities have provided some form of support amid the crisis, including extending their extenuating circumstances applications or allowing students to enable a "no detriment" policy themselves by claiming the pandemic has adversely affected their work – which they can apply for before or after they sit an assessment.
However, nearly 70 per cent universities in the UK have implemented the popular "blanket" no-detriment policies, ensuring that students affected by the pandemic will automatically have their degree grade frozen, meaning they can only improve on it, but it cannot fall below its current level.
Despite the majority of universities adopting this policy to ensure students' grades don't suffer from the pandemic, some universities are continuing without implementing a blanket no detriment policy. The Tab can now confirm that the universities that have not adopted the policy are: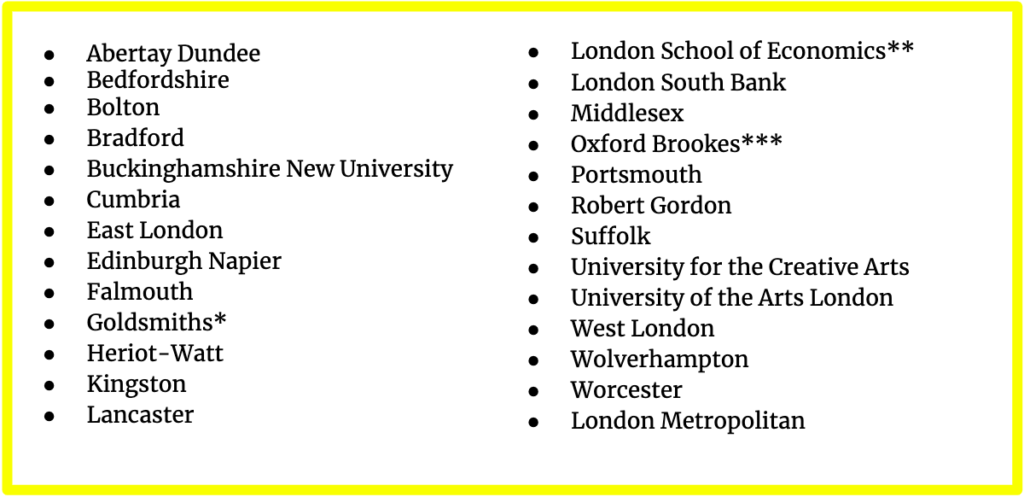 23 out of 24 Russell Group universities have already adopted the policy – the London School of Economics being the only one without the policy. One second year LSE student, Melissa, told The Tab: "The lack of no detriment policy is just shocking and disappointing, given the actions of other unis such as UCL and the fact the LSE cohort is so small, it will have the most impact on marginalised groups. Personally, I don't have a desk or place to really study quietly at home, I'm really scared about my grades."
Another student, Emily, studying International Relations and History at LSE, told The Tab: "We just find it incredibly unjust, and this is such a simple and widely-endorsed policy that would put so many students at ease. They pride themselves as a leading and trendsetting institution, so it's odd that they are so far behind so many other unis in this instance."
Some institutions have attempted to justify their lack of no detriment policy, from devaluing degrees, to finding difficulty implementing a "one size fits all" policy.
Portsmouth has the highest number of signatures on their petition for a no-detriment policy to be adopted, with over 8,000 signatures. Their Vice-Chancellor was prompted to release a statement on the matter, saying: "No detriment risks undermining the integrity and lasting values of our graduates' qualifications relative to individuals graduating in other years. In entering a more-than-likely depressed job market, this year's graduates will face enough disadvantages without employers having questions in their minds about whether someone obtaining, say, a 2:1 has demonstrated the same academic and all-round academic ability as someone obtaining the same qualification in other years."
A final-year student, studying Business Information Systems at the University of Portsmouth said: "Universities that are deciding not to implement the policy are putting their students at a disadvantage. There are students who may be further disadvantaged, for example having poor home work environments to work or complete exams. Students feel as if they have been disregarded and ignored during this pandemic."
The University of Oxford only implemented the policy in the past 72 hours – however, it only applies to students with a current average of above 50 per cent. Before they implemented the policy, one first year Oxford student, Georgia, told The Tab: "A lot of students I've spoken to felt let down by the slow response. The solution they've found is a reflection that a large cohort of students are from privileged backgrounds – it discriminates against those who don't have the resources, or a stable family life. They have been neglected by the lack of a more secure policy."
Another student, from Lancaster University, said: "It's just so confusing. Some departments seem to be acting like they're putting a no-detriment policy in place, and some don't, and the university itself hasn't told us a thing.  It's even more unhelpful that we can't just choose to sit one or two exams, either – it's all or nothing. Lancaster bangs on about being a Top 10 university, yet it isn't acting like the rest of them! It's a bloody disgrace."
*Goldsmiths has introduced "Exceptional Academic Regulations" however this is not a blanket policy
**LSE is allowing students to defer exams until the next available assessment point, but their Students' Union is still lobbying for the safety net policy to be introduced.
***Oxford Brookes has introduced a safety net policy which protects students grade average should they contact them feeling that it has lowered.
The Tab have contacted all universities involved to clarify their policy – either they did not respond, responded and confirmed it, or directed us to their website.