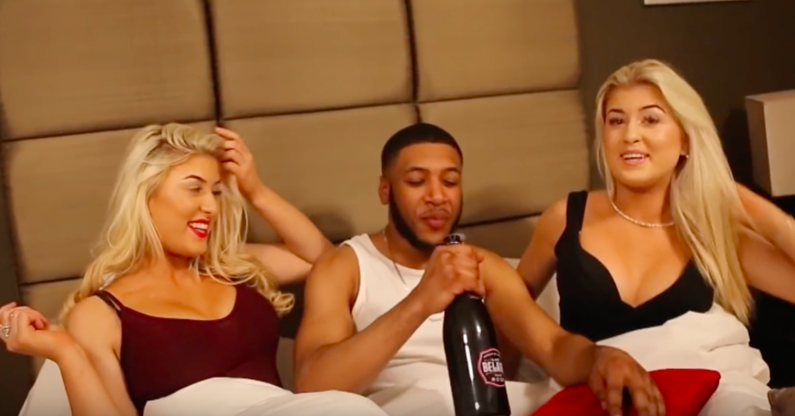 A clip has surfaced of the Love Island twins in a budget music video
A clip has surfaced of the Love Island twins in a hip hop video and it's quite something.
Titled: "LOVE ISLANDS JESS AND EVE GALE APPEAR IN SAUCY BUDGET MUSIC VIDEO EXCLUSIVE", the video shows Jess and Eve Gale in bed with a rapper as he drinks champagne from the bottle, and dancing with him at a house party.
Posted by what appears to be a label called Good Kush Music, it's full of the kind of low-budget thrills you'd expect:
As the video begins, text swirls around the frame in excellent Movie Maker fashion.
For those overwhelmed by the shimmery effect, the text reads:"A DANK FILMS PRODUCTION", @kushsogud, @maestroartist. Neither account exists on Instagram, and @maestroartist on Twitter spend most of their time promoting ballet.
After the first shot of someone's bum being squeezed, you see the twins in bed with the rapper as he drinks from the bottle. Within the first few seconds the twins touch their hair.
He raps "when we fuckin girl I've gotta bust quick, in and out the alley cah I'm tryna get rich", whilst other lyrics reference Hotline Bling, so it's definitely post-2016.
Anyway, when he gets to "back so curvy", the video cuts to the twins doing this.
Later, he's at a party with the twins, having a jolly good time.
There's a very brief shot of them in a not particularly appealing shower.
In a break from the mild sleaze, there's a pillow fight. Fun.
By the end of the video they're just chilling in bed again.
You know what? Fair play to the twins. They manage to mix being stars of low budget hip hop videos and working as VIP hostesses with degrees at two of the country's most demanding universities.
Related stories recommended by this writer:
• We found old pictures of the twins Eve and Jess and wow they have changed
• Everything we know about what the Love Island twins were like at uni