If you're a 'sad boy' you have definitely done all of these things this summer
From the disappointment of the World Cup to Love Island, summer 2018 has been the summer of the sad boy
The pizza boxes piled high have been thrown away, the empty beer bottles covering the front window are gone, natural light enters the room for the first time in months, illuminating the dust in the air. The sad boys are moving home for the summer.
One solitary, disgusted girl was brought back to that house after you broke up with your girlfriend you'd been with since sixth form. The house was cleaned, like, once, when there was a house viewing – so many memories.
But now summer is here, and the journey of the sad boy continues. This summer, this summer of 2018, is the summer of the sad boy and this is how they've decided to spend it.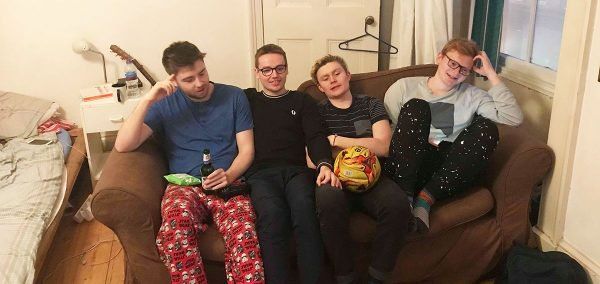 Football was coming home, but then it wasn't
You had a routine and everything – wake up for the lunch time kick off, wait for your Mum to come home from work, watch the afternoon kick off, have tea that your Mum has cooked, go to the pub with the boys for the evening kick off. Every. Single. Day.
Then England came along, our brave English boys, and they stole our hearts. They stole our hearts and they captured our imaginations – Harry Maguire and his planetary head, Jordan Pickford screaming "fuck off" like an overly-committed Sunday League manager, Gareth Southgate making waistcoats kind-of-cool-but-not-that-cool – this was our World Cup.
And now it's over. It's over and, unlike the old sad boy house, it's done and dusted. This is the sad boy summer – and it was basically over when England lost in the semi-final.
Love Island made you forget how desperately hopeless your own love life was
I mean we all got overly into Love Island, but somehow sad boys got into it more than they got into eating pasta straight from the pot because it saves using a plate. 57 consecutive days, nearly two months, saying "she's fit" over and over again, like Love Island muscle memory.
Spending all summer hiding a smoking habit from your parents
"I'm just going for a walk", or "Do we need anything from the shop?" become commonplace. Mum will think she has such a helpful boy, offering to go to the shop for her, her little man, she's so glad you don't smoke.
But you do smoke – the worst roll ups anyone has ever seen. Summer will be spent hiding the fact from your Mum, but your Dad will somehow just know, but you don't know that he knows, he just knows, and Mum will be blissfully unaware that her son is smoking the most offensively rolled cigarettes she'll ever see.
What would she be more disappointed about – the fact that her son smokes, or the fact that he's shit at rolling? I think we all know the answer.
Using Mum's expensive body stuff instead of Radox 2-in-1 and now you never want to go back to not smelling GREAT all the time
Who knew actually making an effort with your grooming regime might actually pay off?! Instead of using the same Radox 2-in-1 shower gel and shampoo all year, just try something new!
At home there's access to a whole range of posh, expensive, non-Radox 2-in-1 products available. It starts with some Body Shop shower gel, oh wow, it smells so good, you can really smell the tea tree, it's tingling all over your body. Then there's the L'Occitane shampoo she saves for special occasions, your hair has never felt so revitalised. You're feeling fully pampered, ready for a hard days work of FIFA and not putting the washing out.
Big lads holiday to Amsterdam! With the lads!
Maybe it wasn't Amsterdam, maybe it was Prague, maybe it was Berlin, who knows, but either way there's a big lads holiday with the big lads. There's cheap European lager with 'the boys™', there's a big sad boy group photo in front of some graffiti. I know because I've seen it on your Instagram captioned with 'Amsterdam away with the boys™'. Every single one of you posted that photo. It's inescapable.
Going to your local Wetherspoons with 'the boys™'
Everyone has a local Wetherspoons, the great flag bearers of Brexit and shit onion rings. Once you've gotten bored of playing FIFA every night, after several failed plans to get out there and make some plans with 'the boys', you'll all finally get your act together and go to your local Spoons until it closes.
Fortnite is still the most culturally relevant thing and it flows through all aspects of your life
I've never played Fortnite, all I know is footballers love using Fortnite dances as celebrations and for that reason they should not receive footballers wages – give footballers who don't do Fortnite dances when they score footballers wages.
Sad boys will spend a large portion of their summer playing Fortnite because this is what sad boys do, they play Fortnite and they talk about playing Fortnite. Good luck talking to your Dad about Fortnite.
Waiting for Mum to get home everyday to cook tea
A sad boy's diet consists of frozen pizzas, ready meals, pesto pasta, and cereal at times of the day when cereal is not meant to be eaten. But returning home offers an escape from that life.
You know the score – Mum gets home at five, ask what's for tea maybe, I don't know, fifteen minutes after she gets back so as not to draw attention to the fact that you are hungry and have not cooked for yourself, tea on the table by half six. That is one sly sad boy.
Got a shit part-time catering job which you hate
You get a text from your boss asking you to do a catering job in a barn in the absolute middle of fucking nowhere. And you will go. You'll put on your black Burton trousers, white Primark shirt, black Topman skinny tie, and you'll go. You'll go and middle-aged women will flirt with you. You'll go and you'll get paid a small-to-medium amount of money to spend on baccy and cans. Fair play.
Dad will always want to chat about sports, he wants to reconnect, a bit of father-son bonding
"Hey son, want to go to the pub?" Dad will ask one night, popping his head around the door. In the pub with your Dad, you have a pint of Amstel, the lager of the sad boy. "So," says your Dad. "So." "How do you think the team will do this year?" he'll ask. This is the Dad chat, you are bonding with your Dad, bonding over secretly using your Mum's toiletries.
The torn Stone Roses poster you've had for years keeps falling down and you, without fail, keep putting it back up again
You bought it when you first went to uni to make your walls look a little less bare, like how some people buy fairy lights or cushions or just anything with a little personality. But no, you went to HMV and you bought a Stone Roses poster and you stuck it right in the middle of the wall. So now the walls look bare but with a fucking poster right in the middle of it. It looks worse.
Now it's come home, all dog-eared and creased, and you stuck it right in the middle of your newly redecorated room at home. Now it keeps falling down, and, for some reason, without fail, you'll put it back up again, every. time.
A to-do list from your Mum will be left on the kitchen table every day
Waking up, Mum and Dad have long gone to work, in fact it's probably closer to them coming home from work than leaving. Check your phone, it's gone 1pm.
You go downstairs to the kitchen and open the fridge. Full. Actually full. There's more in there than a single bottle of Budweiser (twist off cap) and pre-sliced cheese, yes, it's full. You move over to the table, on it a note from your Mum. This is what the note will contain a list of things to do, including but not limited to: putting the washing out, feeding yourself, and instructions on how to look after the dog. It's the summer equivalent of uni and you'll probably leave it all until the last minute.
You go to a festival and just can't stop yourself from saying 'Oasis should headline next year'
Y Not – the sad boy's festival of choice – listening to Catfish and the Bottlemen play that Catfish and the Bottlemen song that sounds like every other Catfish and the Bottlemen song for, like, the fourth Y Not in a row. You turn to your mate, your mate is loving Catfish and the Bottlemen, he loves Van McCann, the fucking lad, you'll turn to him and you'll say "Oasis should headline next year".
I'm right, aren't I? The sad boy went to see The Stone Roses at the Etihad, bucket hat and can at the ready, and now they're itching to see the Gallagher's get back together. Well guess what, Oasis aren't getting back together, get over it.
Related stories recommended by this writer:
• Here are all the signs you might be living in a 'sad boy house'
• This is every single boy at uni condensed into a starter pack
• If you do any of these 23 things you are definitely a uni sad boy