Which is the undisputed best club smoking area in the entire country?
Let's be honest, they're better than the actual club
| UPDATED
Ever since the smoking ban of 2007, smoking areas have become the place to be on a night out.
They are the place for a little breather. The place with the best chat, filled with people who realise there's always more to a night out than just dancing and drowning in your own and other people's sweat. The place to overhear the country's greatest political debates between two drunk morons who have no idea what they're talking about. The place for "just a little bit of fresh air" for the non smokers pretending they don't find smoking big or clever.
But which overcrowded, hazy, metal pen truly deserves a crown for its unparalleled vibe? We've scoured the country sourcing the best.
Space, comfort, and the people you'll find in them are all very important factors. Now it's up to you to name one of them as Britain's most loved.
Glam, Cardiff
No one can remember what used to be the old grotty Glam smokers area after the new and improved renovation. You know what they say: fresh smoking area, fresh mind. You just might not be feeling too fresh in the morning. With a vast arrangement of seating why wouldn't you want to spend the majority of your night there? Its such a cool space, its even hosted great roof-top parties in the past.
However, climbing about three staircases to get up there must have caused a fatigue-induced injury at some point. Even from personal experience, I'm more likely to be rolling down the stairs than climbing up them. Although, this new and improved smoking area is very spacious, I have known people to get lost up there, never to be found again (especially at Shang).
Beaver Works, Leeds
There's something truly iconic about the smoking area of Beaver Works. It's seen everything from a bonfire to bumper cars, and if you've never spent the entirety of a £25 night out chatting absolute shit to strangers on the picnic benches, you haven't lived. At 5am, when you come stumbling up from the basement wide-eyed and thoroughly confused at the sight of the rising sun, this smoking area greets you like an old friend, alongside plenty of staff asking you to kindly fuck off home.
Pryzm, Brighton
At first glance, the smoking area of Pryzm Brighton isn't much. The descent from the bizarre Tiki Bar into the fenced off metal area, usually via a surly bouncer who grunts at you to leave your drink inside, often resembles cattle being herded into a pen.
You'd be brave to venture out without a jacket as the sea wind whips around the smoking area making it almost impossible to light a fag without three of your mates standing round you to protect it.
It's a place where friendships are made as that guy you kind of recognise but don't really know comes and asks to bum a cig.
It's a place where you stand and shout down your phone in an attempt to find the mates you lost an hour and a half ago in the warren downstairs, only to head back in with a totally different group.
Pryzm's smoking area is a hot venue for a Wednesday night in Brighton – no matter how cold and wet. Smokers and non-smokers alike puff on badly rolled cigarettes and bask in the glory of the Brighton night that we all love.
Liquid Rooms, Edinburgh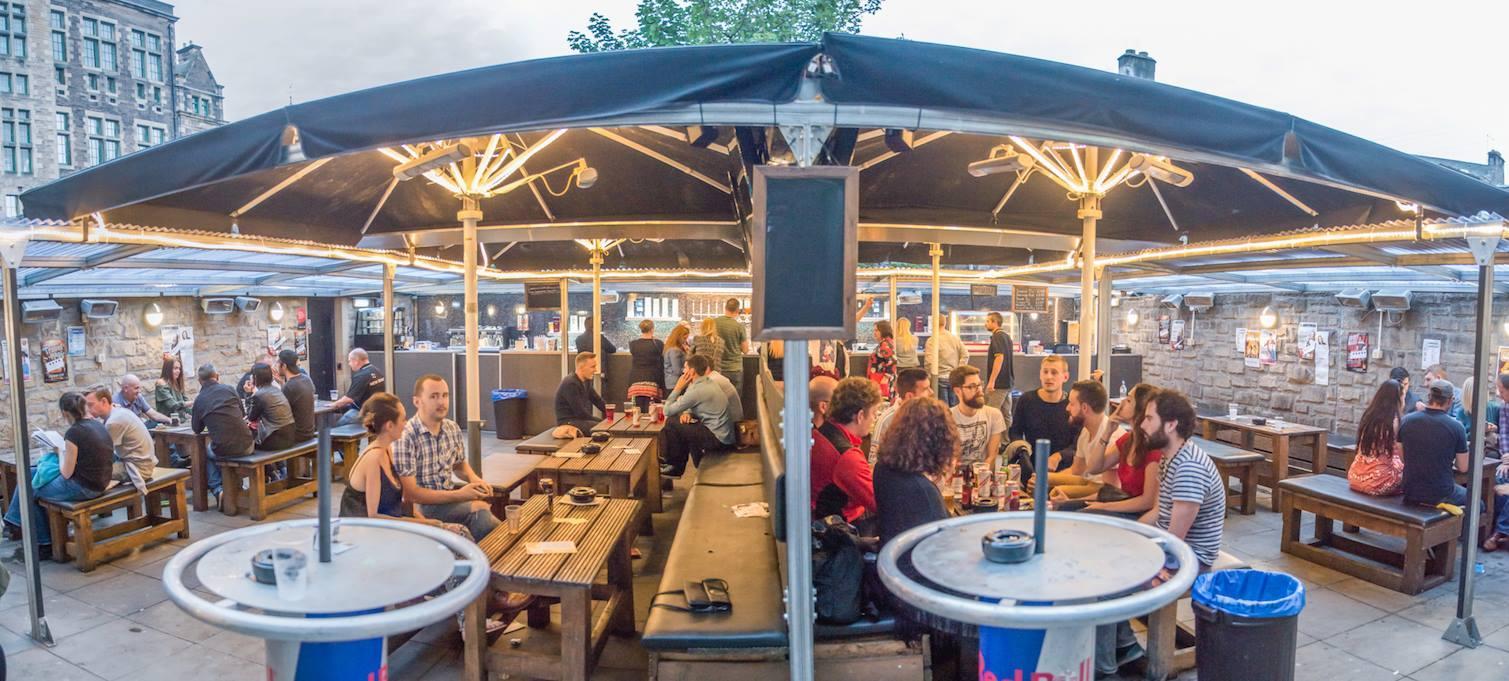 This is the Chancellor's Court of smoking areas. The Liquid Rooms treats its smokers to a luxury smoking experience. The tables, cushioned chairs, mood lighting, outdoor heaters, and the outside bar all contribute to making this smoking area like an all inclusive holiday resort for Edinburgh's smokers. It might be worth grabbing a pack of straights for this one.
Lola Lo, Cambridge
Obviously quite a shit club but an absolutely smoking area. Taking up the whole of the roof, decked out with fairy lights.
Timepiece, Exeter
Was it ever in doubt? TP provides ample space and is the perfect place to regroup on a night out, grab a drink and discuss the latest love triangle between Hugo, Horace and Octavia. Transforming into a Sloane rangers dwelling spot each Wednesday, Timepiece's smoking area is a hazy world of Surrey centric gossip, VKs and sports social sass.
Rainbow, Birmingham
The rooftop terrace at Rainbow is undeniably the best place for a smoke in Brum and probably the best in the UK as well. Not only is it pretty huge but it's also right at the top of the warehouse which provides the best views of the city. There are plenty of seats and a bar outside, nothing like having a Jaegerbomb in one hand and a cigarette in the other. There's nothing like topping off a wicked night with an Insta of you and the team on the terrace with the best city in the world as your backdrop.
The Full Moon / Attic Bar, Bristol
This is the mother of all smoking areas, with an abundance of benches to cater for not one but two clubs that live next to each other. As winter approaches and the cold, dark, wet nights draw closer, Full Moon and Attic Bar have fully catered for the infamous British weather with a shelter (a fucking massive one too). No soggy cigs for you my friend.
As if the shelter isn't enough, they have a drinks bar outside so you barely have to move to get another pint, and there is a noodle bar just in case you get a little peckish in between dances, and who doesn't love being able to stuff your face midway through the night.
On a Friday and Saturday at it's busiest time, this courtyard is full of Bristol's most weird and wonderful characters all together in the smoking area as one. What a treat!
Social, Doncaster
It's full of 17-year-old emos who've taken too much MDMA and can't stop crying. What more could you possibly want from a smoking area? It's a great time.
Bridge, Oxford
The smoking area can be a deal breaker for a club's reputation and it's certainly a game changer for the sessions which can take place. The Park Ends and the Cameras of this world don't have anything to be proud of here. Their smoking areas have a distinctly cold, wet, and sober vibe. In real terms, their "smoking areas" are a lucrative means of shepherding us all into staying-the-fuck-inside and buying as many drinks as possible. But Bridge, for all its faults, can at least boast a more humane approach to the construction of its outdoor playpen.
The pleasant astro turf surfacing of the floor provides support for the foot as you saunter your way through, proving you definitely can do it on a cold, rainy Monday night in Oxford. Let's be straight: when you go to Bridge, you chill outside.
Viper Rooms, Harrogate
One of the key features of Vipers is its large smoking area, where going "out for air" is completely defeating the object. It's usually crowded and rammed with people grafting and generally talking shit. There's always someone trying to sneak round the bouncer on the stairs, too. Great fun.
Karma Kafe, Norwich
Karma Kafe is hands down has the best smoking area in Norwich. Aside from the fact that there's always the best events and club nights there, the good times don't stop indoors. Go up to the terrace and you'll find the doors to the smoking area opening directly to the dance floor.
You won't find anything fancy like comfy sofas or heated lights, but what you will find are a bunch of people willing to give you a rizla, or chat shit with you, or hold your hair back while you vomit. It really is the place to be.
Cameo, Bournemouth
The classiest of smoking areas. There's seats, which are a god send when you've been running away from the Bobcats, and even a separate queuing area for you to get up there. You trek up those stairs to get to it, which is a bit painful, but then make it out to the smoking area of dreams. There's always people wanting a chat up there. It's a far cry from Fire Station's cut in half, used-to-be-fun smoking area. Just be careful about those puddles that seem to always be there – where do they even come from? It's one of those smoking areas that's relatively hidden so if you're lucky you rarely have to queue for long, unlike Vinyl's queue which may as well be a conga line.
Heebies, Liverpool
Hands down the best smoking area in town. You can chat to that girl who lived downstairs to you in halls who you haven't seen since the Greenbank formal. Or the 47-year-old man from Formby who's out for his son's stag do. So big, so social and bonus points for the female loos being conveniently nearby.
Kasbah, Coventry
Ah… Kasbah…This smoking area really pulls out the big guns with the full-size bar (that frankly has better service than the bars inside), a burger bar to cure those drunk cravings, and chairs! Chairs everywhere! You can even hire a private cabin and shisha. There's not really much point to the actual club rooms when the smoking area is as good as this.
Swingers, Newcastle
The plush wooden decking and outside DJ clearly are the markers for a beaut smoking area here in the toon. Whether you're taking a breather from dancing your limbs off or you're making headway on a potential pull, this smoking area has got it all.
A place of swapping stories and rizla's, you can chill out with your friends as well as make some random new ones. Spirits are high and so is the body count, making it almost impossible to get too chilly whilst you and your pals take a ciggy break.
To make it even more desirable, many parts of this groovin' smoking area are covered so you can keep out of that Northern wind and rain. This also means you non-smokers, who have been unwillingly dragged outside by your fiendish friends, don't have to endure the freezing cold like you might at World HQ or Soho Rooms.
Pitcher and Piano – Tunbridge Wells
This is without doubt the best smoking area in Tunbridge Wells. Yes, there are not many alternatives, but what makes Pitcher and Piano stand out is that it is decorated with fairy lights, there are actual benches to sit on and the garden is full with plants. The combined effect of these makes for an enjoyable experience as you suck on your ciggy.
Sobar, Southampton
Sobar is famous for two things: 'quadvods' and a massive smoking area which everyone runs to, desperately trying to escape the small, overcrowded and stuffy dance floor . This is the perfect social hub as it features benches and tables, a covered roof and its own bar.
It also has a balcony and huge staircase so you can scan out those people you see every Tuesday night but desperately try to avoid in sober daylight. The only downside is the very long, slippery iron staircase. We are all guilty of needing unbearable amounts of concentration to ensure we make it to the bottom alive, praying not to be that person who is watched by everyone, as they descend the whole thing solely on their arse.
Smack, Warwick
It was voted the seventh best club in the world, but what about the smoking area? Its size is perfect so you can hide from people that you don't want to talk to while at the same time find the ones you need. Its dark corners are perfect for gossiping or to get with someone, who you'll probably regret getting with immediately after.
Cubo, Manchester
Cubo, formerly called Koh Tao, is set in an ideal location as the smoking area gives you a primetime viewing of countless drunk students doing stupid stuff on their way out or coming home from a night out. Be like Attenborough, observe the inebriated student at its finest; drunk, stumbling and spouting gibberish.
With a perfect view of the bus stop, you can observe those making the terrible decision of heading into town for a night out. Fools! Why bother when your trusty local bar is right here? Plus, being next to an array of takeaways, and Maccies which is open till midnight, you can sneak out to get a mid-night out treat if you're quick enough.
https://www.instagram.com/p/BTtcfIHlp37
Only in the Cubo smoking area have I been privy to one of the best things I have ever seen: a girl stumbling out of Chicken King, losing her step and falling face first into her cheesy chips and mayo. It was incredible. Plus, you can sit at the tables and chat shit, sharing rollies with your friends for as long as you want, there's no time limit, no bouncer hurrying you along. Sit back, relax, enjoy the Fallowfield wildlife.
Stealth, Nottingham
Stealth has been praised up and down the country for its sound system and the lengthy list of acts they've booked over the years, but the smoking area is the best part of any night there. Why is it so good you ask? Mostly because of its sheer size, it can fit half the club capacity in there at one time. In reality once you get out in there you'll end up talking to randoms for the majority of the night as there will be no shortage of pilled-up chat to entertain your evening. Most of the time, Stealth smoking area has been the venue for many deep philosophical breakthroughs, or more accurately, the musings of someone whose jaw has managed to achieved its own sentience. Also, there aren't many other smoking areas with a barbecue selling jerk chicken, always a nice extra.
Corp, Sheffield
Complete with a questionable food van and even more questionable people, Corp smoking area is where everything worth talking about on a night out happens. Look out for the people collapsing in to the barriers or falling down the concrete steps, having to make the heartbreaking decision between saving their pint or their chips and eventually landing on both.
If you don't see at least five people you know and hoped never to see again, you're just too smashed to recognise them. The "Mean Girls" style cliques dotted about also make good viewing, from rockers to roadmen and the odd Love Island reject, all hovering around the lone smoker of the group like a puppy waiting to be offered a bit of sandwich.
If you can dodge the bouncers looming ominously near the exit and not get a blue pint launched in your hair, it's hands down the most unique and memorable smoking area experience in Sheff.
Lola Lo, Reading
Come on, the Lola Lo smoking area is better than the club itself. If it's not raining you'll probably spend most of your night here chatting to your mates, forgetting that the club actually exists. Loads of seats, a bar, and very open. Don't you dare bring anything but your relaxed vibes into such a happy place.
Revs, York
Now, Revolution may not even be a club to some, but in York we're such fucking party animals we can't resist making it one. The smoking area itself is a dream, with wooden benches and tables everywhere, there is ample room for the whole squad. It overlooks the tranquil River Ouse if you're after a bit of peace and quiet with your cigarette.
Furthermore every Sunday on student night, Revs open up a stall at the back to sell pizza slices – it's as if they knew cigarettes are a million times better after a meal while you're drunk. In winter, it's covered with canvas tents to stop the rain and adorned with some funky disco balls so you can basically still be soaking up those sweet clubbing vibes even when you're outside. For the dream smoking area, look no further.
Sanctuary, Glasgow
For starters, it's huge – giving you plenty of room to scope out that guy you locked eyes with at the bar earlier. There are numerous tables to sit down at, which by the way, are exactly what you need when you step out into Glasgow's wintry air and instantly realise that you're too smashed to stand up properly. It's also got those handy heat lamps which are an absolute god send at night when it's inevitably pissing it down and about -20 degrees.
Slug & Lettuce, Newbury
Picture this: the sound of a flowing canal in one ear, your mate badgering on about her ex-boyfriend in the other. The smell of 20 pornstar martinis fill the air, alongside cigarette smoke perfuming the area with an almost tropical vape-like aroma. Out of the corner of your eye, you see a family of swans floating down the canal, which have a slight green tinge from the large Tanqueray lights illuminating the smoking area of Newbury's Slug & Lettuce. Sounds like perfection right?
Contributions from Emilie Bowen, Rob Bright, Alfie Britten, Bertille Duthoit, Ella Gourlay, Billy Grant, Robyn Gunn, Gabriel Hargreaves, Emily Hume, Yusuf Khan, Will Langston, Megan Louisa, Jess Martin, Martha Munro, Annabel Murphy, Pete Musson, Jessica Newman, Ben Nichol, Jeremy Ogunleye, Mared Parry, Jazmine Sleman, Hayley Soen, Bean Urquhart, Izzy Wauchope, Lucy Woodham, Maz Worswick
Featured image photo credit: Swingers, Newcastle