The fresher who burnt a £20 note in front of a homeless person has sent a grovelling apology letter to his whole college
Read his letter in full here
The Cambridge fresher who burnt a £20 note in front of a homeless person has finally apologised six months after the story broke, The Tab can reveal.
In a letter sent to all Pembroke College students today, Ronald Coyne, who studies Law and was a member of the Cambridge University Conservative Association at the time, apologised to his fellow students for his "terrible mistake". He described his behaviour as being "totally contrary to the values of the university and of its students."
He will be returning to study at Cambridge this year.
Coyne was dressed in white tie after a formal in February this year, and was filmed burning the money on Snapchat in front of a homeless person. The Tab exclusively reported on the story, which made the national papers.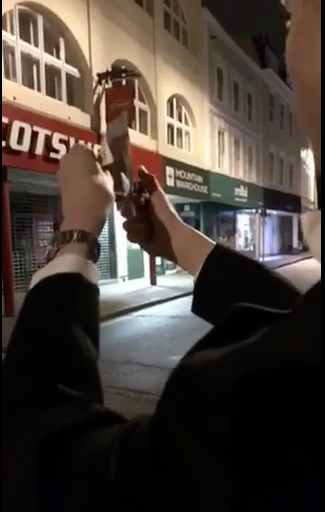 Coyne's letter apologises to the whole university for the "negative light" his actions left on Cambridge. Due to the ongoing disciplinary procedures, only now, since the case has closed, has he been able to apologise publicly. The letter reads:
"Dear all,
"As you may recall, earlier this year it was widely reported in the media that I attempted to set alight to a £20 note on Bridge Street in Cambridge. Until now, there had been an ongoing disciplinary process on a university and college level which had meant I couldn't respond publicly. Now that these processes have concluded, I am setting out to try to remedy some of the hurt caused by my actions. As one of those steps, I want to take the opportunity to apologise.
"My actions were wrong and without thought or consideration. I abused my privilege as a student at such a great university, and behaved in a way which is totally contrary to the values of the university and of its students. I acknowledge that my behaviour put the entire university in a negative light, and for that I am sorry. For the effect that my behaviour had on you as a community, I am also sorry.
"I am extremely fortunate to have a place at Cambridge. My experience of Cambridge was of a place which is positive, accepting, and friendly. Yet on that evening, I forgot what it really meant to study at Cambridge. I misrepresented what it meant to be a student here. The gift of a great education should be a tool to enrich society, not an excuse to debase it. I made a terrible mistake, and I quite rightly faced disciplinary action for it. I have addressed the root causes of my behaviour by attending awareness classes, relating to both alcohol and social inclusion.
"I am truly sorry for the upset I have caused my fellow students. I cannot begin to express my heartfelt remorse for the guilt by association you all faced, on many levels. When the media commentary flared up, strangers sent piles of abusive mail to my family home threatening me with violence, and chemical attacks. I received some sympathetic letters and emails from people who thought that the online abuse went too far. To those people, I am still grateful.
"I would like to end by repeating my deep regret at the offence and hurt caused by my actions, and asking for a second chance.
"Ronald Coyne."
Pembroke College has confirmed Coyne will be returning to Cambridge University, hoping his apology letter will "generate support for Ronald as he prepares to return to College."