The undeniable differences between going to secondary school in the North and the South
Every day was basically muck up day in the North
| UPDATED
Looking back on secondary school, we're all struck with the same hazy notion that while it was shit, it was basically just a laugh.
Seven years of our lives were spent rebelling against headteachers and supporting the underground sweet cartel.
But there's a deciding factor whether your school was crap because of secretly healthy canteen food, or the chance of having a hammer thrown at you in Wood Tech.
No, it's not whether you went to a state or private school. It's the difference between secondary school in the North and the South.
UP NORTH: NO ONE DID LANGUAGE GCSE
The German teacher had quit due to stress so it was a choice of French or Spanish, which you made based on how easy they were from Years 7-9. There were only 30 language students in a year of 300, and every one else was in awe of their ability to string together a sentence, probably because they were barely fluent in English themselves.
DOWN SOUTH: LATIN AND MANDARIN WERE COMPLETELY JUSTIFIED LANGUAGE GCSE OPTIONS
Once you'd been fast-tracked for German GCSE in Year 9 you thought it'd be best to pick up another language. Learning Latin is totally worth it, just to read Sophocles authentically, and Daddy says Mandarin will be good for your job prospects.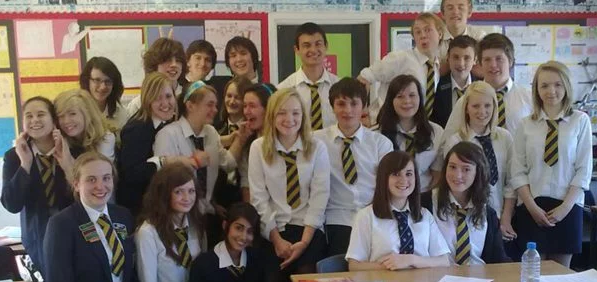 UP NORTH: FOOD TECH WAS CARNAGE
Food Tech was a ticking, food fight time bomb waiting to happen. Nobody ever brought their ingredients in because it was on the same day as P.E. and there's only so much room in your Jane Norman tote bag. The Food Tech teacher also taught Textiles, PSHE or P.E., because multitasking is key.
DOWN SOUTH: FOOD TECH WAS MAKING HOMEMADE GNOCCHI AND PROFITEROLE TOWERS
If there's one thing that will set you up for life as an adult, it's learning how to make fresh pasta that isn't actually pasta but kind of made of potato as well, which takes three fucking hours to make and then you just end up overcooking at the end. Plus, what else screams learning basic culinary skills than creating a salted caramel profiterole tower?
UP NORTH: NO ONE ATE THE CANTEEN FOOD
Eating school dinner wasn't really a thing because they were so minging, you'd probably just end up with a squashed sarnie for lunch.
DOWN SOUTH: THE CANTEEN FOOD WAS FULL OF HIDDEN VEG
And we all know Jamie Oliver is to blame. You couldn't even pick up a brownie without finding it's got beetroot in it, or eat a pizza slice that wasn't 40 per cent carrot.
UP NORTH: TEEN DRINKING WAS TINNIES IN THE PARK – HOUSE PARTIES – CLUBBING
It was all about drinking tinnies in the park, which then evolved into house parties when you were old enough to let your parents know you were drinking (probs around 15). You got your mum to buy all your booze and people definitely shagged in the host's parents' bed. By the time you were underage clubbing at 17, it was all about getting your hair and makeup done professionally.
DOWN SOUTH: TEEN DRINKING WAS SHINDIGS – GATHERINGS – HOUSE PARTIES
Shindigs were just getting pissed in someone's garden, gatherings were doing the same but with more people, and house parties were getting really pissed in a garden and shagging in a shed. If you didn't get drunk off Lambrini and play spin the bottle in someone's garden were you really 15?
UP NORTH: THE OTHER SCHOOLS WERE ALL DICKS
There was a rule about fraternising with the other local schools, because any meetings would usually result in a massive fist fight. We called the local Catholic school bible bashers, they called us pikeys…it was all super PC. Bonus points if your rugby teams were banned from playing each other.
DOWN SOUTH: YOU'D HAVE AT LEAST FOUR 'FRIENDSHIP GROUPS' FROM OTHER SCHOOLS
In southern suburbia there was always at least six other schools nearby, so once you'd eliminated the one that was a bit too rough and the boy's private school, you were left with four others to meet in the park for some chips and shag-band breaking on a Friday evening. You'd probably gone out with someone from the boys' school for a week and pretended to be friends with the private school girlies.
UP NORTH: 'SLANG' WAS SPEAKING LIKE AN ILLITERATE PERSON
From Year 7 you started swearing, dropping your T's and using the word 'like' six times in a nine word sentence, and you still can't escape it. To this day your mum tells you regularly to stop "talking common".
DOWN SOUTH: 'SLANG' WAS SPEAKING LIKE YOU'RE FROM LONDON
If you weren't actually from London, you would pretend you were. It was a point of pride to pretend you knew the latest slang, it was a marker that you were cool. Even if you didn't really know what it meant, you knew that calling a girl a buffting was the way to win her over.
UP NORTH: SCHOOL TRIPS WERE GOING TO ALTON TOWERS
An end-of-year trip to Alton Towers was about as much as you could hope for from a school trip. We went to a mill once too, it was boring as fuck and half the year actually chose to go to lessons at school instead. The best bribery that the Art and Drama departments could manage was a weekend in London.
DOWN SOUTH: SCHOOL TRIPS WERE GOING FURTHER DOWN SOUTH, OR TO ICELAND
Doing Geography GCSE undoubtedly meant you'd get dragged to some unknown soggy beach in Dorset for a week. You'd spend the whole time moaning in your crumbly hostel and wearing your warmest Jack Wills trackies. There would also be a ski trip every two years and also an almost ubiquitous Geography trip to Iceland.
UP NORTH: NO ONE GAVE A SHIT ABOUT P.E.
Every one wore super baggy joggers with those stretchy white long-sleeved shirts from Primark because the pockets were big enough to fit your phone in so you could walk the cross country route and play on your phone instead. There were only maybe two girls in the entire year that actually enjoyed and participated in P.E. They got moved to the boys' group when the teachers realised this.
DOWN SOUTH: THE P.E. DEPARTMENT HAD AN OBCENE AMOUNT OF UNNECESSARY, EXPENSIVE EQUIPMENT
No one knew where your comp school had got the funding, but the gym was packed with pointless, expensive apparatus. Whether it was the discus or javelin kit that only got used on sports day, or those huge fuck off trampolines. Apparently it was okay to have thirty wheelchairs in the store room just so once in every five years the practical games group could play wheelchair basketball. They probably did it to look good for Ofsted.
UP NORTH: EVERYONE WENT TO COLLEGE AFTER YEAR 11
It was all about the local college, but maybe a third of your year stayed on for sixth form, or moved somewhere else but still did A-levels as opposed to BTECs. At college you call teachers by their first names. At sixth form you were still treated like a child because you've known these teachers since you were 11 and they're not buying your glo up one bit.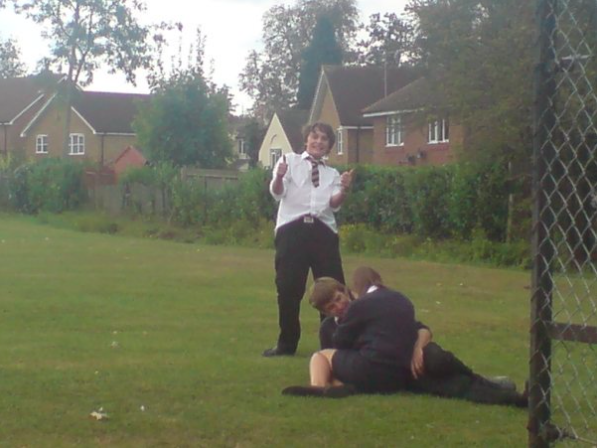 DOWN SOUTH: EVERYONE STAYED ON FOR SIXTH FORM BECAUSE IT WAS ACTUALLY DECENT
You swanned through the school lording over the peasants still in uniform, and turning seventeen meant you were obvs mature enough to be 'friends' with your teachers. The common room was exclusive as hell and became the epicentre of mystery and rumours for the lower school.
UP NORTH: THE DRAMA DEPARTMENT SPENT MOST THEIR TIME BEGGING PEOPLE TO PARTICIPATE
Most people left Year 11 still not knowing where the drama office is. The half a dozen 'drama students' that actually existed were always the most eccentric, out-there students in school. They all went to unis down south to study long-winded degrees that nobody understands, or they now work at Co-op.
DOWN SOUTH: THE DRAMA DEPARTMENT WAS AN EXCLUSIVE PARALLEL WORLD
When they weren't going on exclusive trips to Rome or Athens, the drama department put themselves through hell and loved every second of it. 48-hour productions? Why not. Giving up every lunch time in Year 11 for coursework? Sure. No matter how much it consumed their lives they still put on a production of Grease in their 'free time'.
UP NORTH: THE BLACK MARKET SWEET TRADE WAS LOLLIES AND POP
At least half a dozen lads in every year were running a black market of sweets and pop, and if you were caught buying from one then the rest hated you. Unlike the disgusting dinners, this shit was the only acceptable thing to eat at school. Rumour is they bought it all for a quarter of the selling price at the local corner shop before school started.
DOWN SOUTH: THE BLACK MARKET SWEET TRADE WAS FRESH COOKIES AND CHRISTMAS SHARING BAGS
In the South the sweetie industry existed but customers were more fickle. Sometimes people's mums were even complicit in their black market sugar racket, driving them to Morrisons to buy cans of coke, and those four-packs of cookies. They knew that the head had banned sweet sales but they really just had to reward darling Timothy's business acumen.
UP NORTH: AT LEAST ONCE A YEAR A TEACHER WOULD LEAVE FROM THE STRESS OF TEACHING
Ours was the super sweet textiles teacher who just couldn't handle another lad throwing a sewing machine across the room. They always started with the most half-hearted threats before eventually calling security staff to drag the troublemakers away.
DOWN SOUTH: ANY TEACHER-BULLYING COULD BE SORTED WITH A STRONGLY WORDED EMAIL
Obviously you wouldn't dare try and bully 'sir' out of the school. Although, one time we did steal our Spanish teacher's smartboard pen and our parents received strongly worded emails that evening demanding that we returned it so we could sit our vocab test in third period.
UP NORTH: SCHOOL UNIFORM WAS A LUMPY JUMPER AND SHIRT
Plus those DIY ties that were usually massive and half-undone, until you'd become an Academy and be forced to wear blazers.
DOWN SOUTH: SCHOOL UNIFORM PROBABLY INVOLVED TARTAN
There was also a different uniform for summer and winter. On a Friday after school the girls would always roll up their kilts to meet the boys, getting a huge bulge under their jumper in the process.
UP NORTH: HALF THE YEAR GOT LOWER UCAS OFFERS BECAUSE THE SCHOOL WAS 'UNDERACHIEVING'
And it wasn't labelled that for no reason – you know at least three people who left Year 11 with zero GCSEs. The school definitely brought in a programme like Linacre with the intention of trying to get at least one of the 300 people in your year into Oxbridge. You're still bitter that you didn't fulfill any of the other criteria and receive a lower offer.
DOWN SOUTH: HALF THE YEAR WENT TO RUSSELL GROUP UNIS OR DID A GAP YAAAH
If you didn't make the cut for Oxbridge then you'd still get into another Russell Group uni, or at very worst end up at UWE. The people who were too liberal or left-wing for uni always worked at M&S for a year, so they could go on a gap yah and find themselves to be even more liberal and leftie than they thought.