Books that all aspiring female writers should read
'We tell ourselves stories in order to live'
Everyone knows that before becoming a great writer, you must first be a great reader, learning from the classics and reading tips from writers themselves. But all too often this means ploughing through texts written by white men a hundred years ago. They can be remote and unrelatable to girls today.
Whether you want to write fiction, poetry or journalism, this list has you covered. These books will expand your mind as well as teaching you invaluable writing skills. They show the vitally unique worldview women's voices bring to writing. Plus, most are super feminist which is a bonus.
The Unabridged Journals by Sylvia Plath
Sylvia Plath's journals offer a unique insight into her early life and her inner thoughts. Beginning when Plath is a teenager, the journals track her self-doubt at the start of her writing career. She has the same worries that most girls have at that age about boys and popularity.
Her entries are endearing and relatable. They show how prolifically Plath wrote outside her published work. Plath's journals confirm the importance of keeping a journal as a writer.
A Room of One's Own by Virginia Woolf
Virginia Woolf's essay on being a woman writer tracks the history of female literary achievements and oppression. Her most famous extract describes what would have happened if Shakespeare had had a sister and mourns the lack of female writers in the literary canon. It is a call to arms for women to express themselves through writing.
Catherine and Other Writings by Jane Austen
This is a collection of stories by teenage Jane Austen. It's Austen as you've never read before. Her prose is much less polished and less mature than her later writing, but it's affirming to know that even Jane Austen wasn't born with the ability to write perfect classics straight away.
Women of the Beat Generation by Brenda Knight
Brenda Knight curates this collection of work by female writers of the Beat Generation. The Beat Generation was dominated by men like Jack Kerouac and Allen Ginsberg and many of the texts featured blatant misogyny. Knight sets the story straight by making the voices of women writers heard. These women write about what it's like to be a woman and, though it pre-dated women's liberation, it's super feminist.
Rookie Yearbooks
Rookie is an online magazine that was started by Tavi Gevinson when she was only 15. It features the work of young artists and writers from around the world. Each year, a yearbook is published where all the best content goes into print. Featuring short stories, poems and articles, it will not leave you short of inspiration.
M Train by Patti Smith
In 'M Train' Patti Smith writes, "I'm sure I could write endlessly about nothing. If only I had nothing to say." Smith has proven she is capable of writing endlessly, with decades of poetry and lyrics, and two memoirs to her name. However, she definitely doesn't write about nothing. Instead, she writes eloquently about what it's like to be a female writer.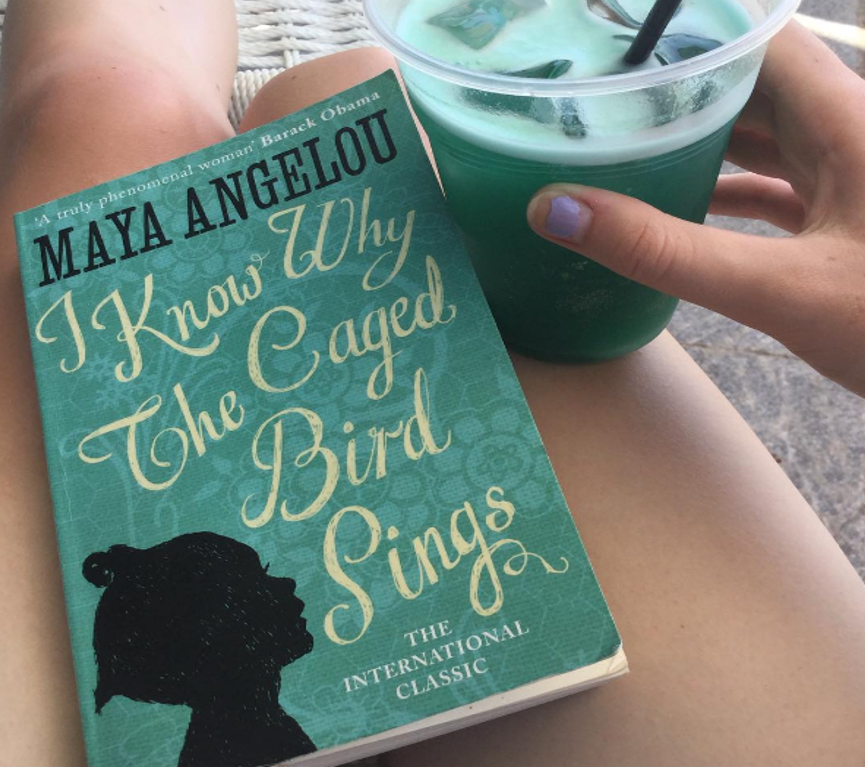 I Know Why The Caged Bird Sings by Maya Angelou
'I Know Why The Caged Bird Sings' is a lesson in poetic prose. Angelou's writing is harmonic, even as she describes the harsh, emotional struggles of growing up as a black girl in early 20th century America. It is filled with inspiring quotes like this one: "Instead, pursue the things you love doing, and then do them so well that people can't take their eyes off you."
Jane Eyre by Charlotte Bronte
Everyone says that writers need to read the classics, but it gets tiring constantly reading books written by white men. 'Jane Eyre' is one of the most widely read classic texts by a woman and, if you've read it, you'll understand why. If you haven't, read it.
Wide Sargasso Sea by Jean Rhys 
'Wide Sargasso Sea' is the prequel to 'Jane Eyre', but it was written over a century later. Bronte's classic is not the most progressive text. Rhys deals with this by addressing issues of race, gender and mental health directly. The rewriting of classics is an interesting concept, especially for women as we aim for better representation in literary texts.
Dark Pool Party by Hannah Black
Hannah Black is a visual artist and writer. You can watch her reciting her work on Vimeo. Her first published collection of short stories is experimental and avant garde. Definitely read this if you're looking for inspiration to write something a bit unconventional.
The Complete Poems of Emily Dickinson
Emily Dickinson is one of the earliest celebrated female American poets. Most of her poems are about death, but her experimental structure has been incredibly influential.
Bluets by Maggie Nelson
'Bluets' describes how Nelson fell in love with the colour blue. Instead of having a regular  plot, 'Bluets' is separated into numbered thoughts, each a paragraph long. It's pretty short and can be read in one sitting, but Nelson's writing has a lot of emotional depth.
Fearless Female Journalists by Joy Crysdale
This book tells the story of 10 female journalists who put their lives at risk for their work. It shows the unique importance of women in journalism, which is often overlooked in a still male-dominated profession.
The First Collection of Criticism by a Living Female Rock Critic by Jessica Hopper 
Senior Editor of Pitchfork, Jessica Hopper, pens this powerful collection of her music writing, from her beginnings at a punk fanzine to her more recent work. In an industry filled with so many male voices, Hopper offers a female perspective on rock music, from punk to grunge and everything in between.
Grace by Grace Coddington
Grace Coddington has more than 50 years worth of experience in the fashion industry. She worked at US Vogue for over 20 years. Her memoir is a grateful and poetic reminiscence on her life at the centre of fashion. 'Grace' is an essential read for aspiring fashion writers, as it gives a rare insight into the industry and how to succeed in it.
A Taste of Honey by Shelagh Delaney 
Shelagh Delaney's wrote 'A Taste of Honey' when she was only 18. It represents topics such as race, sexuality and teenage pregnancy in ways that were subversively progressive when it was written.
The Madwoman in the Attic by Sandra Gilbert and Susan Gubar
This book looks at how women are often represented in Victorian literature from a feminist perspective. Reading this is important in identifying stereotypical portrayals and trying to undermine them in our own writing, with fairer, more realistic representations of women.
The Awakening by Kate Chopin
Chopin's novella focuses on concerns about womanhood and motherhood. The main character struggles with early 20th century expectations of women. Chopin's naturalist novella is one of the first texts to represent early feminist concerns.
The Complete Poems and Lyrics by Joni Mitchell
Joni Mitchell's first album was released in 1968, towards the end of a decade that saw a number of singer-songwriters come onto the music scene. Joni Mitchell is probably the most successful female songwriter to come out of this era, and her honest, bittersweet lyrics and poems with give you a lot of feelings. Don't watch it and listen to that one song from Love Actually it'll just be too much.