Bouncers turned me away from a club for being 'too fat to fit through a hula hoop'
'As someone that's suffered with eating disorders her entire life I don't feel great'
A plus-size actress claimed she was turned away from a nightclub because door-staff said she was too fat to fit through a hula hoop.
Kelly Twine, who according to her calling card weighs just under 13 stone, was turned away at the door of a nightclub by a bouncer – who has since been suspended. The 26-year-old ex-EastEnders and Holby City actress was fuming after being denied entry at club Mishiko, in Reigate, Surrey.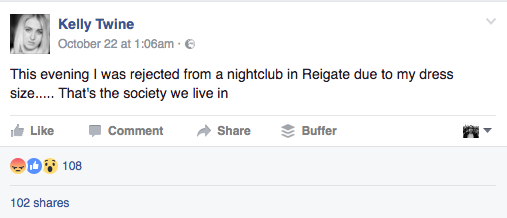 Kelly, who also starred in David Brent: Life on the Road, has suffered from eating disorders her whole life, and claims the bouncer at the club told she had to complete the 'hula hoop challenge' before coming in.
Writing on Facebook she said: "This evening I was rejected from a nightclub in Reigate due to my dress size. That's the society we live in.
"I was told to enter the club I would have to undergo the hula hoop challenge. Meaning that I couldn't step through a hula hoop.
"As someone that's suffered with eating disorders her entire life I don't feel great."
The doorman has been suspended while the club investigates the incident. The manager of Mishiko, Daniel Sheridan, replied, saying they were investigating the shocking incident.
He wrote: "I was not there on the night, but I am shocked and deeply saddened by what you are saying occurred last night. Just to make you aware, we are actively investigating the alleged incident and the doormen in question is on suspension during the investigation process.
"It is of course our number one priority to make sure this is done correctly so if you could get in touch so we could talk and get a clear understanding of your side of events that would be extremely helpful and much appreciated. I'd like to say that Mishiko has and always will have a zero tolerance policy towards any kind of discrimination towards our guests.
"Our policy is to be welcoming to all and as a part of the local Reigate community greeting many people from around the area every week I feel this is important to make this clear."
The club is arguing that Kelly and her friend left the club because they didn't have cash to pay for entry. A spokesman for the club said: "The CCTV shows the two ladies come into the venue. They come into the reception desk. It appears that the doorman who is in the reception bit is laughing with them. Then they go to pay at the reception.
"They are greeted by the receptionist. The first lady opens a purse to pay by card and you can clearly see she's got a debit card in her hand while speaking to the receptionist. The receptionist makes her aware that it's cash only at the desk because we don't have a credit card machine at the desk.
"He then gestures that there's a cash machine, pointing towards where it is. The second lady then goes to open her purse and also sees that she doesn't have any cash and the two ladies then leave. They have left and not come back."
Kelly, who's 5 ft 2 and from Sutton, south west London, said she had enough cash to enter the club but left because of the hurtful comments. Her Facebook post was met with a flood of supportive comments.
Kelly added: "The nightclub in question is dealing with the issues, however I think there is a much bigger issue at hand that needs to be addressed, there is no law that supports discrimination against size.
"As an actor I have developed quite a thick skin and get most of my work based on what I look like, however this isn't the case for the majority of society.
"Genetics plays a huge part in people's size and makeup but psychology is another factor and it's unacceptable in my eyes to break another human down based on what they look like."