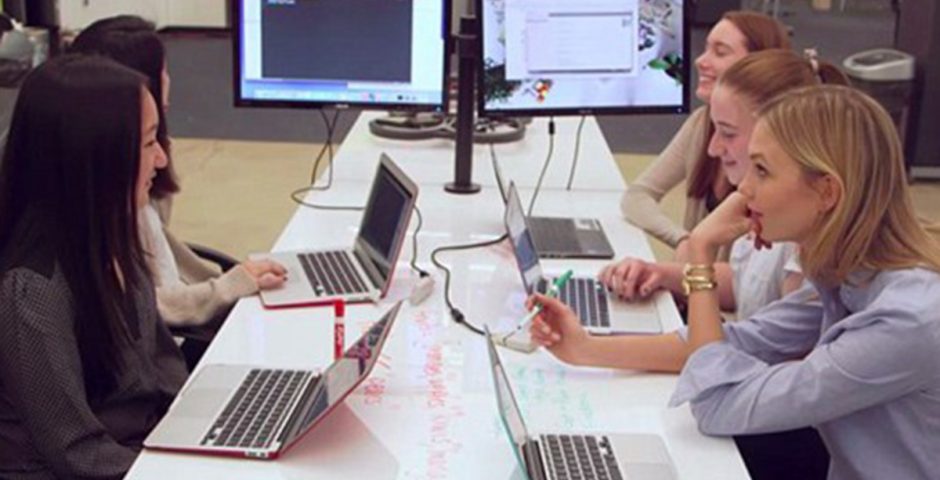 Women coders are still being under-represented and overlooked
'We're only valued highly when our gender is hidden'
"There's discrimination in the industry and if you haven't experienced that – it doesn't mean the problem does not exists," explains Vinita Rathi, founder of WomenHackForNonProfits.com, which aims to get more female software developers involved in the the not-for-profit sector. She's an ex-VP at Goldman Sachs in London.
"This is what I used to feel four years ago when I was in the banking sector. I have heard incidences from our members that they were not given opportunity to grow because their managers thought they were not as serious about their careers as the men are."
It's frustrating, and it's a persistent stereotype: a study published last week found that code written by women is often more approved than code written by men, but only when they didn't put their name to it. Code written by women was only valued more when the gender of the programmer was hidden and they were assumed to be male.
A survey last year claimed that 92 per cent of software developers were men, making it one of the least female-represented jobs in the world.
"Our results suggest that although women may be more competent overall, bias against them exists nonetheless," wrote the six computers science researchers from California Polytechnic State University and North Carolina State University in their study. It's a frustrating read. What's the situation like for London coders?
As well as running Women Hack for Non profits, Vinita Rathi also has her own IT consultancy, Systango, where 30 per cent of her employees are women (much higher than the industry average.) In her experience she has found that she rarely has to repeat instructions when working with female developers.
"The current low number of women in programming is by no means indication of this is something women cant do," Vinita said. "I have always said coding is equally about discipline along with problem solving and analytical skills."
Vinita used to work for Goldman, in an industry which is just as notorious as programming for under-representing women. She says she is aware of discrimination here, just as she noticed it in the finance sector. Vinitha said: "In some cases I've heard women were not given opportunities because their managers thought they would soon be going on maternity leave."
GeekGirl Meetup UK are a group uniting women in tech across the capital. Among their ranks is Robyn Exton, founder of Her Social, the world's first app for LGBT+ women. There's also Magdalena Krön who leads the startup community Rise London and works in Open Innovation for Barclays. When she's not in London, she's in Singapore exploring Asia's startup community.
The GeekGirls are always hanging around Old Street in Shoreditch, they're holding breakfast meetings pushing women into tech and break just about every stereotype that exists about the coding world – namely boring men. "Psychologically, it's interesting to see that when a person is made aware of another person's gender, the way in which they engage with a comment made by that person changes," says Cathy White – one of their friendly event organisers. "The fact that this happens in coding isn't a huge surprise."
She added: "Women bring many skills and attributes to the table when coding – we might look at a problem differently, pay a little more attention to detail, and often in a very male-centric environment, we'll work even harder to be noticed.
"Many people, men and women, do not realise that they can often be guilty of every day sexism, such as saying "he" when we hear the word boss, or just thinking of male teams, when we think of developers. These are all things we do due to the environment we are part of."
The idea that we think there is a difference between the roles men and women can perform is an interesting one. There's nothing in our DNA which defines whether programmers should be male and receptionists female, and in fact one study from last year found that a lack of confidence is causing the gender gap within tech.
Helping to change the route people take into programming are Decoded, a company who teach coding in day courses. One of their CEOs, Katheryn Parsons, made The Times' top 30 young female power list alongside Cara Delevigne and Victoria Beckham. They report that they teach to roughly a complete gender split, with women and men both learning programming in a relaxed atmosphere.
They did, however, admit that women are more nervous and have more pre-conceived ideas about what coding is like before they go in. The situation here is a positive one, but it does not paint the entire picture (be it in Photoshop or Java) of women in programming.
Perhaps the root of this is in our universities. Many women are put off going into a career like coding because of the all-male "broding" ("the combined actions of computer coding and bro'ing out with your buds" according to Urban Dictionary) atmosphere.
Helena TendeDez studies Computer Science at Lancaster University where she is one of five women on a 100 person course. This echoes the situation across most of the universities and colleges across the country where people go to learn how to code. "I've had sexist comments here and there", Helena admitted, "all sorts of immature things."
Helena added: "People have asked me several times in disbelief at the fact that I know what I am doing in terms of work, comments about how crying might get me a better grade or people asking my friends on my course if I even know anything about programming. It doesn't really bother me because it's sheer ignorance, but it's not really a nice thing to have to experience."
Speaking more generally on the situation for female coders, she said: "There's a battle between people looking past who you are, your identity, in order to accept how good you are at your profession.
"It's pretty sad but I can't say I'm too surprised by the study that women are only valued more highly when their gender is hidden."