25 female entrepreneurs under 25
Throw your hands up at me
Meet the ladies who certainly affirm that girls run the world.
Ifeyinwa Frederick, Chuku's
https://www.instagram.com/p/BIAkbWQgASS/?taken-by=chukusldn
Ifeyinwa is the co-owner of London's first ever pop up Nigerian tapas bar, Chuku's. Alongside her brother, she is firmly putting Nigerian food on the map, allowing hundreds to experience what it's like to chop, chat and chill, Nigerian style.
Cleo Morris, Marketingmaker
Cleo single-handedly founded Marketingmaker just a month after graduating. Her company specialises in SMEs and start-ups. She's hit the ground running and champions smaller business. Marketingmaker's portfolio is extremely impressive, having done work for global clients.
Emily Hatzar, Crafty Glass
Emily's business focuses on creative, colourful glass ornaments. She makes them all herself. However, she does also sell other bits and bobs, mostly furniture or other ornaments. She's turned a hobby into a lucrative business.
Rowena Alice Lewis, blogger, BBC Radio and Hoxton FM
https://www.instagram.com/p/BGxY-FECnNd/
Rowena does a bit of everything, she's a media queen. She is a writer, film critic and a radio host, both on BBC Radio and Hoxton FM. She's one of media's upcoming stars.
Emma Jane Lewis, Emma-Jane Photography
https://www.instagram.com/p/709IKKv5BI/?taken-by=ejlewis
Emma specialises in fashion photography and is renowned for her unique approach. She has photographed many celebrities and even worked with London and Paris Fashion Week. She's changing the world one click at a time. Emma also does bespoke wedding photography packages.
Urenna Okonkwo, Cashmere App
https://www.instagram.com/p/udBruBnnjt/?taken-by=urennao
Urenna was in the same year as me at university and it's incredible to see what she's achieved in such a short space of time. She has always been interested in fashion and combined that with her business mind to create an app that helps millennials afford designer goods.
Ellie Girling, El Cocoa
https://www.instagram.com/p/BGRef_pitLa/?taken-by=ellie_elcocoa
Ellie is a self-taught chocolatier who decided to start her own chocolate business with a difference. She makes the chocolate herself, bringing an explosion of flavours together to make original, one-of-a-kind chocolates. She is a chef and a chocolate artist.
Olivia Higgs, Kompas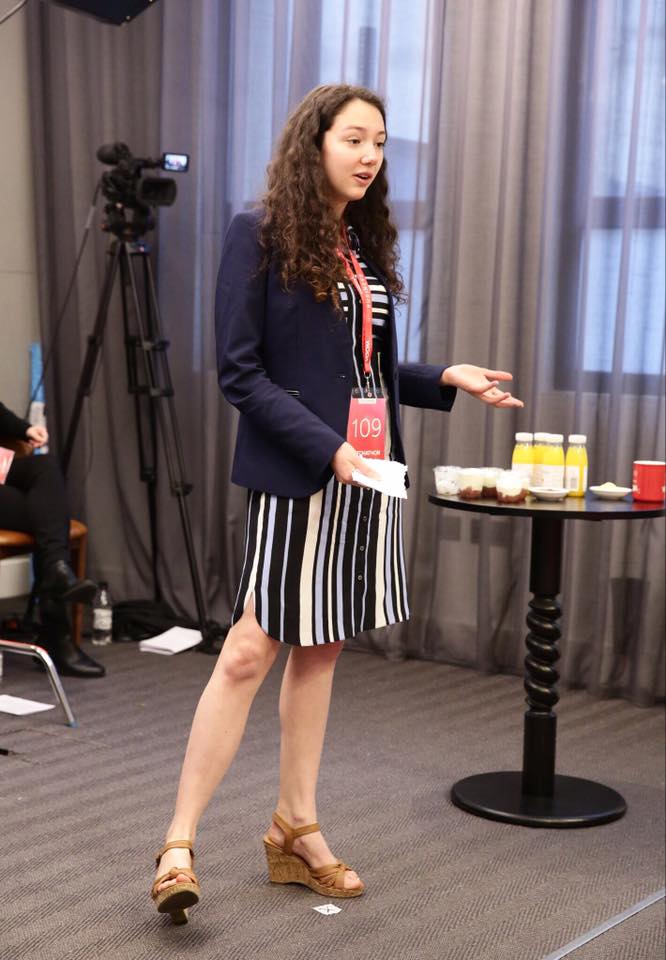 Olivia is Kompas' COO. She basically manages everything that the company do. Kompas came about as a way of enhancing travelling and helps you navigate whichever urban jungle you find yourself in, be it abroad or in the country you live in. I went to university with her and honestly, you couldn't find a sweeter person.
Kalkidan Legesse, Sancho's Dress
Kalkidan runs Sancho's Dress, which sells fashionable, affordable clothes with one extra added bonus: they are ethical, organic and fairtrade! The company's ethos is incredible and inspiring. The clothes are made in Ethiopia, which means you can look fashionable and make a difference to someone's life with the fair wages they are being paid. Sancho's Dress is a revelation.
Lucy Locket, Lucy Locket Loves
https://www.instagram.com/p/BH-LYCNgTLC/?taken-by=lucylocketlove
Lucy truly is an inspiration. She uses her own weight loss story to help others achieve their own body goals. She offers tailored fitness and nutrition services to her clients, as well as other services. She turned her life around and now, she's out to help others do the same.
Siana Bangura, No Fly on the Wall
https://www.instagram.com/p/BE8xhVaI0C0/?taken-by=sianaarrgh
Siana is the founder and editor of No Fly on the Wall, which is a website and community that focuses on the experiences of black women in the UK. No Fly on the Wall provides a much needed creative space specifically for black women. No Fly on the Wall is full to the brim with information.
Louise Leolin, DinoByte Labs
https://www.instagram.com/p/BHzm0K7B2uq/
Louise is the MD of DinoByte Labs, a small London-based company that specialises in gaming. A game designer, Louise focuses on creating games with the gamers as her main priority. She makes sure that the games are tailored to what the gamers want. She also offers game design consultancy
Kate Ovens, Kate's Food Challenges
https://www.instagram.com/p/BG6TlkPx-Z2/?taken-by=kovens12
Kate is a competitive eater and her love of huge portions and food challenges means she's built a brand for herself. Everyone loves a woman with an appetite and along with her sparkling personality and pretty looks, no wonder she has such a following.
Grayce Bartlett, GB3 Sports Massage
https://www.instagram.com/p/BHw0QoshqFi/
Having been to sixth form with Grayce, I can tell you first hand that she is kind and caring but will kick your butt into gear. She loves fitness and training, which is what inspired her to get into sports massage therapy. She often rubs shoulders with PTs and bodybuilders.
Phoebe Gormley, founder and owner of Gormley & Gamble
https://www.instagram.com/p/BIA9vQLhD9L/?taken-by=phoebe.gormley
How can you dress professionally and powerfully when suits are in such a dire state for women? That's the question that Phoebe kept asking herself. Dropping out of university to pursue the answer to this question, she established the first tailor for women, Gormley & Gamble. Phoebe is in a league of her own. As a result of her love for tailoring and fashion, Gormley & Gamble is the only women-only tailor in history to have a store in the prestigious Savile Row (and also the first woman to ever open a store on that street too).
Hannah Russell, author of The Little Alf series
Hannah may still be young, but she has determination and drive! She has her own children's book series published, but she's not stopping there. She's currently writing a book specifically for teenage girls as well as other side projects such as designing children's clothing and fluffy toys.
Kaiya Milan, music manager and founder of Women in Music UK
What hasn't Kaiya done? She's a music manager by trade, having only graduated from university recently. She's already working with top brands and developing her number of artists. She also founded Women in Music UK, which aims to put the spotlight on women in the industry by using networking to connect them with one another.
Angela Malin, Editor-in-Chief at About Time
https://www.instagram.com/p/BHANt4uofR6/?taken-by=jellymalin
Angela runs About Time, a lifestyle magazine written for young Londoners. It has all the inside scoop about the hottest places to go and the glossiest, most satisfying food pictures I've ever seen. The magazine has a huge following and it's easy to see why when Angela is the Editor-in-Chief.
Claire Letts, skirt designer and marking and business development boss
Claire is an entrepreneur by nature, which is how she came about the idea of designing skirts (sexism definitely added fuel to the fire). Although she designs her own clothes, she also works for a company and heads up their marketing and business team, which allows her to channel her creativity in another way. She thrives off the unpredictability and variation in her job. Claire is a woman who loves a challenge and can overcome any hurdle in her path.
Sarah Carthy, founder of Opty Cab
Sarah, inspired by her dad's job as a taxi driver, decided that travelling could be made much easier with some technology, so she developed Opty Cab. She's still a student and juggles running her own business alongside a degree, which is remarkable. Opty Cab isn't currently out but it is set to be launched in Autumn and will revolutionise the way we get around town. What started out as an idea in summer 2015 is set to become a reality!
Charlotte Casebourne, associate director at Deep Knowledge
https://www.instagram.com/p/BHeBolNjsVv/?taken-by=c_casebourne
Charlotte is here to shake up science as we know it. She works for Deep Knowledge, a disease-related investment fund, who aim to develop technology to eradicate some of the most devastating and complex diseases and illnesses known to mankind. All in all, her company believe in the betterment of medicine and science to help those suffering, an admirable thing to be the boss of! Despite her young age, she is already associate director; the sky really is the limit for Charlotte.
Melanie Goldsmith, owner of Smith & Sinclair
https://www.instagram.com/p/wd8gcWr7MZ/?taken-by=smthandsnclr
I distinctly remember seeing Smith & Sinclair on TV once and couldn't believe that they had come up with such a great, fun idea at such a young age. That idea has come from none other than Melanie Goldsmith, co-founder of the company. You know what's better than drinking alcohol? Eating it in the form of boozy, sugary sweets. Melanie's idea is sheer genius. We all love a good tipple, so why not incorporate it into a grown-up sweet?
Emily Black, interior designer and owner of Emily May Interiors
https://www.instagram.com/p/BF34yDLsbL-/?taken-by=emilymayinteriors
Emily is already a well-known interior designer in her native Wales and rightly so. She will transform any interior space into a work of art with her signature style. Like all successful business owners, Emily places her customers' needs at the centre of her interior designs. She combines her clients' preferences with her own taste to create something bespoke and unique, adding a luxurious touch to everything she does, even if her clients are on a tight budget. No project is too small or too big for her!
Charlotte Pearce, founder and CEO of Inkpact
https://www.instagram.com/p/BHBB7U-jziA/?taken-by=londonentrepreneurlife
In the age of technology, how do you make yourself stand out? This is exactly what Charlotte asked herself and realised that because everything is now typed up and digital, handwritten and personalised documents are a thing of the past. In order to stand out, she went back to the simple pen and paper and has founded a business on the concept. Handwritten, personalised documents are eye-catching and helping her clients gain attention. Sometimes, going back to something simple is the best idea, which Charlotte has proven!
Millie Sansoye, writer, owner of Not Your Average
https://www.instagram.com/p/7GaFsZFgql/?taken-by=jazzykinks
I couldn't leave myself out of this list. I've spent the past few years freelancing as a writer and copywriter and running my own blog, Not Your Average. The highlight of my career so far has been writing for Media Diversified, which is specifically for writers of colour. Writing is in my blood. I love my lifestyle – it's flexible and it can accommodate anything that life throws at me.  I do have a paid job in a slightly different field, albeit also creative, but writing is my true passion. My favourite position? CEO.