How to nail your outfit for Parklife this weekend
Because if you don't look stylish in your Instagram did you even go?
Parklife is just around the corner and as one of the earlier festivals it sets a precedent for what British festival fashion is going to be this season. It's not a camping festival, giving you the opportunity to show off your best style and make the most of the sunshine.
We all know what to expect from a Parklife crowd. The second hand over sized denim jackets from the wannabe alternative crowd pouring in for Wolf Alice and Blossoms in the Big Top. The dance fans in a mix of sports wear and Topshop, after all Annie Mac can get your heart pumping more than the treadmill ever does. And who could forget about the groups of girls in matching bindis? Here's what you should be wearing this year.
The vintage sports jacket
A vintage sports style jacket will transform any outfit. With a Manc crowd typically opting for a more sporty take on festival fashion each year at parklife a vintage sports jacket is the perfect staple piece to take with you this weekend. Have a hunt around the vintage shops in Manchester's northern quarter, some of the best vintage shops being Blue Rinse Vintage and Cow Vintage if you aren't indie enough to find a gem in Oxfam.
The fringed hem
Find your inner Florence and the machine and opt for fringing. Easily paired with some old shorts and battered trainers it brings a boho/Coachella-esque vibe to your outfit, just be careful not to let your fringing dangle to close to a portaloo.
The crop top
Crop top and a plaid shirt. A classic look – you can't go wrong and is easily adapted for every weather.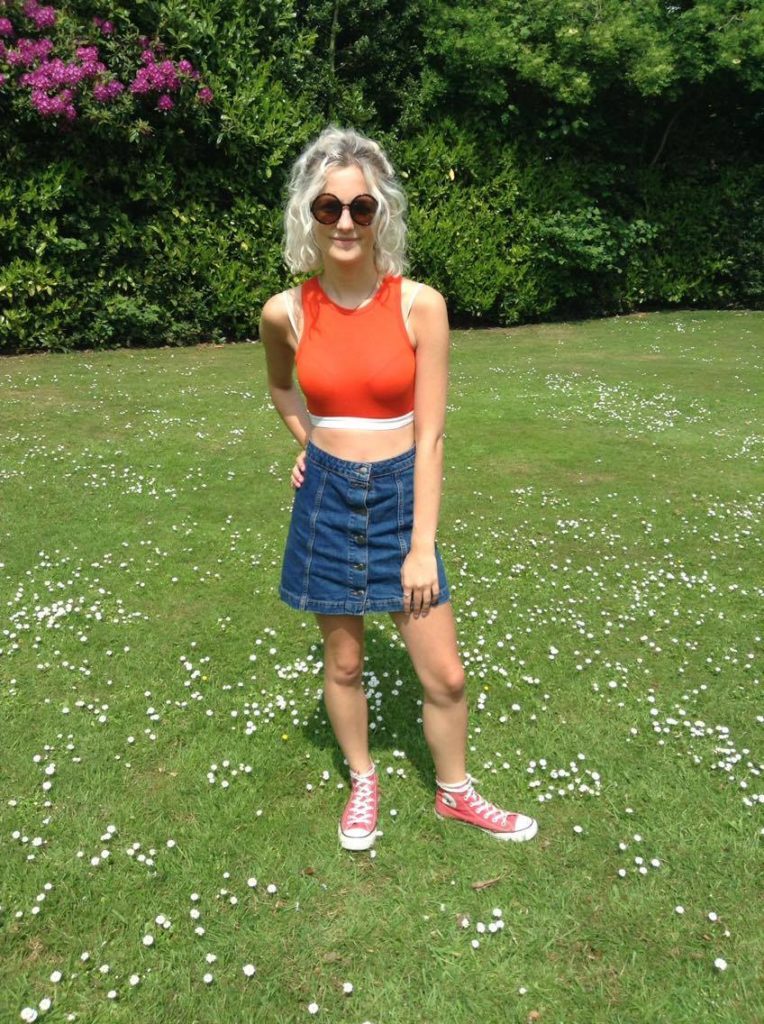 This season its all about exposing the mid riff. Invest in a bright coloured crop top, it looks 90s (perfect for pretending you love old vinyl and that you wish you were part of the 90s rave scene).
The Mom Jean and trainers
With Parklife being a city festival and the weather being so good this week jeans don't need to be a festival no-go. Normally the idea of mud sinking into denim puts fear into the heart of a festival-goer, but it's looking like a sunny weekend is ahead. So get into your favourite mom jeans and team with a scrunchie and small back pack with your day essentials (a wet wipe is your most versatile necessity).
This year the brand to be seen in is Adidas. Nike is so last year and Ivy Park can't be taken seriously. These suede Adidas trainers are beautiful and practical. Jump around to DJs blister free and look chic all weekend too.
Scrunchies and Sunglasses are easy accessories that even the most fashion phobic can make work and can add a girly edge to a more grungy look when wearing mom jeans.
Metallics
The last few years have all been about the neon paint but why not put a twist on this and go for metallics? its simple to apply and looks great with heaps of metallic jewellery.
Glitter
Glitter is a must for any festival but this year its all about the chunky glitter. Don't worry about buying expensive glittering makeup and instead find any glitter you love and apply onto  a thin layer of Vaseline to the area you want to be glitterfied. Team with a jewelled headband.
Still don't know what to wear to Parklife this year? Here are our three top tips: make it sporty, make it 90s, always accessorise!