The best Christmassy things to do in York to get you in the festive spirit
The definitive list of things to do in York this Christmas because I said so
York is often cited as one of the most Christmassy cities in the UK, something that means way more to me than league tables. With not one but TWO all-year-round Christmas shops and of course the markets, there's no better city to celebrate the festive season. Not only does York look great in the snow, but the picturesque city provides a wide range of Christmassy activities which could even get Ebenezer Scrooge into the festive spirit.
So to help you get into the spirit of things in the last few days running up to Christmas, we've rounded up all of York's best Christmas activities to cram into the next few days:
York Christmas market
First things first, let's get the obvious choice out of the way. Returning post-Covid for the second year in a row, York Christmas market absolutely delivers on the sites, smells, and sounds of Christmas. Although walking within close proximity to one of the many speakers atop the food vans may cause a burst ear drum with John Lennon's War is Over being the last thing you hear, the headache is totally worth it for the food. Bratwursts, burgers, and crepes are in no short supply this Christmas and honestly, I'm hungry already.
Then, once tantalised by the taste of Christmas, you will be in the spirit to empty your wallet to the variety of stalls offering Christmas gifts for all the family. Including Viking horns to drink from, sheep place mats, homemade condiments and plenty of jewellery options, York's gift front this Christmas has got you covered.
Local Coffee Shops
Who doesn't love coffee? Well, probably quite a few people, but if you're a uni student the answer would be a resounding nobody. All throughout the year York's coffee game is on point, Coffee Culture and Nice To See You being my personal favourites however Christmas and coffee shops equals timeless magic. Perfect for retreating from the cold, a picturesque coffee shop never fails to create a certain cozy vibe which nobody can get enough of. And if coffee isn't quite your fancy, seasonal hot chocolates never fail to deliver this time of year. The moral of the story would be to let Jesus take the wheel and step away from your big brand coffee, instead try going local this Christmas, you won't regret it.
Bish Bash Pot
Although not strictly Christmas-related, pottery painting at York's Bish Bash Pot will be sure to get anyone with an enjoyment of the arts into the Christmas spirit. The store has a variety of Christmas-themed options from model Santa Clauses and Rudolphs, to Snowmen baubles to paint. If you're feeling particularly creative, there is always the option to take up a plain bowl or mug and create your own Christmas-themed masterpiece. Pottery painting is an activity which anyone can enjoy and makes for a good couple of hours out of the cold with a group of friends or significant other.
All-year-round Christmas shops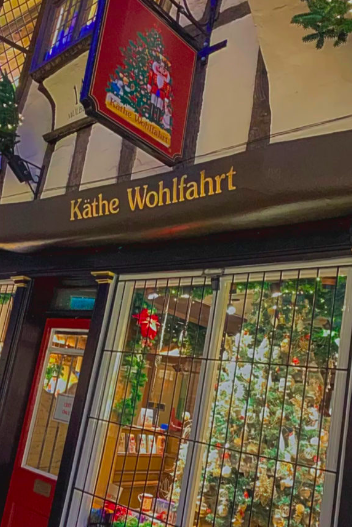 Are you sad about the Christmas markets ending after Christmas Day?  Well, York's year-round Christmas shops may just be the answer, and luckily York has the fortune of being blessed with two. Why not head to Stonegate's beautiful Käthe Wohlfahrt store, or pay a visit to The Nutcracker Christmas Shop on your next trip to the Shambles? Both shops are wall-to-ceiling Christmas spectacles, having multiple storeys to them which offer differing styles in decoration from retro to modern, needless to say there is something for everyone and there is nothing better to get you in the Christmas spirit!
Castle Howard's Into the Woods
View this post on Instagram
Calling all Bridgerton fans! No, sorry, the Duke isn't coming back for Christmas, however, you can pay visit to Castle Howard where much of the series was filmed. This year Castle Howard is embodying the theme of Into the Woods and the castle has undergone a transformation into a magical realm to that of the musical, centring around a visit to Father Christmas himself. Perfect festive vibes.
Ice Skating
If you would like to test the strength of your partner's love this Christmas, why not take them ice skating at York Designer Outlet? There you can watch as they fall and slam headfirst into the wall multiple times in a row as you try not to get the ick. Or, on the other hand, you could be the one slipping and falling. If that is the case, best of luck solider, and at least be content with the solidarity of your relationship if they don't end it with you. All joking aside (I'm deadly serious) Yorkshire's Winter Wonderland ice skating is beyond beautiful, and its layout is like something g dreamt up in the pages of a Christmas story.
Thor's Tipi
After an exhausting festive day of following this list, why not cap your Christmas-spiritual awakening off by taking your family and friends to Thor's tipi at the Principal? As advertised on their website, the pop-up bar encourages you to drink, feast, conquer, and repeat, so why not channel your inner Viking at their Winter Alpine Hall? From 12pm-11pm you will be able to indulge in a spot of festive drinking from shots on skis to mulled wine, why not get in a bit of practice before the big day?
Related stories recommended by this writer:
• Nine alternative Christmas presents for York students
• York student charged after eggs thrown at King Charles last month
• Meet the Uni of York alumni competing in Christmas University Challenge