Listen up serial squatters: This is a definitive ranking of the best toilets at Newcastle Uni
For students that want to get their money's worth
You may recall not long ago we compiled a list of the best places to have a poo on campus. However, we felt we owed it to you to build upon this and take our ratings one step further. Here, we have considered even more important factors you should have in mind when choosing where to do your business, including, but by no means limited to; cleanliness, quality of facilities, privacy, location and of course general ambience. While this is not an exhaustive list, we tried to cover the prime hotspots on campus as well as the buildings we feel get overlooked, from the worst to the best.
9. Agriculture Building 
Starting off with the weakest link; the Agriculture Building. Where to begin. You could argue the toilets in Saw are more inviting. The Agriculture toilets are outdated, a bit stinky, and there was also a questionable substance dripping down the front of the stalls. The photos really don't capture the overall experience, so I'd say you'd have to go see them for yourself – but no one should have to go through that. 
We were also generally baffled by the set up – why is the female shower inside the male toilets?? We didn't have the guts to explore this further but would love to know more if you have any intel. As you exit, there's also a sign reminding you to make sure you have flushed, which naturally begs the question – what did the poor cleaners have to experience in order for this to be put up?
Of course, the obvious main pitfall of these toilets is that you are making yourself extremely vulnerable to bumping into an Agric; possibly scarier than waking up trapped in one of John Kramer's games. 1.5/10.
8. Walton Library 
A step above the Agriculture Building, but not much better, is the Walton Library. There's just something about these toilets that screams depressing. Whether this is from the ghosts of medical students past and present, who have likely accumulated hours here weeping, or the lack of natural light – it's hard to say. 
In terms of the facilities, the biggest issue we discovered is the weak flush. I'm sure you have experienced the harrowing moment when there is a queue building up outside your stall and you just can't get the flush to cooperate. No one needs this added stress, especially not whilst revising. 3/10.
7. Business School 
Arguably the biggest let down on the list. I don't know why I expected so much from the Business School – I think it's because I have it in my head that this part of campus is really modern and futuristic, but I was bitterly disappointed. The Business School toilets were in fact dark and uninviting, almost reminiscent of an interrogation room. There were also a lot of different and mildly threatening signs, which while I'm sure had only the best of intentions behind them, did not put us at ease. The best thing about these toilets were the funky dryers pictured below, but yet again these left us wanting more with the severe lack of paper towels – it's always nice to have the option. 4/10.
6. Phillip Robinson Library, third floor
I'm a bit scared to say anything bad about the Robbo because for reasons I don't understand it's hailed as a sacred place by the majority of Newcastle students. I have to admit… I simply do not understand the hype. Consequently, this also means I am not used to the hubbub and resulting lack of privacy in these toilets. As you can imagine, if you are a Robbo frequenter, it was so busy I struggled to take a photo to put in here while avoiding the watchful eyes of other students – who if they saw me snapping a picture would definitely have thought I was a freak. 
My final review is the Phillip Robinson toilets reflect my controversial opinion of the building itself; they do what they're supposed to do, but ultimately they're nothing special. I also couldn't get the dryer to work, but that may have been a personal problem. 5/10. 
5. Student Union Building, ground floor
Another very average toilet. Although it does offer some unique features such as a very large mirror, natural lighting and a Dyson dryer, the overall impression remains underwhelming. One plus is you are likely to have some privacy as who actually goes to the Student Union on a regular basis? NUSU, do better. 6/10.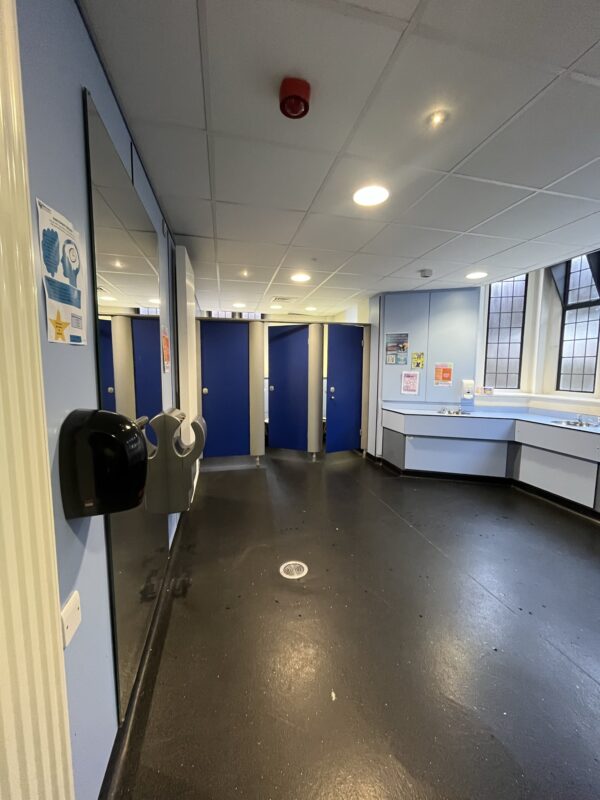 4. Marjorie Robinson Library 
Phil Robbo's underrated spouse and my library of choice. The toilets here are clean, bright and modern, just like the rest of the building. Additionally, like in the SU, you are unlikely to see anyone you know because they're busy gossiping around the corner in the Robbo. I also enjoy the mysterious locked fire door at the end of the stalls.
Despite my love for the Marj, I will admit the toilets do sometimes have a slightly weird smell I can't quite put my finger on. This also seems to be the place where I most often hear students aggressively crying, and although I sympathise with them – and sometimes feel the need to join in – this can be a bit off-putting. 6.5/10.
3. Armstrong Building 
As a Psychology student, I am very jealous of all of you humanities students that reside here, on my favourite part of campus. Those red bricks are truly irresistible. The toilets in the Armstrong Building are an almost unexpected modern contrast to the building's ye olde exterior; clean, bright and very spacious. Extra points for natural light, location and of course being encased within what I believe is the best Newcastle Uni building. 7.5/10.
2. Urban Sciences Building
Home to Computer Science students, the USB offers the cleanest toilets we encountered on this list. HOWEVER, one must ask – is this down to a lack of female representation in the STEM buildings? Some food for thought. Additionally, I didn't bump into any other student using these toilets, meaning they scored high on privacy. I also thoroughly enjoyed cosplaying as a climate activist as I used the hand dryers, alluringly branded as "eco-smart".
The Urban Sciences Building is also just very nice in general, granted you will probably never step foot in here unless you specifically plan a trip to review the toilets, which it seems most normal students don't tend to do. 8/10.
1. Dame Margaret Barbour Building 
Toilets truly fit for royalty. You may have clocked that these are the toilets I use the most regularly, with the Dame Maggie a base for Psychology students. But, I can assure you there is no bias here – despite the urge to gatekeep, instead I actively encourage you to experience these toilets for yourself. In the DMBB you get your own individual room fit with sink, dryer AND full length mirror resulting in optimum privacy. There are also lots of loos on every floor meaning you won't have the fear of there being someone awkwardly waiting outside your toilet door for you to finish.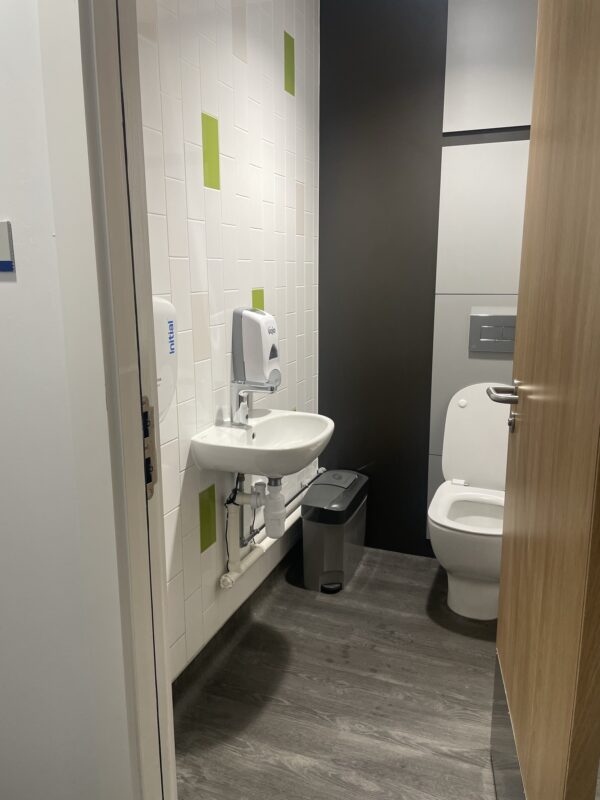 Up until a few weeks ago, I would have also said the toilets here are extremely clean – but without getting too graphic, recently people have been taking the mick and need their potty privileges revoked – less of that please.
These toilets were so close to being flawless, but have to lose another half point for their location; unfortunately unless you're a gym rat (that for some reason doesn't want to use the toilets there) or a Psychology student, the likelihood you will ever visit is low. 9/10 – nothing's ever perfect, is it? Not even for £9,250. 
Want to write stories like this? Join the team, no experience required. DM us via @TheTabNewcastle on Instagram or The Tab Newcastle on Facebook.