Five easy ways you can save money as a Newcastle student
Student loan burning a hole in your pocket? We've all been there
If you're like me, you'll constantly ask yourself whether you're spending too much money on your food shop, buying unnecessary drinks in expensive clubs and if there's a cheaper way to live without cutting out all of the fun. Being a student means finding that perfect work-play balance, and with everything seeming so expensive at the minute, it's definitely not an easy boundary to establish. Here are some good ways of saving money that I've learnt along the way as a Newcastle student.
Shop smart
Food is most definitely the second biggest money sucker (right after rent) and so I always try to find ways to cut corners where I can. A well-known gem of Newcastle is Grainger Market, and I'm not kidding when I tell you it should be the number one place for food shopping as students. You can buy meat, fruit and vegetables at a very reasonable price and even get your hands on fresh fish with a student discount. I confess – I no longer buy fruit from anywhere else.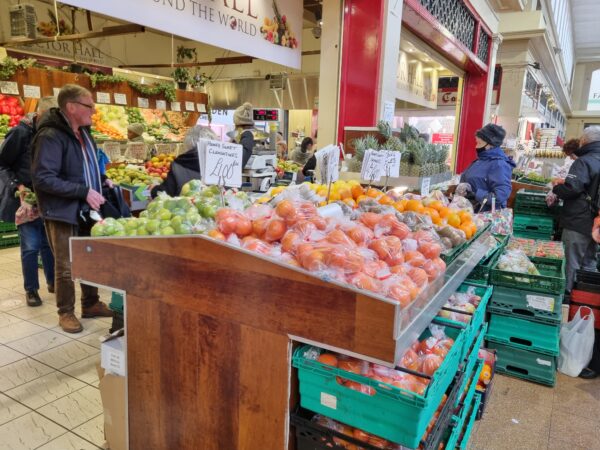 Another way to save some money while shopping for everyday necessities is visiting certain supermarkets; I found the cheapest options to be Poundland and Aldi. Poundland is also right next to Grainger Market, so you can pop in for some hand soap, pans and even snacks after your shopping trip. Aldi being further from the city centre might not be your first choice and believe me, it wasn't mine either. You can find a store in Gateshead, which is probably the closest one from the city centre, yet it still requires a Metro ride. Alternatively, you can get on the Metro to Fawdon, where you'll find another Aldi only a minute or two's walk from the stop. You'll find that shopping at Aldi (or Lidl) is so much cheaper than alternative supermarkets and so the journey is worthwhile, despite the distance.
To cook or to go out?
As much as going out to dinner is fun, it's definitely not the cheapest way to feed yourself. Cooking from scratch is a pain but is definitely budget friendly and the most efficient way to cut costs on cooking is to meal prep. It's a hassle, I know, but all in all it will save you a ton of money that would otherwise be wasted. There are some great, easy recipes to get you started, with my personal go-to being pesto pasta (obviously), which works for dinner as well as lunch the next day.
To make it richer I always add in chickpeas, tomatoes and peppers and sprinkle it with sesame seeds. It tastes great, goes further and looks pretty decent once you pour the sesame seeds over the whole plate. And if you do decide to go out from time to time, make sure to ask for student discount – it never hurts to try and you might be surprised at how many of your favourite places offer it.
Entertainment and culture
Speaking of student discount, the Northern Stage theatre offers a great student deal; each student ticket is only £10, so sometimes you can end up saving up to £20 on thrilling performances.
Cineworld and Tyneside Cinema both offer student discount, although sometimes you'll need to check which of the two works out cheaper, as both theatres price their tickets differently. What's more, there are also ways to save the pennies while clubbing, as there are many clubs and bars across Newcastle that offer free entry, such as Sinners or Market Shaker. And it doesn't hurt to look out for drink deals in clubs either; Bijoux offers three trebs for £5.99 on a week night which is a bargain.
Transport
Another big strain on a student's budget can be transport. While the cheapest form of transport is obviously walking, it's not always the most comfortable, especially when the weather is foul or you have lots to carry.
Consider spending some of that money saved from your food shop on purchasing a used bicycle. Bikes are a great way of getting around the city; they're quicker than walking, are good exercise for your body and don't cost a penny to run. Newcastle is very bike friendly and campus itself has loads of places to lock up your bike.
If you like to travel outside of Newcastle and explore new parts of the UK on weekends and out of term time, you might want to think about getting a student railcard. A railcard will save you a fortune on rail travel and you can get one for one or three years, meaning each time you buy a train ticket you get 30 per cent off. Some student bank accounts like Santander gift you a railcard when you choose to use them for your student finances, so that's something to consider. And of course, always try and plan your train trips in advance as prices increase significantly closer to the departure date. Trainsplit is a good website to utilise when purchasing train tickets.
Budget
All these tips will do nothing if you're not aware of your spending. The best way is to budget all of your outgoings, everything from shopping to nights out. Set aside a certain amount you can spend each month on different things. Or alternatively, make sure to at least budget retrospectively, which is what I do personally. After every purchase, note down what you've spent your money on and how much it cost. That way, at the end of the month you're aware of your biggest expenses and you can analyse them and decide what changes to implement in the next month.
Related stories recommended by this writer: