Arguments and shade: Predicting the carnage that's going down at the winter Love Island reunion
Brace yourselves for Zara v Olivia round two
Since winter Love Island 2023 came to an end, there's one thing contestants can't stop talking about: the reunion. Although they've all been hanging out at every influencer event under the sun back in London, the reunion is the first time any shade or awkward moments will be televised – and contestants seem to think there'll be a lot of them.
"I feel like a few things might be said, or some things might kick off in the reunion," Anna May told The Mirror. "Something is 100 per cent going to kick off," Martin added on FUBAR Radio. "Because I've been saying everything that happened, and someone is going to be angry at me for talking about their couple. I know that already. I just don't know who is going to kick off at me first."
Literally all of the Islanders are attending this season's reunion and, in case you're wondering who Maya Jama is going to have to pull off who as the drama escalates, these are all of our predictions for when the chaos pops off:
Zara v Olivia round two
Olivia told The Sun she was bringing even more "fireworks" to the reunion after being dumped from the villa. And, while that could be in reference to Kai still "owing" her an apology, we reckon that spark is more likely going to be aimed at Zara who's seemingly been making shady TikToks about her with Tanyel. There's definitely unfinished business to be discussed here.
Zara v Tom round two
Zara and Tom never really got to air their full grievances with each other because Zara was booted off the show before the dust really settled from their "I hope your family are proud" argument.  He might have been laughing at the clip of him throwing his jacket on the floor like Troy Bolton on TikTok since he got his phone in the UK, but Tom's 100 per cent going to defend himself and now Samie will have his back, too.
Casey and Claudia (kind of) clearing the air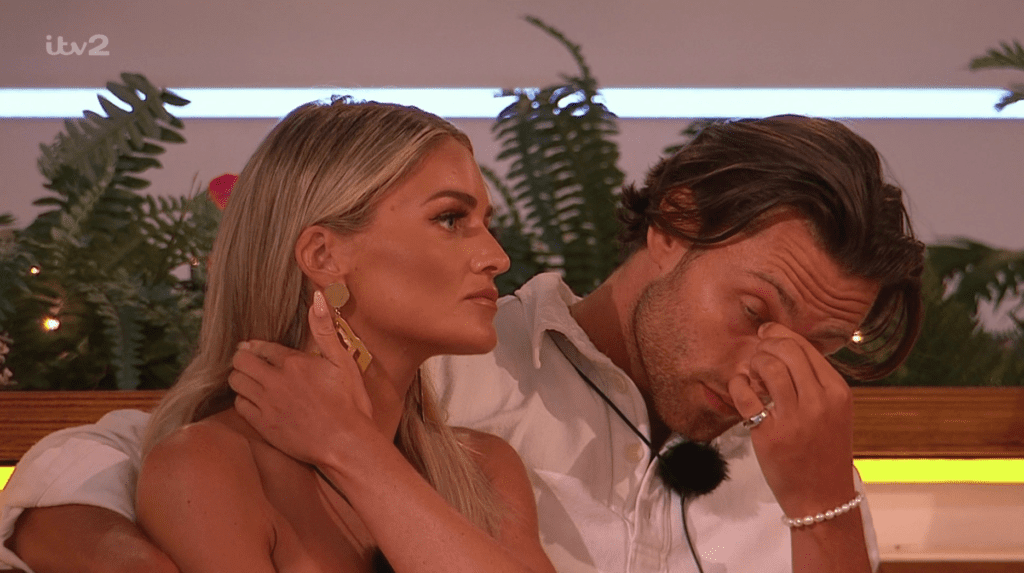 Since flying back from South Africa, Claudia has been on multiple podcasts explaining why she was so hurt when Casey sacked her off for Rosie. And now Casey is back in the UK, he hasn't even acknowledged Claudia, ouch. It's definitely all kicking off between them again. Casey will say his signature line "I don't even care" and Rosie will chime in, infuriating Claudia even more. Oh and Cynthia (the bombshell he got with in Casa Amor) will be there for back up too. Potentially some tears with this one.
Ron and Lana keeping their cool
Before they'd even touched back down in the UK, Ron and Lana were seen having a "huge argument" on the flight home. They're probs not going to discuss that at the Love Island reunion. But there'll definitely be some strained smiles and side eye if Ron even whispers the words "tests".
Tanyel letting loose on Shaq
After Tanyel was dumped from Love Island, she was pretty vocal about who she did and didn't like amongst the cast and it seems like her friendship with Shaq is pretty much over. "I find it very bitchy and I don't know why he was so invested in my life," she told On Demand Entertainment. "It was always a negative opinion, it was never a positive opinion, it's always if you have nothing nice to say then don't say it."
Looks like they have a lot to talk about on Sunday. Tanya will back Shaq up, Ron will back up Tanyel and the old Ron v Shaq hostility will emerge once again.
Tanya letting loose on Martin (again)
By his own admission, Martin has been chatting shit about everyone's couples since he left the villa and is prepared for his fellow cast members to go in on him. During the series, we saw Tanya try and square up to Martin before Shaq held her back. So, there's a good chance she'll go in on him again if he tries to pipe up about her Casa Amor antics, with all the other Islanders he's expressed his opinions about backing her. Yikes.
So, when exactly is the Love Island winter reunion?
Love Island: The Reunion is on ITV2 at 9pm on Sunday 19th March. For all the latest Love Island news and gossip and for the best memes and quizzes, like The Holy Church of Love Island on Facebook.
Related stories recommended by this writer:
• Brand deals and millionaires: Predicting who's going to thrive after the Love Island villa 
• Um, people think Tanyel and Zara have been shading Olivia on TikTok 
• Moving in and falling out: Predicting which couple will break up first after the Love Island villa