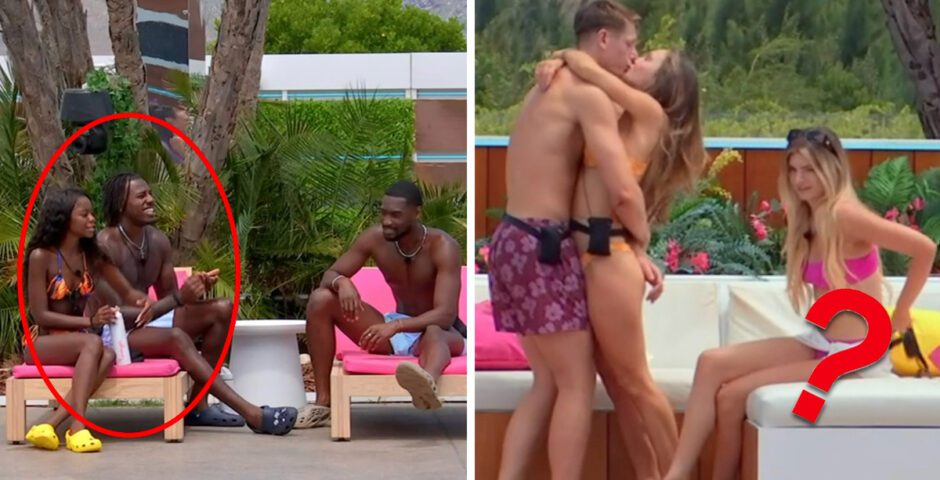 There were two huge editing errors in Love Island last night, so it's more staged than ever
| UPDATED
In last night's episode of Love Island there were two huge editing errors, proving yet again the show is full of moments that make it look staged. The episode saw Islanders magically disappearing and moving in the villa, it was all a bit much.
The two editing errors came as the classic Love Island text message hit the villa last night. The Islanders were told they were going to be taking part in a challenge called "Ladiators" and got a text to get them hyped for it. As the message came through, Shaq, Tanya and Jordan were chatting on the day beds.
But then, the camera cut to Shaq in the Beach Hut reacting to the challenge announcement, and when the camera came back to the day bed, Tanya had disappeared! Umm, what's going on here?
That wasn't the only weird continuity error that happened all in the space of a few seconds. We also saw Will, Jessie and Ellie in one of the villa's other seating areas, when the text was read out. As the message was read, Jessie and Ellie were sat together on the sofa. Note: Sat down.
After hearing about the challenge, Ellie quickly stood up to go and get ready, but flashback, and suddenly she's sat back down on the bed relaxing. She was literally just up and ready to go?
Weird?
This isn't the first time this year where Love Island has had some dodgy editing questioning its continuity. When Zara was in the villa there was a moment during one of the games in the evening where Zara's false eyelashes kept changing from being on to off, which people quickly clocked onto.
Yikes!
Love Island 2023 continues at 9pm on ITV2 and ITVX. For all the latest Love Island news and gossip and for the best memes and quizzes, like The Holy Church of Love Island on Facebook.
Related stories recommended by this writer:
• People have spotted a huge editing error that proves Love Island 2023 is staged
• Love Island's Jessie looks completely different in old pictures from before the show