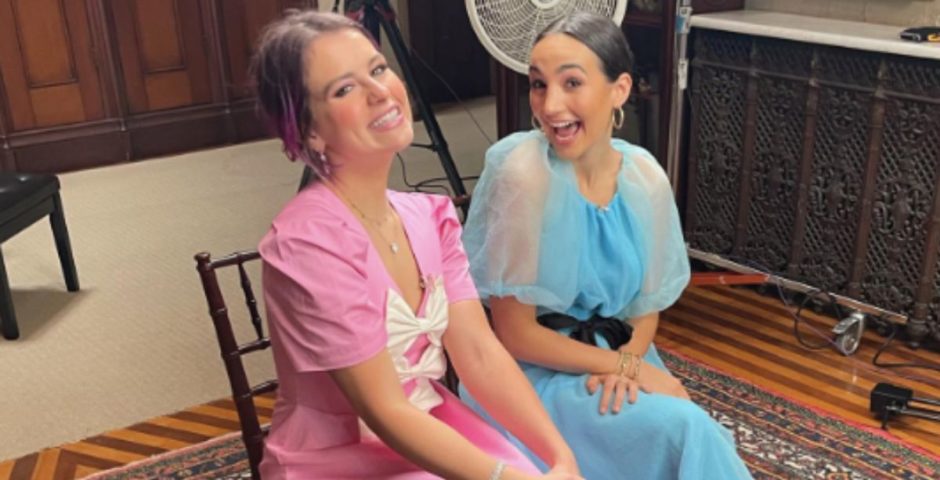 Netflix is suing the creators of The Unofficial Bridgerton Musical
Netflix was not too happy about their Kennedy Center performance
Netflix is suing the creators of The Unofficial Bridgerton Musical, Abigail Barlow and Emily Bear, for copyright and trademark infringement following the musical's move to live and paid performances. The viral TikTok musical that launched off the back of season one of the Netflix original first began as a fan-made project and has since gone onto have a concept album and win a Grammy Award.
When the musical initally began to make headlines and gain popularity outside of TikTok, Deadline reports that Netflix "originally hailed the concept when it debuted as a free online homage", but as it became a "profitable" business things took a turn. The lawsuit detailing why Barlow and Bear is being sued is 25 pages long, so here is a breakdown of the key points as to why Netflix has now chosen to launch proceedings.
The complaint reads: "Defendants Abigail Barlow and Emily Bear and their companies (Barlow and Bear) have taken valuable intellectural property from the Netflix original series Bridgerton to build an international brand for themselves. Bridgerton reflects the creative work and hard-earned success of hundreds of artists and Netflix employees. Netflix owns the exclusive right to create Bridgerton songs, musicals, or any other derivative works based on Bridgerton. Barlow and Bear cannot take that right – made valuable by others' hard work – for themselves, without permission. Yet that is exactly what they have done."
A user on Reddit has summed up as simply as possible the lawsuit against the co-creators of the unofficial musical.
At first, Barlow and Bear asked for permission to perform a one-off charity concert
In March 2021, Barlow and Bear asked Netflix for permission to perform "a one-time charity concert in the UK". Netflix responded and said it would not be authorised but it would turn a blind eye to it, as long as it was just the once. The document reads: "Barlow and Bear did not ask for, and Netflix never granted, ongoing authorisation or any license." The concert never ended up going ahead and was rescheduled for November 2021, and Netflix said it would not interfere but it should be "the last such event".
When Netflix learned of the album, it sent Barlow and Bear a notice
When it was announced the duo would be recording a concept album, Netflix sent notice "to advise them of a clear line". The line meant there could be no live performances and no additional derivative works or events which might compete with Netflix's Bridgerton Experience.
Barlow and Bear's Grammy nomination
When it was revealed it was nominated for a Grammy award, Netflix reiterated its lines to the creators, and Netflix received assurance they would accept the award should they win it and any interviews after.
Barlow and Bear's Kennedy Center performance
In June 2022, the duo told Netflix they would be doing a Kennedy Center performance. When asked about the nature of the event, "rather than engaging with Netflix on its questions, Barlow and Bear's representative stated that they were not asking for Netflix's permission. They publicly announced the Kennedy Center show within days."
The month before the performance, Netflix told Barlow and Bear the performance was no authorised and for them to do it having been informed "would constituted wilful copyright and trademark infringement". Netflix offered to negotiate a license for the live performance, and it was refused. The performance was advertised, had merchandise which used Netflix's trademarks without their authorisation.
Why is Netflix suing them now?
The Reddit user explains why the lawsuit didn't come sooner. They said: "It was the Kennedy Center performance that crossed the clear line in the sand that Netflix had drawn. Netflix never actually granted permission for anything Barlow and Bear did, but turned a blind eye when the product was within the realm of internet fanction.
"But they specifically said 'no live performances', informed Barlow and Bear that they would enforce their copyright if the Kennedy Center performance moved forward, and when the performance went on anyway, Netflix duly filed the lawsuit."
Shonda Rhimes, creator of the Netflix show said: "What started as a fun celebration by Barlow and Bear on social media has turned into the blatant taking of intellectual property solely for Barlow and Bear's financial benefit."
Julia Quinn, the author of the Bridgerton novels said: "I would hope that Barlow and Bear, who share my position as independent creative professionals, understand the need to protect other professionals' intellectual property, including the characters and stories I created in the Bridgerton novels over 20 years ago."
Barlow and Bear have not yet commented on the lawsuit.
Related stories recommended by this writer:
• Now TikTok is turning Bridgerton into a musical, and it actually slaps
• 'Unofficial Bridgerton Musical' is the first Grammy-winning album to come from TikTok
• If the Bridgerton characters went to UK universities this is where they'd go