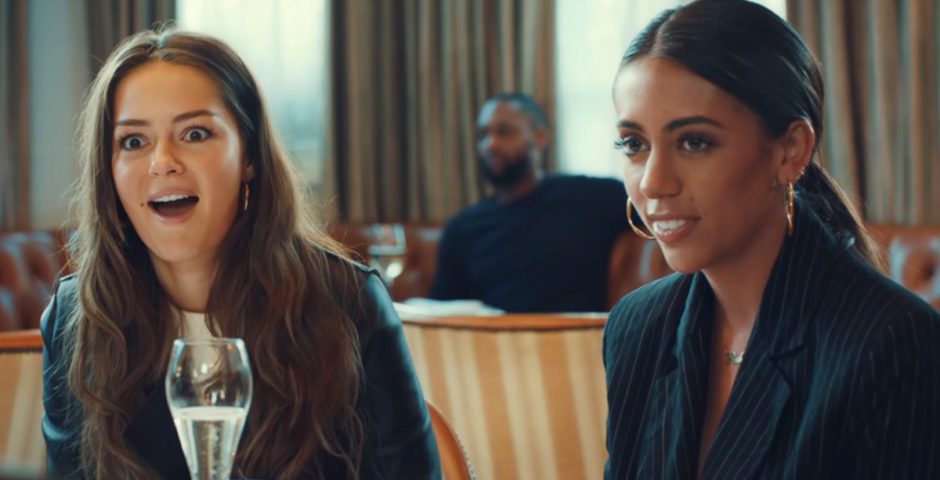 5am starts and clubbing in the day: The 13 juiciest Made in Chelsea production secrets
The show was originally called 'The Big Smoke' and then 'Chelsea Girls' loooool
With any reality series, you can't help but watch it and wonder what's real and what's not, and how hard it actually is to be part of the show. The biggest and best kept production secrets of Made in Chelsea give a little window into the world of our favourite rich Londoners and what making the show is actually like.
From the filming schedule and how much the scenes are actually set up, to whether or not the cast members are really on a night out in clubbing scenes and how drunk they get on-set. Here are the biggest production secrets and behind the scenes facts about making Made in Chelsea.
Filming can start as early as 5am, and it takes 10 days to film one episode
You might think that being on a show like Made in Chelsea looks pretty easy, but it actually turns out that filming for the show is a gruelling schedule. Filming can start as early as 5am, making "night time" scenes take place surprisingly early. It takes roughly 10 days to film one episode.
"We were asked to arrive early in the morning wearing a lounge suit and bow tie," an extra told The Tab. "Despite the scene being presented as evening on the show, filming actually started at 7am and finished early evening. It was a long day and pretty boring."
DJ Tom Zanetti also made a brief appearance on the show when he was dating Sophie Hermann, and said the days are long and tough. "These people who are on it, they're on it for weeks on end and it's very long days," he said. "It's made to look very easy because it looks so beautiful on the screen, but it's actually like so draining and so tiring. So yeah, it's not easy at all."
Sometimes the alcohol used is fake
Apparently, not all the times we see the cast members and people around them drinking is real. An extra for Made in Chelsea told The Tab only a small amount of the alcohol was real, with the vast majority of glasses simply filled with Shloer.
But, cast members have said it's completely up to them how much they want to drink – and with filming taking place early in the morning, sometimes it's just personal choice to make it look like they're drinking when they're not.
Extras for scenes in bars and restaurants are casted
You might be wondering just how legit scenes that take place in local bars, restaurants and cafes are. Like, are all the people in the background just normal members of the public enjoying an afternoon drink? Why aren't they all staring at the drama and the cameras? Well, an extra for Made in Chelsea told The Tab these people are actually casted extras, and not just anybody.
He told The Tab producers put call-outs on casting websites and even call people in to audition for these parts. "It depends on the events – if it's a concert or somewhere that requires a lot of people, they might post it on their socials," he said. "Otherwise, you have to be an actor and apply via acting websites. You might even have to audition." Yep, people have actually auditioned to stand in the background and drink fake booze whilst watching the cast scream and argue.
Right, so what actually goes on in the clubbing scenes?!
Ok I think the biggest of all Made in Chelsea production secrets we want cracking is what the hell is actually going on when the cast go on a night out. Is it actually night time? How can they stand and have a conversation when it's meant to be that loud?! An extra who spoke to The Tab claimed the club scenes are actually filmed in complete silence and any music we hear is added post-production.
It's previously been reported clubbing scenes are filmed during the day, and "staff members" in the club are actually hired just for filming the show. The show reportedly hires in extras to act as fellow clubbers, bar staff and door staff at the venues.
Nightclub Raffles also admitted scenes for the series were staged. "We would like to confirm that the production company for Made in Chelsea has rented our venue on a few occasions – during the day – to film scenes for its television programme," the club said in a statement. "The hire-outs were standard day-time venue hire that we were very happy to accommodate. We wish them and the cast the best of luck with the TV programme. We will be maintaining our strict policy of allowing access for members and their friends only during normal evening trading hours." Awkward.
The idea for the show came from The Hills
Made in Chelsea was born following the success of US reality TV show, The Hills. Spencer Matthews was pals with some of the cast members and told Closer Magazine: "We didn't have anything like that in the UK. We pitched basically the same idea over here to star in our own show in London."
The executive producer was actually casting for Young, Dumb And Living Off Mum when the show came about
"We were casting for another show, Young, Dumb and Living Off Mum, and kept coming across people in their late teens and early 20s who weren't right for that but were charismatic, funny and led dramatic lives," executive producer David Granger told The Guardian. "They were the type of people who used to be dismissed as 'Sloanes', but they were much more interesting than that. The community was very tight-knit: they all knew and lived near each other."
Amber Atherton actually co-created the show!
Fun fact: Amber Atherton created the pilot of Made in Chelsea, before starring in the series as a regular cast member herself. She was the first ever person casted in the show.
The show was originally called 'The Big Smoke'
As well as Amber Atherton, cast members Hugo Taylor and Caggie Dunlop were part of the casting process. Spencer Matthews revealed they first pitched the show as called "The Big Smoke" and filmed a pilot, but it was never picked up. It was then noticed by some producers when it was called "Chelsea Girls", but Spencer and Hugo requested the name be changed to Made in Chelsea. Ollie Locke was approached to be a cast member when the show was still called "Chelsea Girls".
Former cast members have said the show is staged
The elephant in the room with any reality TV show is how real the drama actually is. In Made in Chelsea it's been said producers will make sure all the cast members are in the right place at the right time, like organising a "surprise" meet up, and then let the drama unfold – unscripted. However, some past cast members have gone further and said the show is pretty much all "constructed".
In an interview in 2016, Hugo Taylor admitted the show is "completely fabricated". He said: "The guys are completely characterless fops, it's ridiculous." He said the original cast members were actually friends, and still are, but new cast members are simply in it for the fame and money, and fake the on-screen friendships for it.
In an interview with Sabotage Times, an extra from Made in Chelsea added the show is "very much constructed". She claimed she was told to dress in the style of the show and to pretend she was out shopping. She says she was placed a mile away from cameras to "allow the cast to perform".
They've also said producers tell cast members what to say
Speaking to Closer Magazine, James Taylor said: "Producers make you say things you don't necessarily want to say. There's a definite hierarchy and there's 'different rules' for the older cast and the newbies."
After his MIC appearance, Tom Zanetti said he didn't realise how "set up" filming was going to be. "I didn't know what to expect. But I kind of thought it would be more like [the cameras] following you around and stuff like that," he said. "I didn't realise it would be, you know, like settings, like set up in a way. In a way, yes, it is set up. They'll set up an amazing setting and a backdrop and then you're given a topic to discuss."
Scenes are filmed more than once
Filming might look spontaneous and natural, but Tom Zanetti also confirmed one of the biggest production secrets on Made in Chelsea is that some scenes are filmed more than once. "You've got to film it so many times from so many different angles," he said. "And then, you get the wides, and then you get the pretties and then you get this and that."
The cast don't know they're going abroad until the day before
Made in Chelsea has had a lot of fancy abroad spin-offs in its time, including the cast members heading off to New York, Ibiza and LA. However, according to James Taylor they are only told about these trips about 24-hours in advance, so their reactions to holiday news are as real as possible.
Sometimes, the cast members don't know about storylines until the show airs
Yep, sometimes the Made in Chelsea cast members' biggest secrets come out after production. Cast members have said they can be completely in the dark about what's been said about them or other people, and they're watching the scenes unfold on the show just like us!
Related stories recommended by this writer:
• Maeva is single-handedly saving Made in Chelsea, and we don't deserve her
• Made in Chelsea love lives: Who all the current cast are dating on and off the show
• Ranked: These are officially the richest ever people to come from Made in Chelsea