What it's really like filming Made in Chelsea, according to an extra
'Filming started at 7am and finished early evening'
There's a lot of speculation as to whether reality shows like Made in Chelsea are as factual as they're presented, but can you blame us? The explosive arguments, the thrown drinks and the pointless bickering are enough for any sane person to question whether there's actually a group of people in existence with such behaviour. Aren't we supposed to leave that bullshit in secondary school?
We spoke to James*, who played a barman on Made in Chelsea for a dinner party and ballroom scene to find out. He filmed two scenes: a ballroom scene with the majority of the cast, and then a smaller scene with Louise and Cheska. We asked him all of the questions you've ever had about what really goes on behind the scenes: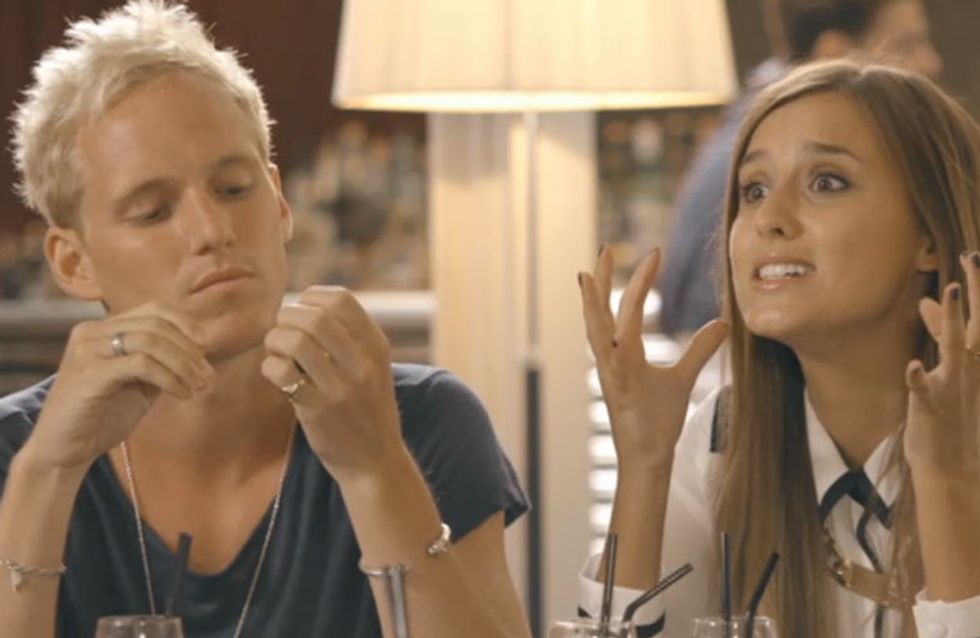 It's a bit of a mystery how MIC managed to find all these attractive young people to fill the backgrounds in these bar and club scenes, but James says that people have to apply via casting websites and even audition. James told The Tab: "It depends on the events – if it's a concert or somewhere that requires a lot of people, they might post it on their socials. Otherwise, you have to be an actor and apply via acting websites. You might even have to audition." Yep, people have actually auditioned to stand in the background and drink fake booze whilst watching the cast scream and argue.
And fake booze it is indeed. James told us that only a small amount of the alcohol was actually real just for show, with the vast majority of glasses simply filled with Shloer. But after all, this makes sense if filming really does start at absurd hours in the morning.
There have been reports of filming taking place as early as 5am to accomodate for the amount of filming they had to get through, and James' experience was no different: "We were asked to arrive early in the morning wearing a lounge suit and bow tie. Despite the scene being presented as evening on the show, filming actually started at 7am and finished early evening. It was a long day and pretty boring." No surprise there.
As you can imagine with everyone from extras through to main cast on set, the room wasn't exactly empty: "There was the main cast obviously, but then there were a lot of extras, cameramen, producers, directors – you name it. They had the entire building booked out." James went on to tell us that all extras are paid, but he didn't specify how much, beyond telling us that it wasn't a lot.
There has often been speculation as to whether music is actually played during scenes where music is audible. You'll see packed rooms full of clubbers or a busy restaurant with a lot of background mumble from other people, but you may not be surprised to learn that there is no music or any background noise at all so that cast members can be picked up by the microphones. James said that on the day that he was working it was "completely silent – the only people allowed to speak were the main cast members. In the final edited version, there was both music and background chat that had been put in during postproduction." Sounds awkward.
We all know that Made in Chelsea isn't going to be completely real and that there's definitely parts that are somewhat scripted, but James told us that there is quite close direction on filming days and that they would still do several takes to get it perfect. "While it's not completely scripted they do multiple takes and the director does come and speak quietly to the cast. I think they were real arguments to a degree however they were asked to repeat them and do multiple takes until the producers got what they wanted – this means that one scene takes quite a while."
This is enough to make you think again about some of your favourite scenes from the show. Was Spencer slapped more than once? Were Ollie and JP sent over to that river to argue? James seems to think that they were more than aware what was going to happen before it did actually happen. He told us that due to a number of obvious factors, from directors putting people in certain spots to the amount of cameras there, that it was pretty clear to tell something was going to happen.
"The cast are kept separate and told when to enter and where to stand once they have entered so they can have a camera on them to film their reaction when the drama kicks off. Everyone knew something big was going to happen because of the amount of cameras arranged to film reactions."
No surprises there then – everything is planned down to the positions of the cast and extras, the long shoot days and the endless retakes to get the scene right, and they couldn't even provide free booze to make it somewhat more bearable! It seems the only authentic part about the show is the unscripted words that come out their mouths, and even that's up for debate.
So, are you going to carry on watching? Probably.
Related stories recommended by this writer:
• Made in Chelsea is rubbish now so here's a classic MIC general knowledge quiz
• Where are the irrelevant Made in Chelsea cast now?
• What the Made in Chelsea cast looked like in episode one, to now