Meet the 12 iconic queens competing on Canada's Drag Race season two
All 10 episodes drop on BBC iPlayer TOMORROW!!!
Canada's Drag Race season one was an absolute blast of joy in 2020, released as restrictions were easing from the pandemic and our first glimpse into seeing the sickening drag talent on display in Canada, where the queens were true north, strong and fierce. Season one gave us icons in the form of Jimbo, Lemon (still quaking at her iconic rap verse) and of course eventual winner Priyanka – one of the most fun and lovable winners in the entirety of Drag Race herstory. And now, we're going BACK to Canada for season two because the entire series boxset is releasing on iPlayer tomorrow (Friday 17th December)!
Brooke Lynn Hytes returns to both host and judge the season, with new judges Brad Goreski (style icon) and The Handmaid's Tale's iconic Amanda Brugel. Traci Melchor, who was on season one as the queens' "squirrel friend", is now on board as a fully fledged judge. But what about the queens? Here are all 12 of the sickening queens competing for the crown on Canada's Drag Race season two.
Adriana
29-year-old Colombian queen Adriana emigrated to Canada when she was 16 to join her mother, moving to Québec City without knowing how to speak English or French. She's known for her sickening dance ability and productions in her performances. On her drag, Adriana says "Doing drag makes me feel like I can do anything. All my life I struggled to find something I was good at. I thought I had no talent and no confidence to become the star that I've always wanted to be. Drag let me see how amazing I really am."
Beth
Based in Vancouver, 24-year-old Beth describes her drag as old-school sex appeal but with a modern twist. Season two of Canada's Drag Race is one of the most diverse seasons ever, and Beth is one of the queens helping to make it so. She's a Métis queen, who are one of three indigenous people of Canada. On drag, she says "Drag is for any human or non-human who wants to say f*ck you to gender stereotypes. It's about celebrating who we are!" When not in drag, Beth works in the hair industry.
Eve 6000
Toronto legend Eve 6000, 29, is definitely here to be the outspoken queen of the season – and says she has strong opinions about pretty much everything. She acknowledges that she can be polarising, but is a hard-working and polished queen that takes pride in her drag and looks. Eve 6000 is also trans non-binary, and said the following: "As a trans non-binary artist, drag is all about expressing the femininity I wasn't allowed to growing up. Drag is a tool we can all use to express our true selves and be seen as we want to be seen."
Gia Metric
29-year-old Gia Metric started her drag career in Toronto, but has settled down and established her career now in Vancouver – building herself up to become one of the most well known queens in the city. She's walked in New York Fashion Week, and prides her drag on its authenticity, quirk and polish. On becoming one of the queens of Canada's Drag Race season two, Gia said "Canada's Drag Race is a slingshot that catapults artists to a platform seen by a global audience. I've been performing in my bedroom ever since I can remember and now I get to perform in front of the world."
Icesis Couture
Ottawa queen Icesis Couture is one of the oldest and most established queens on season two of Canada's Drag Race, aged 34. She's already a mentor to her two drag children, and one of them is her biological brother – it's a family affair! Icesis is a skilled designer and makes 90 per cent of all the clothing she wears. Her family are her biggest supporters, and she is of El Salvadorian and Hispanic descent. In Icesis' own words: "My pure love for the art form of drag and the creative outlet it provides me fuels me to keep going, not only as an artist but as a person."
Kendall Gender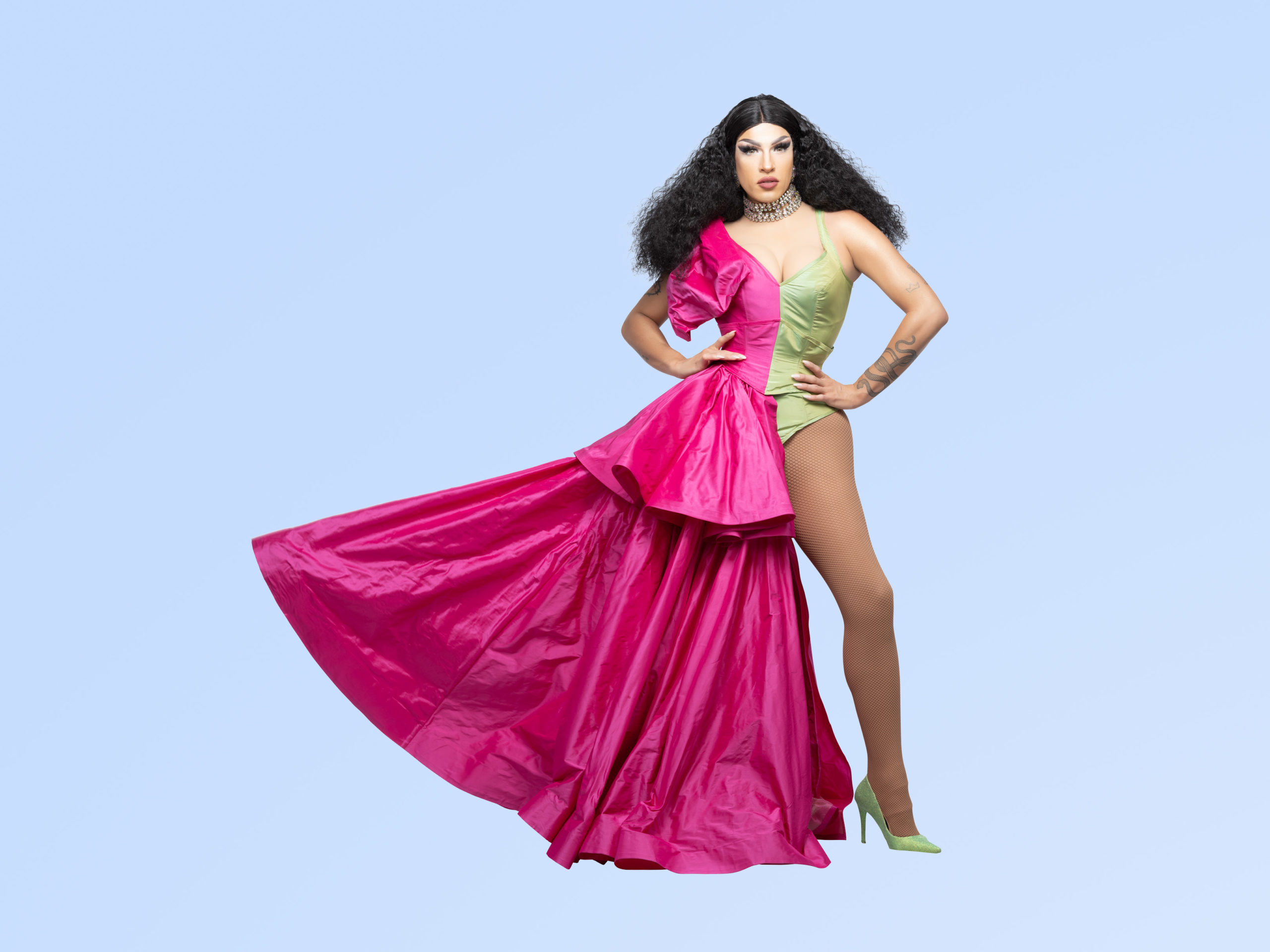 30-year-old Kendall Gender is based in Vancouver, and has established herself as a performer, host, model and activist. A biracial artist, she created the show VISIBLE – designed as a platform to raise money and awareness for minorities – and last year raised over $25,000 for Canadian charities. She's also six years sober, and is an advocate for addiction recovery. "Drag is about finding a way to uplift through anything. I've faced many adversities in my life, and because I've gone through the dark parts I can truly appreciate what is to come."
Kimora Amour
Hailing from Scarborough, Ontario, Kimora Amour is a 34-year-old queen from the Kiki Ballroom scene in Canada. She's an in-demand carnival costume designer, and when she isn't doing drag she's a neuropathic pain management nurse and has seen the Covid pandemic first hand on the frontline. Kimora Amour is also a father. "Being part of Canada's Drag Race is validation. It is the greatest opportunity, and I'm so happy to represent the Black / Caribbean / South American communities."
Océane Aqua-Black
Québec City queen Océane Aqua-Black is, at 35, the oldest of the queens competing on season two of Canada's Drag Race. She's an established host and lip-syncer, priding herself on being able to lip sync in English, French, Spanish, German and Korean. She's also obsessed with goats and considers them her spirit animal. "For me, Canada's Drag Race is not just a competition show, it's a wonderful platform where everyone can enjoy my talent and creativity!"
Pythia
Greek queen Pythia moved to Canada aged 14, and she's now 26 years old and living in Montréal. She has a celeb fan in Miley Cryus, who loved Pythia's impersonation of her so much she shared it and messaged her. Outside of her drag, Pythia is a makeup artist for film and theatre as well as being a costume designer. She's a non-binary queen, and uses they/them pronouns out of drag. "Drag is the closest thing we have to completely unpack and destroy gender. It grants me the ability to transfigure and embody all of my passions, whether that be theatre, fashion or art, and merge them into Pythia. I'm not a female impersonator, I'm the image of my imagination – a storyteller and a fantasy made reality."
Stephanie Prince
24-year-old Calgary queen Stephanie Prince is originally from the Philippines, and is a self-proclaimed singing assassin and rapstress – stating she feels bad for any of the season two queens of Canada's Drag Race who have to perform against her. She is known for her energy and optimistic outlook. "It's very exciting to be part of Canada's Drag Race. The only part I'm worried about is how jealous the other girls will be of my beauty!"
Suki Doll
Suki Doll is 27 years old, from Montréal. She's a sought after designer, fashionista and drag legend – known for her high-speed creative hands and fashion wit. Suki wants to embody the heightened emblem of the AAPI community for representation in arts and culture.
Synthia Kiss
29-year-old Synthia Kiss hails from Vancouver, and describes herself as the dark horse of the competition with the ability to beat out more experienced queens to the crown. She's got a degree in fashion design, and loves to create her own looks from head to toe. She's also a formidable performer, being a talented dancer and singer with a theatre background. On her drag persona, she says: "Synthia Kiss is an homage to all the powerful, talented and funny women in my life. It's a complete honour to walk a mile in their high heels, I'll give them back soon, I swear!"
Meet all of the queens on season two of Canada's Drag Race  when the 10-part BBC Three box series will drop on BBC iPlayer tomorrow (17th December). 
Featured image courtesy of the BBC, special thanks to Leonie Martin. 
Recommended stories by this writer:
• It's time! Meet the new queens cast on season 14 of RuPaul's Drag Race
• 'Amazing, incredible, overwhelming': Krystal Versace on winning Drag Race UK season three
• Ella, Kitty and Krystal tell us all about life in the top three of Drag Race UK