They're here! Meet the cast of Netflix's Too Hot To Handle season two
Marvin has 240k Instagram followers already!!
Netflix has just released the first contestants from season two cast of Too Hot to Handle. It's set to start on 23 June and they're all so fit.
Contestants are coming from all over the world, there's even a random bloke from Wales thrown in the mix. They're living in a luxury villa in the Caribbean which costs around $12k a night.
The villa tour dropped yesterday on the Netflix YouTube channel, queen of our hearts and of Selling Sunset, Christine Quinn gave us the tour. The cast living in it for the second season features models, athletes, a lawyer and a few personal trainers.
Meet the full cast of Netflix's second season of Too Hot to Handle:
Carly Lawrence
24-year-old Carly has made things Instagram official by adding Too Hot to Handle into her Instagram bio.
Carly is based on Toronto, Canada and is an official model which makes sense from the looks of her Instagram grid.
Emily Faye Miller
Emily has just under 9,000 Instagram followers on her profile. She's a 27-year-old model based in London.
She owns a really cute dog called Twix who has their own Instagram highlight on Emily's profile.
Kayla Jean
Bringing her model and bartending skills all the way from Florida is 26-year-old Kayla Jean.
So far Kayla has the highest Instagram following of just over 20k. Her aesthetic is very cool and she posts a lot of stunning bikini photos onto her grid – we're wowing.
Larissa Towson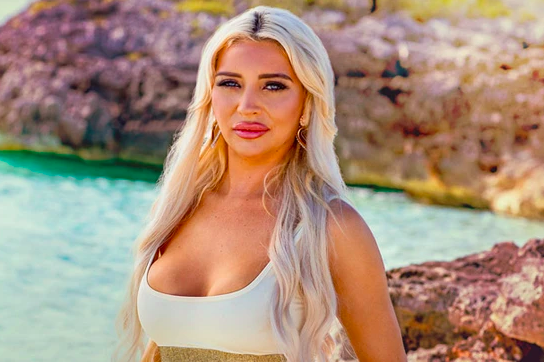 Coming from Auckland in New Zealand, Larissa is a 28-year-old lawyer.
Melinda Melrose
Melinda has thrown Kayla out of the competition for having the most Instagram followers. 28-year-old Melinda has over 40k on her Insta and her feed is everything and more.
She's based in New York and works as a model. We can tell from her Instagram highlights, she travels a lot, she's been all over the world from Paris, Thailand and even Dublin in Ireland.
Cam Holmes
Bringing the hotness all the way from Wales is Cam. He's 24 years old, a model and a professional trainer.
We can tell from his Instagram feed that he knows how to dress himself, his style is impeccable.
Chase DeMoor
Chase is a 24-year-old American football Pro athlete. But when he's not playing on the field he's serving us some strong looks on his Instagram.
Marvin Anthony
26-year-old Marvin is based in France. He works as a model and influencer in Paris.
He is, by far, the most famous one on Instagram with over 240k followers. He's 6'4 and specifically models fashion – what's not to love??
Nathan Webb
According to Nathan's Instagram bio, he's an "Englishman chasing the American dream". Originally being from the UK, 27-year-old Nathan moved to Texas for work.
He's a former stripper and owns a cute looking Rottweiler who features on his Insta grid.
Peter Vigilante
Last but not least is the youngest of the bunch, 21-year-old Peter from New York.
He's a personal trainer and also a TikTok influencer which means he's definitely not shy when it comes to being in front of the cameras.
Too Hot To Handle season two will be available on Netflix from June 23rd. For all the latest Netflix news, drops, quizzes and memes like The Holy Church of Netflix on Facebook. 
Related stories recommended by this writer:
• New Too Hot To Handle cast members fined £3k for abusing staff on flight home from filming
• Inside the all new luxury villa in Too Hot to Handle season two on Netflix
• One year later, what are the cast of Netflix's Too Hot To Handle up to now?