Lost brand deals and fresh accusations: The fallout of Chrissy Teigen's bullying scandal
She's been dropped by brands including Macy's and Bloomingdale's
CW: Self-harm, suicide
In case you've been completely absent from social media over the past few weeks, Chrissy Teigen has been cancelled. Old tweets have resurfaced where she allegedly bullies and harasses American model and singer, Courtney Stodden – who you probably know from their time on Celebrity Big Brother in 2013. Public tweets allegedly show Chrissy Teigen telling Stodden to "take a dirt nap" and "go to sleep forever".
To make matters worse, Stodden was just 16 years old at the time many of these tweets were apparently posted – causing Stodden to accuse Teigen of "bullying children" in an interview with TMZ.
This came to light after Teigen took a two week break from Twitter due to negativity leaving her "deeply bruised".
Not only is this bad for Teigen's personal brand built on faux-relatability and empty wokeness, but it's also bad for the brands and sponsors associated with her. She's already been dropped by a number of sponsors as well as accusations of even more online bullying and harassment.
So, what has been the fall out from all this controversy surrounding Chrissy Teigen?
First thing's first, Chrissy Teigen been accused of bullying by Teen Mom star Farrah Abraham
Farrah Abraham, who appeared on the first series of MTV's Teen Mom, has also spoken out against Teigen. In an Instagram caption for Mental Health Awareness Month, Abraham claimed she had also "been a victim of this hateful diseased person". She labelled Teigen "a sick individual" who made "a mockery out of mental health" and "preyed upon, silenced, abused" her.
In 2013, after Abraham released a sex tape, Teigen allegedly took to Twitter to say: "Farrah Abraham now thinks she is pregnant from her sex tape. In other news, you're a whore and everyone hates you, whoops not other news, sorry." Abrahams told Fox News she thought Teigen was "desperate" and that she should get "mental help and therapy". She also claims to have not received an apology from Teigen.
And then Lindsay Lohan's mum waded in
Dina Lohan also criticised Teigen for public comments on Twitter made about her daughter. In 2011, Teigen allegedly tweeted: "Lindsay adds a few more slits to her wrist when she sees Emma Stone". In a statement to Fox News, Dina Lohan said: "As a single mother of four children I have raised them to be kind, humble and non-judgmental. That being said, I will not judge her words towards others but I stand firm in one looking into oneself and continue to learn and grow #ownyou."
This all happened because American conservative commentator, Candace Owens, started a campaign to get her cancelled
Candace Owens, a vocal Trump supporter and US political commentator, tweeted: "Donald Trump was censored off the internet for writing nothing even remotely violent. Chrissy Teigen told a then-16-year-old to commit suicide, and that she couldn't wait for them to die— and is allowed to keep all of her accounts. Disgusting."
She slated "the media" for giving "Chrissy a pass for YEARS as she has monstrously attacked people, repeatedly for simply existing."
Her tweets encouraged followers to look for incriminating tweets by Chrissy – including the ones to Abraham and Lohan as well as one allegedly telling the former Republican Governor of Alaska, Sarah Palin, to "shoot herself in the face". She also attacked Target, an American retailer for stocking Teigen's line of kitchenware called Cravings.
However, it emerged Chrissy Teigen and Target's deal was already expired
It was initially reported that Owen's campaign to cancel Teigen was successful and that Target had removed the entire Cravings line from their website.
However, a source told TMZ that this was unrelated to the cyberbullying controversy and that their deal had expired anyway. TMZ also reports that Target still stock three of her cookbooks.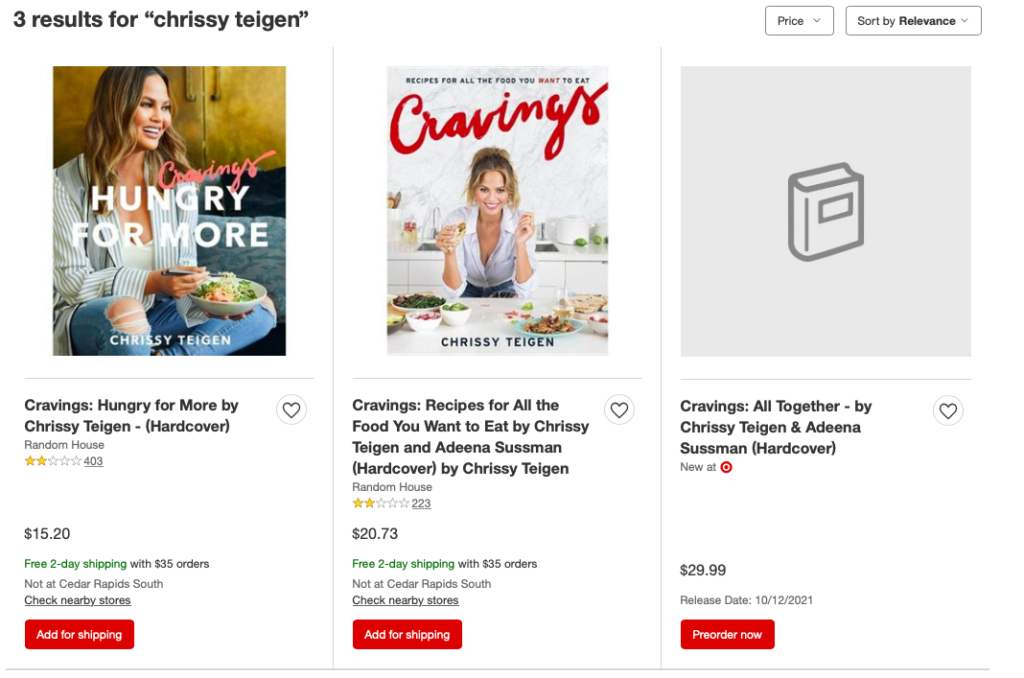 Macy's did remove Teigen's cookware
PageSix reported that American retailer Macy's has pulled Chrissy Teigen's line of pots and pans sold in the store. The Cravings by Chrissy Teigen range was removed from its website and stores over the weekend and is now unavailable on the Macy's site.
Bloomingdale's cancelled a promotional event with Teigen
On Monday, iconic New York department store Bloomingdale's cancelled an event being held in store with Chrissy Teigen. The Daily Mail reports the promotional event was cancelled last minute due to the controversy surrounding Teigen. Bloomingdale's is also owned by the same parent company as Macy's.
And finally, Teigen has only been seen in public once since the scandal – at Disneyland
Teigen was spotted this weekend on a trip to Disneyland in Los Angeles with her children, Luna and Miles, and husband John Legend. It has been speculated that she dressed deliberately lowkey in a baseball cap and denim jacket to blend in.
However, several onlookers appear to have noticed Teigen and her family. This is possibly due to the presence of security in their party as they walked around the park.
How has Chrissy Teigen responded?
In response to the original accusations made by Courtney Stodden, Teigen tweeted: "Not a lot of people are lucky enough to be held accountable for all their past bullshit in front of the entire world. I'm mortified and sad at who I used to be. I was an insecure, attention seeking troll. I am ashamed and completely embarrassed at my behaviour but that…
"Is nothing compared to how I made Courtney feel. I have worked so hard to give you guys joy and be beloved and the feeling of letting you down is nearly unbearable, truly. These were not my only mistakes and surely won't be my last as hard as I try but god I will try!!
"I have tried to connect with Courtney privately but since I publicly fuelled all this, I want to also publicly apologise. I'm so sorry, Courtney. I hope you can heal now knowing how deeply sorry I am.
"And I am so sorry I let you guys down. I will forever work on being better than I was 10 years ago, one year ago, six months ago."
Chrissy Teigen has been contacted for further comment. 
Cover image credits: @chrissyteigen
Related articles recommended by this writer:
• Explained: What exactly is going on with Chrissy Teigen and why is she cancelled?
• Erm so Lana Del Rey's Born To Die album shoot was done in Watford?