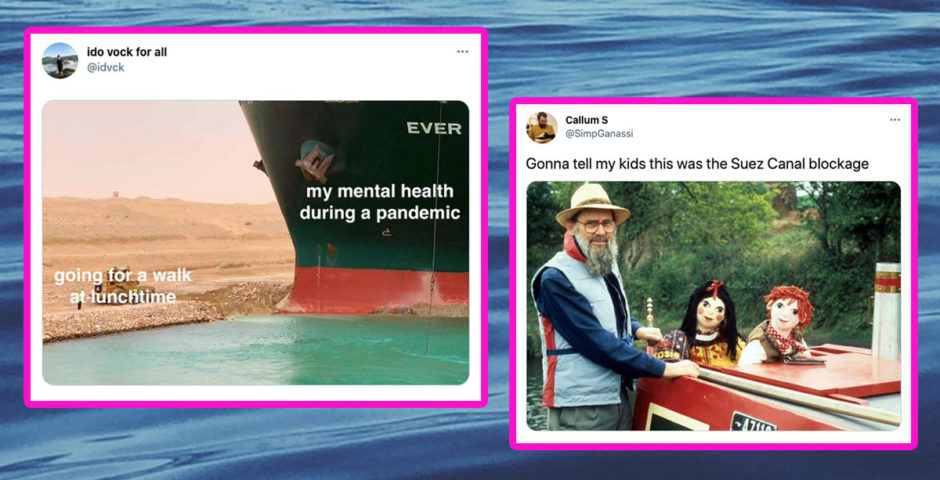 A cargo ship is stuck in the Suez Canal, but these 19 memes are here to save it
'Imagine the entire world watching you park your car? Humiliating'
A massive cargo ship is wedged in the Suez Canal in Egypt. It's one of the world's busiest shipping lanes, with about 12 per cent of global trade passing through it – and this container ship is now blocking it, and it may take weeks to get cleared. Obviously this isn't ideal for anyone, but what it has given birth to is a lot of memes about the Suez Canal cargo ship.
Just before it got stuck in the Suez Canal, the ship drew what can only be described as, well, a dick. Feast your eyes on it:
Now please enjoy these 19 memes about the cargo ship stuck in the Suez Canal:
1. Let me know!
2. Okay but lunchtime walks are the only thing holding me together
3. How do I send this to my GP without sending this to my GP?
4. Nothing to see here
5. Who needs instructions anyway?
6. Okay but this is genuinely my worst nightmare
7. Exactly two x
8. I love the new season of Below Deck
9. Yep
10. So much chaotic energy
11. Plain and simple: It's just stuck
12. Or how about a colouring book?
13. Spotify, read the room please
14. I'd believe him
15. Wow I love science!
16. Teehee what am I like x
17. Keep on doing you, boo
18. Who even knows what's going on any more?
19. PIVOT
Related stories recommended by this writer:
• People are using the census to come out to their families for the first time
• Okay so Rupi Kaur has TikTok now, and here are some of the most bizarre ones
• Just 23 'RIP would have loved' tweets that are way funnier than they should be