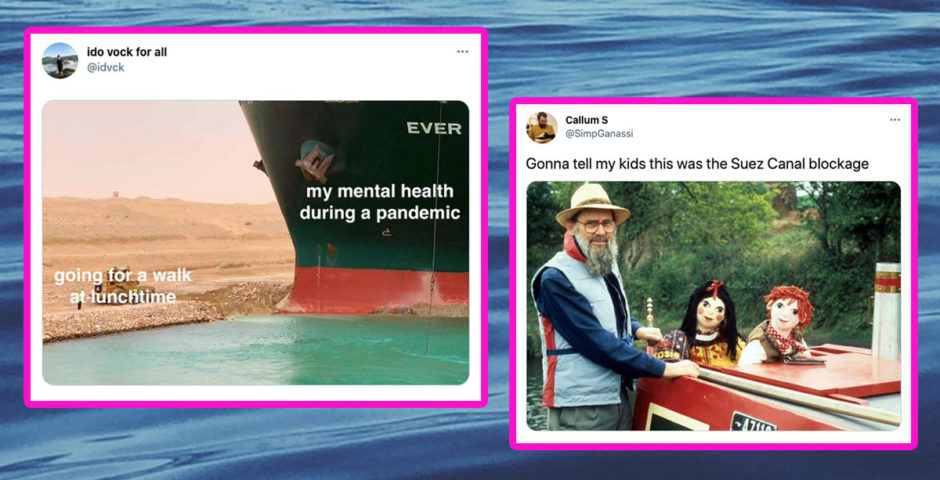 A cargo ship is stuck in the Suez Canal, but these 19 memes are here to save it
'Imagine the entire world watching you park your car? Humiliating'
A massive cargo ship is wedged in the Suez Canal in Egypt. It's one of the world's busiest shipping lanes, with about 12 per cent of global trade passing through it – and this container ship is now blocking it, and it may take weeks to get cleared. Obviously this isn't ideal for anyone, but what it has given birth to is a lot of memes about the Suez Canal cargo ship.
Just before it got stuck in the Suez Canal, the ship drew what can only be described as, well, a dick. Feast your eyes on it:
just to reiterate: about 10 percent of world trade has been at a standstill for 2 days because a cargo ship drew a giant dick in the Red Sea then wedged itself sideways in the Suez Canalhttps://t.co/hlN1PcmMhW pic.twitter.com/wfSKdrtpkj

— Matthew Champion (@matthewchampion) March 24, 2021
Now please enjoy these 19 memes about the cargo ship stuck in the Suez Canal:
1. Let me know!
"Let me know how I can be helpful" pic.twitter.com/miBgKhrmIi

— Eugene Wei (@eugenewei) March 25, 2021
2. Okay but lunchtime walks are the only thing holding me together
— ido vock for all (@idvck) March 25, 2021
3. How do I send this to my GP without sending this to my GP?
— James Felton (@JimMFelton) March 25, 2021
4. Nothing to see here
Hoping they are able to clear the Suez Canal soon 🙏 pic.twitter.com/eX88ZbEbfR

— John W. Rich (Fake Tech Exec) (@Cokedupoptions) March 24, 2021
5. Who needs instructions anyway?
me trying to build my IKEA wardrobe when the instructions say you need minimum two people pic.twitter.com/DpFESPXCTc

— Sophia Smith Galer (@sophiasgaler) March 25, 2021
6. Okay but this is genuinely my worst nightmare
Im sooooo stressed out for the person driving that stuck Suez Canal boat. Imagine the entire world watching you park your car? Humiliating stuff

— amil (@amil) March 24, 2021
7. Exactly two x
— Brandy Jensen (@BrandyLJensen) March 24, 2021
8. I love the new season of Below Deck
9. Yep
Gonna tell my kids this was the Suez Canal blockage pic.twitter.com/qaCvt8OqXJ

— Callum S (@SimpGanassi) March 25, 2021
10. So much chaotic energy
I can't explain why but the boat stuck in the Suez Canal has the exact same chaotic energy as a gender reveal party gone wrong

— Zing Tsjeng (@misszing) March 26, 2021
11. Plain and simple: It's just stuck
I love that the boat is stuck because every other piece of global news is so hard to comprehend or explain.

The boat? It's just stuck. Stuff won't go. Boat needs to be not stuck. That's it.

— h. p. heisler (@hpheisler) March 24, 2021
12. Or how about a colouring book?
— 𝔐𝔞𝔤𝔫𝔢𝔱𝔰 🧲 (@PerthshireMags) March 24, 2021
13. Spotify, read the room please
look what came up on SHUFFLE pic.twitter.com/NoqOxCOMF3

— Mollie Goodfellow (@hansmollman) March 26, 2021
14. I'd believe him
"I once blocked the Suez Canal" pic.twitter.com/uOe7PXai5u

— Abby Tomlinson (@twcuddleston) March 26, 2021
15. Wow I love science!
the group chat trying to figure out how the cargo ship blocking the suez canal can float when it's so big pic.twitter.com/B8XAOzstAN

— Katie Way (@k80way) March 25, 2021
16. Teehee what am I like x
imagine being the captain of that ship in the suez and having to make that call to your office like, "omg kirsty, what am i like!! i only went and got her stuck in the canal didn't i! classic me!!!"

— Ben Smoke (@bencsmoke) March 25, 2021
17. Keep on doing you, boo
Happy Friday to the cargo ship that's stuck in the Suez Canal, you're my girl boss inspo x

— Arch (@Archhhh__) March 26, 2021
18. Who even knows what's going on any more?
after years of bitcoin and reddit short selling and credit default swaps and a million other things i don't understand it's so refreshing to hear that global commerce is in peril because a big boat got stuck in a canal

— Brandy Jensen (@BrandyLJensen) March 25, 2021
19. PIVOT
Meanwhile, on the #SuezCanal pic.twitter.com/EWZ0bcH9p6

— Max Gallien (@MaxGallien) March 23, 2021
Related stories recommended by this writer:
• People are using the census to come out to their families for the first time
• Okay so Rupi Kaur has TikTok now, and here are some of the most bizarre ones
• Just 23 'RIP would have loved' tweets that are way funnier than they should be