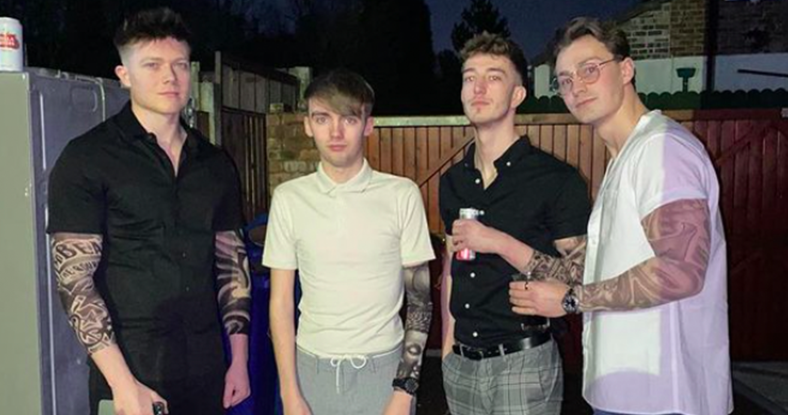 A group of students dressed up as the 'Four Lads in Jeans' and fairplay, they nailed it
I am calling it the 2020s' S Club 7/S Club Junior moment
A group of students have dressed up as the "four lads in jeans" from the viral meme, managing to totally nail it.
Imitating 2021's internet heroes, the four students at Manchester Met have gone viral themselves after donning fake tattoo sleeves and replica ASOS clobber.
Ryan Burns, a third year accountancy student at Man Met – and shortest one in the pic – says the group spent between £30-50 recreating the pandemic's most iconic look.
When a friend in their eight-person student house had a birthday, the lads – Adam, Ryan, George, and Matty – decided to dress as the only group of four who come to mind for anybody that's spent too long on their phones this year.
The boys spent a few takes getting their version of the photo to look like the original – right down to Adam holding the phone. But disaster struck. Keen-eyed meme fans will notice the only difference between the original is that Matty's shirt is untucked.
Matty Leatham, a third year quantity surveying student at Salford Uni,  claims this isn't the version the public were meant to see. "We had a few attempts with our mate taking the pic directing us on how to stand and that," he told The Tab. "However we were annoyed with Ryan because he posted the wrong pic with my shirt untucked."
And so The Tab can exclusively reveal the pic with everything as it should be.
Just as the original four lads faced their share of online abuse after their pic went wild, so have the boys in the new pic. Matty says he's found the reaction "mint", but Ryan has faced a few mean comments – just as muscle-bound polo fan Alex Lacey did when the pic first surfaced.
But as you'd expect for your typical students in Manchester, the clobber will be sitting in a wardrobe for a while, "unless another fancy dress do comes around soon", says Ryan.
Related stories recommended by this writer:
• We spoke to the boys in THIS picture and they've had enough of your jokes
• They're all classic, but which one of the four night out meme boys are you?
• Ok fine, these are the 15 best four lads memes going around