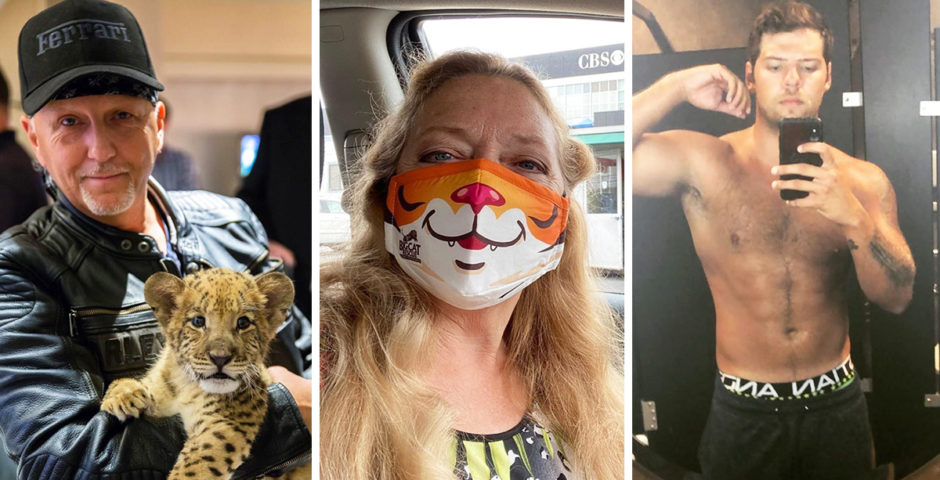 Six months on, where are the cast of Netflix's Tiger King now?
Joe Exotic's husband got ripped
Can you believe it's been six months since we were all graced with Tiger King? It feels like a whole other life when none of us had any idea who Joe Exotic or Carole Baskin were, and had little to no interest in the world of big cats. But now, we're all quite frankly obsessed, and are in need of an update of what the Tiger King cast are up to.
Obviously, we know where Joe Exotic is, but what's life been like for him in the last six months? And tbh, it's probably easier to list all the things Carole Baskin hasn't done in the past six months – the woman is everywhere. But not just those two, where are the other Tiger King cast members now? Are Jeff and Lauren Lowe still together? How is Joe Exotic's husband and why is he hanging around with so many Netflix celebs? Is Doc Antle ok? Here are all the answers.
Joseph 'Joe Exotic' Maldonado-Passage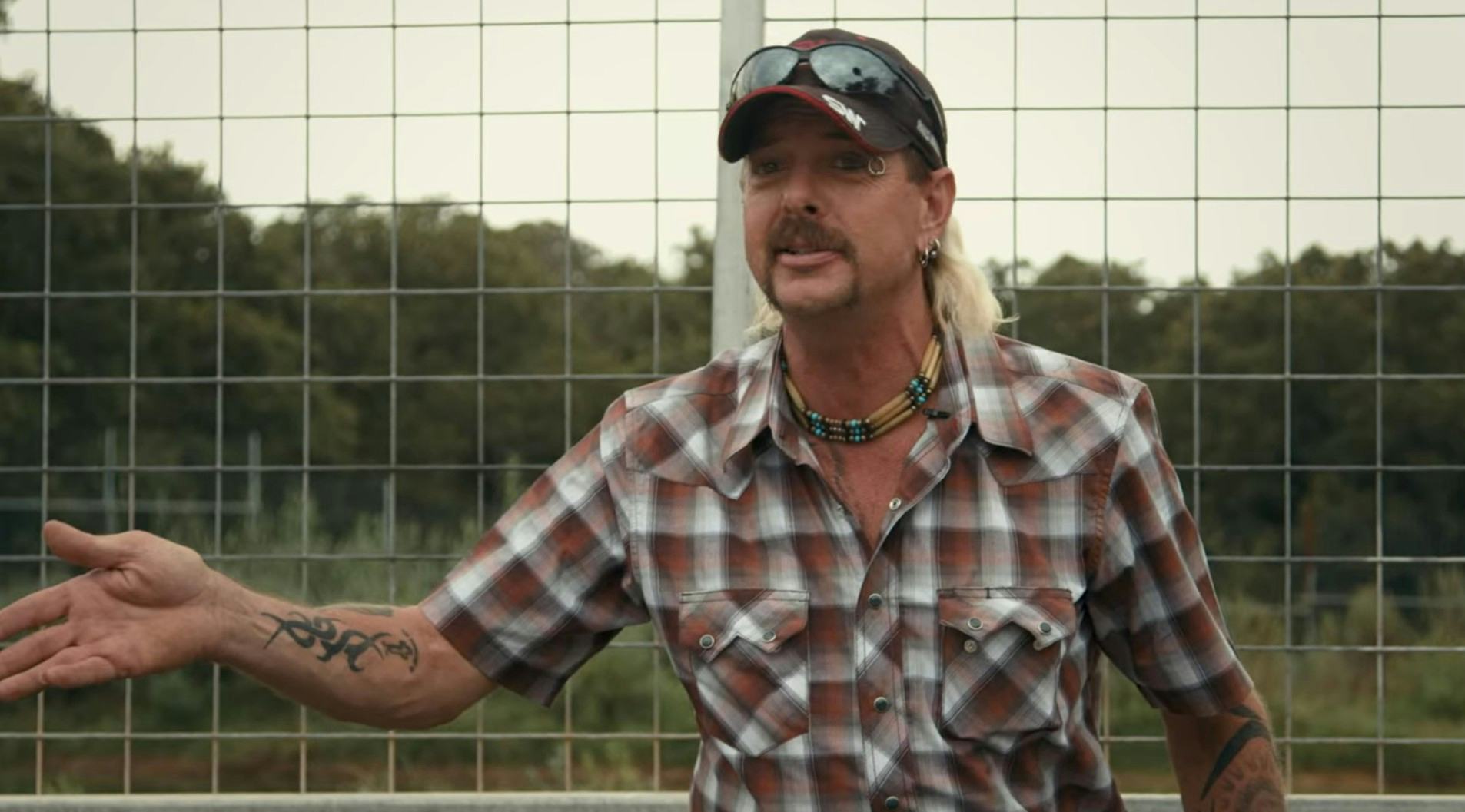 Obviously, Joe Exotic is in jail. On January 22nd this year, the 57-year-old who is also known as Joseph Maldonado-Passage, was sentenced to 22 years in federal prison over the murder-for-hire plot of Carole Baskin.
Joe was originally being held at Grady County jail in Oklahoma but has since been moved to the Federal Medical Center in Fort Worth.
Earlier this year, Joe lost his beloved zoo to none other than his enemy Carole Baskin, in a lawsuit. Joe accused Carole of "stealing" the zoo whilst the world is distracted by everything else which is going on. He said the court ruling is an "emotional blow", adding he is "already fragile".
More recently, Joe claims he was sexually assaulted and beaten up by officers in jail, but federal prison sources told TMZ: "There was no such assault."
He's appealed to celebrities such as Cardi-B and the Kardashians to help him get freed from prison, and recently has said he'll "die in 2-3 months" unless he gets out. He still regularly appeals for Donald Trump to pardon him, and has an ongoing campaign to be freed from jail.
His recent Twitter posts are all about him asking for freedom, corruption in the U.S. Attorneys office in Oklahoma City and how other Tiger King cast members used the show for fame.
But all in all, he's still in prison.
Carole Baskin
Joe Exotic's arch enemy Carole Baskin has been very, very busy since Tiger King. After blasting the show saying Netflix "did not care about truth – the unsavoury lies are better for getting viewers", she's really ridden the wave of the fame the show has given her.
In the last six months she's continued to run Big Cat Rescue, as well as being granted control over the Oklahoma Zoo which used to belong to her arch nemesis the Tiger King, Joe Exotic. After filing a $1million lawsuit against Joe Exotic, and finding that the transfer of the zoo from Joe to Jeff and Lauren Lowe was fraudulent, Carole won control of the land to settle the lawsuit. 
Carole has also been making absolute bank selling personalised videos to fans on Cameo. She's currently charging £250 for just one video, and countless number of these have been going viral. This includes one video, where she had an absolute nightmare when she was pranked into giving a shout out to convicted sex offenders Rolf Harris and Jimmy Savile. 
Carole has also taken a new venture, and is in the new season of Dancing With The Stars. She's partnered with Pasha Pashkov and so far hasn't strayed away from just performing to cat-related songs. It really is something.
And if the drama of her dancing wasn't enough, the family of Don Lewis, Carole's missing ex-husband, paid for a commercial in the ad breaks of the first DWTS show. They famously think Carole is involved in his disappearance, and the advert called for people with information and quite literally asked if anyone has evidence of her involvement.
Apparently the advert led to hundreds of calls, with some being called "legitimate tips". 
It's also recently been reported that Carole and her husband Howard will star in their own upcoming show. The show will follow the Big Cat Rescue owners as they hunt down and call out various entities engaging in animal abuse and exploitation.
Howard Baskin appears in the occasional Cameo video alongside Carole, so I guess he's ok too. (Blink twice if this is hostage situation, Howard.)
Dillon Passage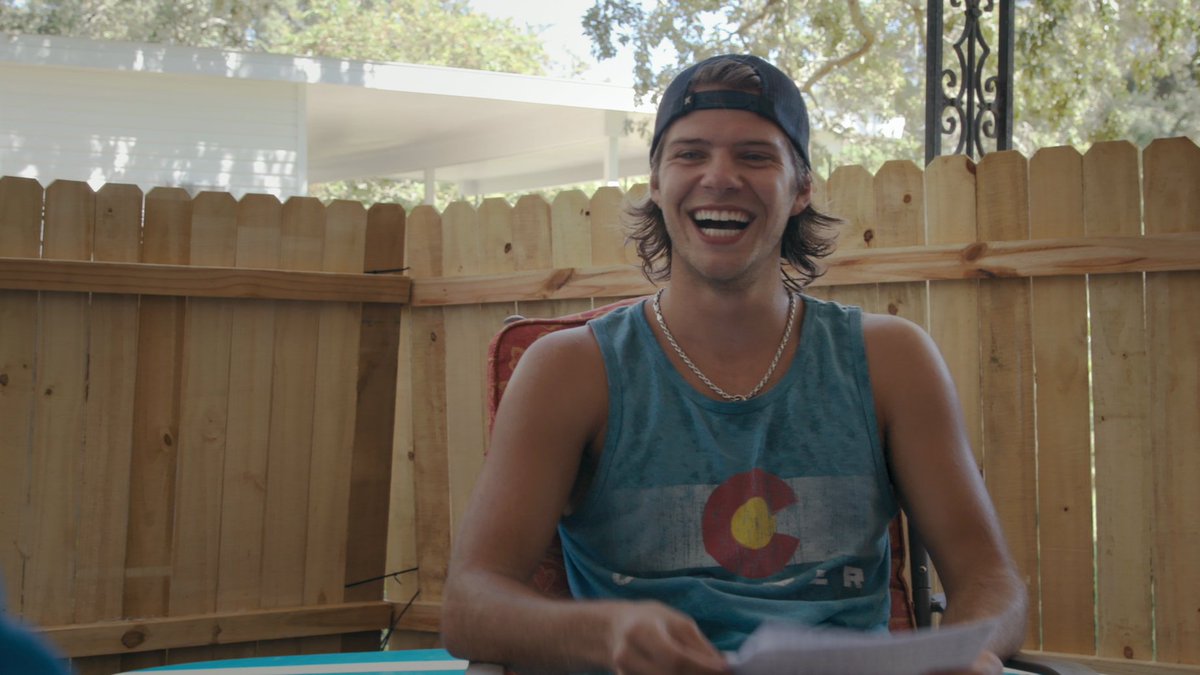 When we left Tiger King, Joe Exotic's husband Dillion was sticking by him whilst he was doing his prison sentence. And from what it looks like, they're still together.
Dillon shares lots of updates on his husband's life and how he's getting on – and has recently revealed that Joe Exotic's arrest will feature in the second season of the show. He appeared in a video interview with Good Morning Britain and said he's been doing some filming for new episodes – which haven't formally been confirmed by Netflix yet.
Dillion is also now often seen with other random Netflix celebrities, such as the cast of Too Hot To Handle and Love Is Blind. What a small world we live in?!
Oh and he's really, really ripped now.
Jeff and Lauren Lowe
After Tiger King, Jeff Lowe bought Joe Exotic's zoo off him, and renamed it from GW Exotic Zoo to Greater Wynnewood Animal Park.
Despite having lost the zoo to Carole Baskin, it does look like he's still running it for the time being. The zoo has had another rebrand, and is now called "Tiger King Park" online, and it looks like Jeff Lowe is making money flogging loads of Tiger King merchandise with Joe's face all over it – which I'm sure Joe is thrilled about. The Tiger King Park website has everything from t-shirts and caps to shorts with "not your average Joe" written all over them.
The pair had their baby, a little girl called Sarah, and Jeff did hire the "hot nanny" who he was going on about in the series. She's a model and influencer called Masha, and I'm not sure she ever really was their nanny – her Instagram doesn't look like she ever visited the zoo more than once.
Jeff is also set to appear in another show, as it was announced on the zoo's Instagram page that: "Ghost Adventures came to the Greater Wynnewood Zoo to dig deeper into the hauntings that Joe Exotic left behind. The show will premiere Thursday, Oct 29th!"
Doc Antle
Doc Antle was another of the many zoo owners featured in Tiger King on Netflix. And it doesn't look as though he's toned down his crazy life at all since the series.
He posts daily photos of all of his animals on his Instagram account, and particularly loves sharing pictures of all his chimps. He's also surprisingly active of TikTok, and has over 1.4million followers. He shares loads of cute videos of him and his son hanging out with the animals.
Oh and he did a full YouTube video about the "dirt" on Tiger King. After Tiger King, he was pretty vocal with how he wasn't happy with his portrayal or what the documentary series actually had to say.
Antle has also been working on a series of interactive animal programs which fund anti-poaching rangers and scientists who are "saving wildlife today". You can still book a tour of Doc Antle's Myrtle Beach Safari. 
Joshua Dial
Joshua Dial was the campaign manager for Joe Exotic when he wanted to run for office with the Libertarians. These days, he's returned to a fairly normal life. He's been growing some ~interesting~ looking "tomato" plants and going to raves, if his Instagram is anything to go by.
This photo is captioned: "My tomato plants are huge this year 😂😂 #fuckthefeds".
He's also offering personalised shout out videos on Cameo, where he charges a humble £33.20. He says he will say "literally anything you want" in the videos. If you think he's fully left Tiger King behind him you're mistaken, because in November Joshua will be part of a tour called "Uncaged: The Untold Stories from the Cast of Tiger King" – where he and some other minor cast members will give a talk in Iowa about their lives.
John Finlay
Last time we checked in on John Finlay he'd had all of his teeth done and was working as a welder. He has a daughter as well as a wife named Stormey. Straight after Tiger King, John and Stormey were running a page called The Truth About John Finlay, where they kept fans up to do date with their lives and answered questions. The couple still update the page with any big news and John is listed as a motivational speaker.
On his Instagram, John has a link to a personal website called "John Gator Finlay" which is "coming soon". He's on Cameo, but it doesn't look like he's doing videos right now. But one thing is for sure, he looks great these days.
Kelci 'Saff' Saffery
In Tiger King, Saff was one of Joe Exotic's employees who was interviewed from the zoo. It came out shortly after the series that Saff had been misgendered throughout the entire show, and goes by he/him pronouns.
These days, he is living a very wholesome life. Saff's Instagram is full of videos and pictures out with family by the sea and exploring lakes. It looks like he spent lockdown nailing how to do a one handed cartwheel. Which to be honest, is pretty impressive.
And you guessed it, Saff is another of the Tiger King cast who is also selling personalised videos on Cameo now – this time for £83. Saff will also be part of Uncaged: The Untold Stories from the Cast of Tiger King, sharing more about his life to an audience in Iowa.
Rick Kirkham
Rick Kirkham was the producer for Joe Exotic who had all of his footage burned out with the studio/crocodile enclosure. Since, it has been claimed that Rick's own house was burned down coincidentally six months later.
Since the show, Rick moved to Norway where he now lives with his wife. He was filmed for the Tiger King reunion show there where he said he had fallen in love with a Norwegian girl and married her and moved out to Norway.
But that hasn't stopped him becoming a local celebrity – he said Tiger King mania has hit Norway in a "big way". It was front page of the newspapers and people shout "Tiger King" at him when he's out shopping.
Rick hasn't given up documentary producing either, and is said to be working on a new documentary "about a man with an exciting double life."
John Reinke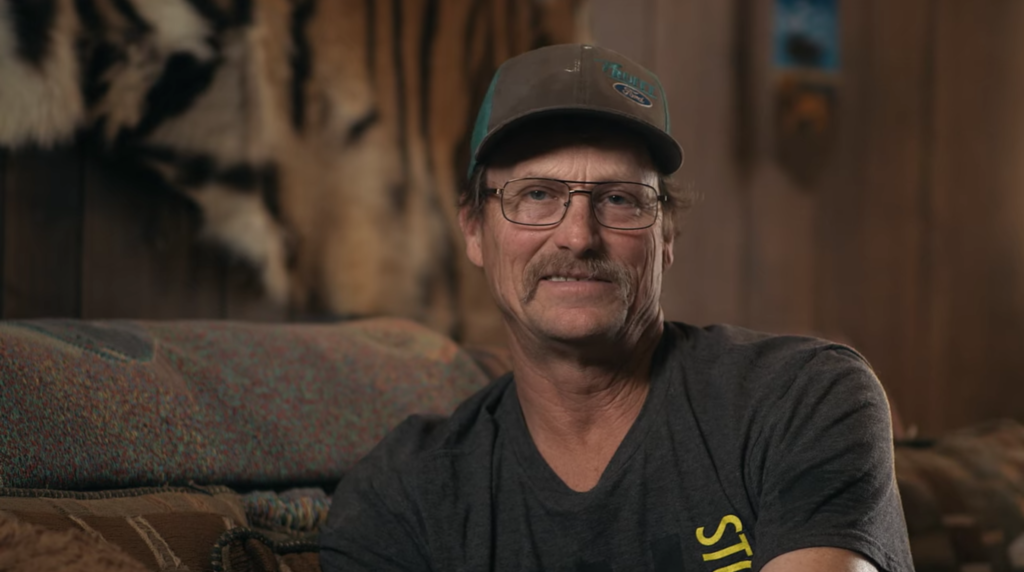 In Tiger King, John Reinke was someone who worked closely with Joe Exotic at the zoo. He maintained that Joe actually wasn't that much of a bad guy.
As for now, it looks like John has pretty much gone off radar. The last we heard it was reported he had left his wife after 30 years and was working in car repairs. On Twitter he shares lots about going to car racing events and he shares memes about Carole Baskin on Dancing With The Stars – so he's obviously been watching.
John Reinke is also heading to Iowa in November to ride the Tiger King wave even further as part of Uncaged: The Untold Stories from the Cast of Tiger King.
Don Lewis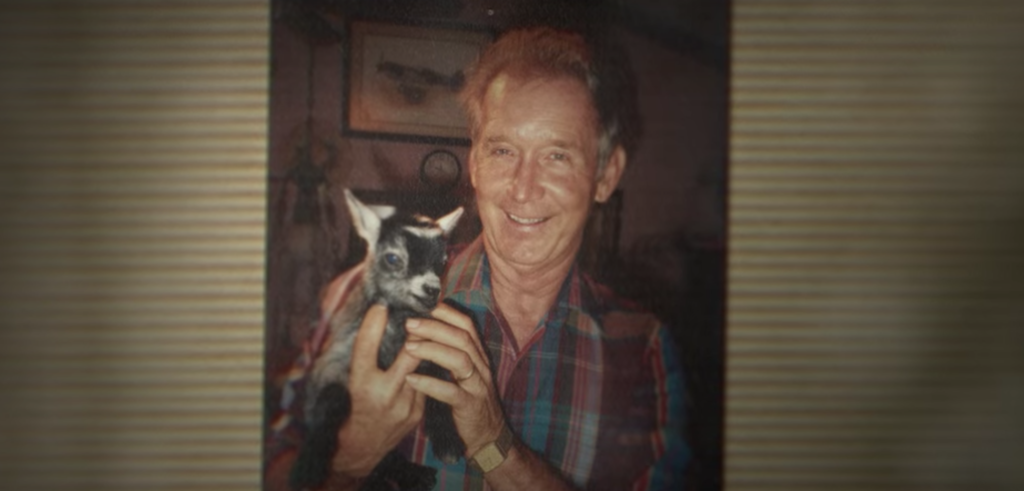 Yeah, we still don't know.
For all the latest Netflix news, drops and memes like The Holy Church of Netflix on Facebook. 
Related stories recommended by this writer:
• Carole Baskin performed to another cat song on Dancing With The Stars last night
• The crazy theories about what happened to Tiger King's Carole Baskin's husband
• Only a true cool cat or kitten can get 10/13 in this Tiger King trivia quiz