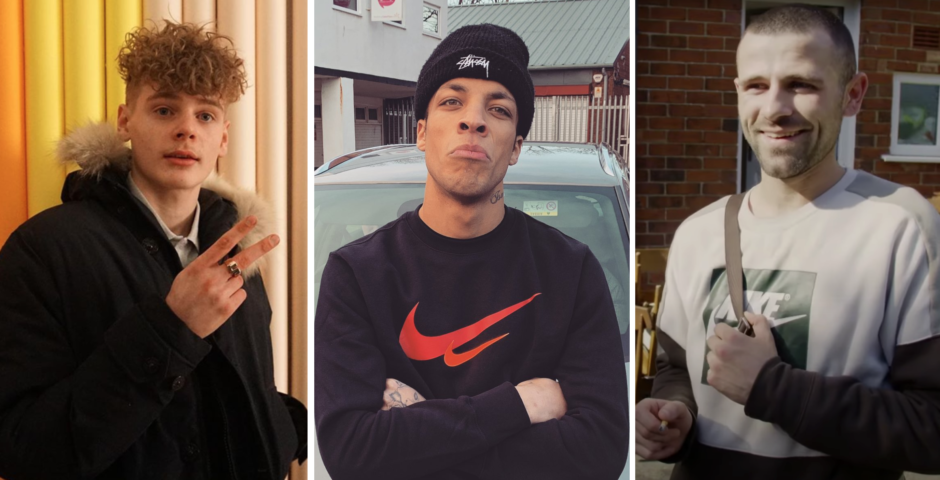 From Little T to Afghan Dan: Where are the Blackpool rappers from BG Media now?
Last week we documented the astronomical rise of Milly B's diss track on Sophie Aspin over on TikTok, where basic girls across the land have adopted it as their audio, doing stupid cutesy faces to the "it's M to the B" tune. Seriously, it's whack. Then we found out where Sophie Aspin and Millie B are now. However, what you really wanted to know is where the rest of the Blackpool rappers that made BG Media as great (maybe a bit of a reach) as it was are now, right?
Well, they've undergone some pretty dramatic changes since the days of counting your armpit hairs on one hand, and it turns out they've had quite the eventful few years since being the laughing stock of the UK. So, from Little T to Afghan Dan, where are the Blackpool rappers from BG Media now?
Little T
Little T, whose real name is Josh Tate, is the posterchild of BG Media as one of the most prominent rappers. Known for his sends of other people on the Blackpool scene, his lyrics would often incite threats of violence and sexual assault against those that he sent for. Most of those videos have since been deleted, but reuploads are still abundant on the site, including the above.
Born in 2003, Josh Tate is now 17 years old and he's still hard at the Blackpool grime scene, being featured in the recent Channel 4 documentary "It's Grime up North". In the documentary, his mum reveals that Josh has ADHD and autism, and gets special support from his school for this.
His latest song, How We Live, is the latest in a series of efforts for Josh to move on from his controversial past lyrics and become a mainstream rapper.
Little T recently had a chat with WillNE, a prominent YouTuber that made lots of videos criticising and making fun of the BG Media rappers. Nice to see that there are no hard feelings remaining.
Afghan Dan
Afghan Dan was the one rapper who stuck out because he wasn't actually a kid sending out infantile bars about shagging your nan (well, sort of). After being kicked out of school in year seven, he worked his way up through BD Media to become one of the more serious rappers from the area. He currently has nearly 100k followers on Instagram.
Now 24 years old, Dan has had an eventful few years since his heyday. In 2018 at the age of 21, he was arrested for various burglaries that he had committed over the space of one evening.
Speaking to Vice about the incident in which he stole electrical goods, an air rifle and bank cards from people's homes, he gave a bit more information on what happened that night: "I was going in and trying back doors, trying sheds, trying cars without gloves on – I was very reckless. It was proper trampy shit, proper rough, but that's how I was living then. I was homeless, staying at a mate's house, and I just thought, 'fuck this.'
"I just wanna go back to the houses I robbed one day, drop them £200 and say, 'sorry mate.'" He was jailed for 15 months for the string of offences.
Callyman Sam
Blackpool seems like the kind of place that everyone seems to know everyone. Either that or Sophie Aspin didn't have a clue that she was being filmed in this music video. Callyman Sam was known for… well, for repeating his name constantly to fill those precious seconds in which he was expected to actually rap.
Although he hasn't really made much music since his heyday bar the odd tune, he did appear in the same Channel 4 documentary as Little T where he explains he wants to get back into grime. In the below clip, he performs at one of his squad's mum's engagement parties and the whole thing is genuinely one of the most bizarre bits of television you'll ever see.
As one commenter sums it up perfectly: "If People Just Do Nothing was a reality show."
Dylan Brewer
Dylan Brewer is probably the only other person from BG Media that you have a clue about, and that's with good reason. Teaming up with some of the other talent in BG Media such as Little T, he had several tunes that did pretty big numbers including the above diss track on Afghan Dan, which got over two and a half million views.
Yes, it is the same tune that Millie B used in her track on Sophie Aspin.
The sad news is that Dylan aka Mr Space Raider is completely out of the game. No online presence, no tunes released in at least three years. His Facebook profile says he lives in Glasgow now, but even that hasn't been updated since 2016.
So in essence, the only two people that you cared about from BG Media are still making music, and they're not bad at all. Safe.
Related stories recommended by this writer:
• Ok but where are viral YouTube grime artists Millie B and Sophie Aspin now?
• 'It's M to the B' TikTok audio: Where did the viral TikTok earworm come from?
• What are all of the YouTubers that you adored in your teen years up to now?