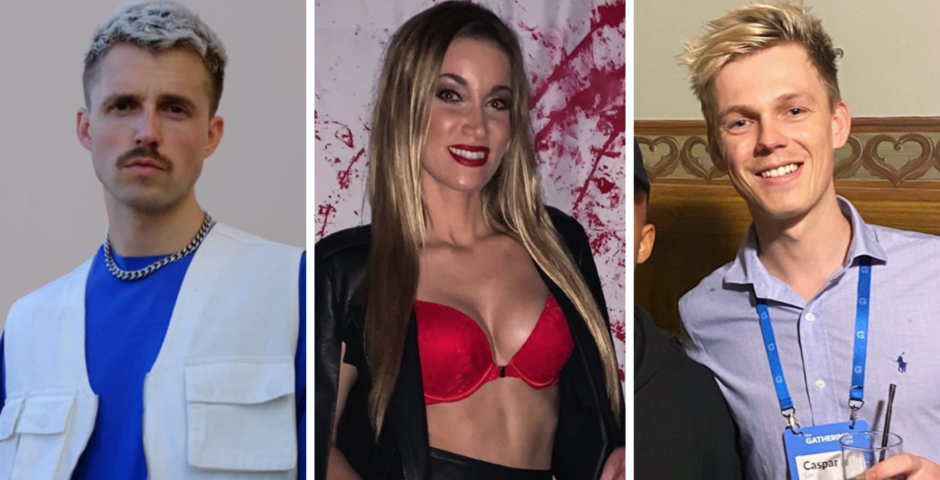 What are all of the YouTubers that you adored in your teen years up to now?
Why did everyone spend so long idolising spotty teens on YouTube that did nothing but stupid challenge videos and prank wars? God, why do people STILL idolise spotty teens on YouTube? Was there actually a single good reason to devote so much of our time into people like this, only to put so much money in their pockets?
Take a quick stroll through the videos of iconic YouTube channels such as DiCasp, Prank v Prank and ThatcherJoe today and you'll discover that the infatuation was definitely short-lived. Just as most of their channels were (#burn). Is there anywhere that a career can progress once you've had it all at such a young age? It honestly depends on who you ask, so from the monumental business success of Caspar Lee to the relative quietness of other creators such as Marcus Butler, here's what your YouTube idols of the past decade are up to now.
Caspar Lee
Caspar Lee, or DiCasp as he used to be known, is one of the OG YouTubers. Oh yeah, he's been in the game pretty much since the start, and so it won't be surprising that at one point he was one of the most subscribed people on the platform. He was famed for his challenge videos with the cohort of other British YouTubers, as well as his prank war series with Joe Sugg, his housemate at the time.
He occasionally makes videos, but since then he's mainly turned to investing heavily in a number of projects, including Dash Water, which you may have seen in a number of meal deal sections across various supermarkets. In addition to this, he keeps people up to date with his other businesses on his LinkedIn, including a 98 room apartment block that he's been renovating in South Africa for students and young professionals.
Joe Sugg
Another British YouTuber OG, and brother to popular lifestyle YouTuber Zoella, Joe Sugg did much the same as the rest of that crew. This included making silly videos where he'd act fully unaware of the crowd of teenage girls that lusted over every hair swish of his.
Joe got into a relationship with his Strictly Come Dancing costar Dianne Buswell. Are they engaged? Nobody should care in the slightest, but they are quite a cute couple as is evident from their shared YouTube channel "In The Pan", where they cook various little delights for their viewers. Joe rarely seems to upload to his channel anymore and, as we all know, the YouTube algorithm certainly doesn't favour the occasional uploader. He has uploaded just five times in the last year.
BFvGF
The Jesse and Jeana fandom is dying out!!1! How could you not shed a tear when the biggest prankster couple on the platform announced that they were breaking up?! Their love just seemed so pure.
And it would seem that they almost must have shed a tear, not just for the loss of their relationship but the loss in large part of their careers. This seemed to really ruin things for the couple. Jesse has really asserted himself as a dominant force in videography on the platform, making some viral videos with Casey Neistat such as the one with the flying carpet which we've all seen, but things seem to have gone quiet for him after he weirdly announced he was uprooting everything and moving to Bali.
Jeana, on the other hand, is still uploading but it doesn't seem like she had as much success as Jesse, as the vast majority of highly viewed content on the channel is from the relationship. Her latest videos hover around the 50k-100k mark, which is quite poor performance for a channel with nearly nine million subscribers.
Tyler Oakley
Tyler Oakley was objectively YouTube's golden boy for a significant period of time, with there not being a single occasion during that period when you wouldn't be recommended one of his videos.
And boy, did he glow up! My guy said fuck it and decided to get fully jacked. Does he still make videos? Yes. Are they a fraction of how popular they used to be? Unfortunately, yes. Over seven million subscribers, averaging around 50k-100k views per video. He's written books, been in some TV, but his days of immense YouTube popularity seem to have come to an end.
Crabstickz
Having an older sister that was into the whole boys-on-YouTube scene meant that there was always the distant shrieks across the house as she guffawed to Crabstickz' funny impressions and silly skits. Watching them back, he is just as vomit-inducing as memory serves, but it's still kind of funny at the same time? Weird.
Crabstickz fell off, and that's just a fact that has to be accepted. Many YouTubers go through it, few seem to properly come back from it. He's tried with various videos promising a proper return, but he's never properly made good on this. It's kind of a bummer, as you can see from this 2018 video:
He's still about, but when YouTube stops becoming fun to create videos for, it's hard to bring things back.
Jerome Jarre
Jerome Jarre of Vine fame made a big splash on YouTube, accruing nearly one million subscribers having made only a relative handful of videos. If you remember, he started a campaign with Casey Neistat and Ben Stiller which sought to provide aid for Somalia that ended up raising millions of dollars.
What is he up to now? It seems like he only really uses Instagram nowadays, and even then he last uploaded in January. By the looks of it, he's been travelling around a fair bit doing humanitarian work. Good bloke.
Jim Chapman
Jim Chapman always came across as the most boring one out of the group, but that may just be due to the fact that he was actually infinitely more down to earth and likeable than characters such as Oli White (he's not in this article because he STILL makes annoying and shit videos, FYI).
Okay, Jim is a sweetheart, but as is the case with a number of the other Brit YouTubers on this list, his channel has taken a big hit. His latest video (below, posted a week ago) has just scraped 9k views, which isn't great. Is it only Caspar Lee and Joe Sugg that saw the end for this section of YouTube talent and decided to venture into other areas before it was too late? Stay relevant, change lanes or watch everything crash and burn, it seems.
Other than that, he and Tanya Burr got married in 2015, before splitting up in 2019. Also he does modelling according to his website.
Marcus Butler
We wanted to include one of Marcus' own videos in this article, but it's surprising to see that he has deleted every single one. Every single video.
Why? Did YouTube finally contribute to a kind of ego death that sent him to removing the channel in its entirety? It would certainly be understandable if this was the case, having to keep up with the Jones' on every single trend and keep consistent on the platform. Actually, scratch that yes, that definitely happened:
Well, not only is Jim Chapman a model, but so is Marcus Butler apparently. He runs a fashion brand called nu-in fashion, and as you can see below, their clothing is… different. His girlfriend and cofounder is German model Stefanie Giesinger, and things seem to be going swimmingly as they already have over 50k followers despite starting in April. Good stuff, guys.
This ain't it Marcus.
Related stories recommended by this writer:
• Here's a list of the highest-earning YouTube stars per video right now
• These are the most catastrophic YouTuber controversies ever
• This is how old the YouTubers you used to watch as a teenager are now