This is how much it costs to live in the houses from nostalgic cult TV shows
Imagine paying £1.2million to live in Tracy Beaker's dumping ground
When you're watching a TV show, there's something about the houses they're filmed in which become so memorable. Every single one from dingy student flats to gorgeous London family homes from series become engrained in your memory and you could recognise them for the rest of your life.
But what are the famous houses from your favourite cult TV shows actually like in real life? And more importantly, how much does it cost to actually live in them? Brb, just going to take out another loan for some of these.
Outnumbered – £1.7million
The Victorian home which comedy series Outnumbered was filmed in is currently on the market for £1.79million. The show is set in Chiswick, but the five-bedroom property which is home to Pete and Sue Brockman and the three children, is actually in Wandsworth, South London.
The description for the house reads: "The property has higher ceilings and is wider than most properties in the area and is presented in good order. There is a fabulous double reception room, a utility room and cellar, a beautiful extended kitchen/dining/reception space room with two sets of doors leading out to an impressive, secluded and mature garden with a number of seating areas. There is a garage to the rear."
The house is not far from Wandsworth Town train station and there are a couple of schools nearby too.
Peep Show – £100,000
Flats in the same building as the one in Peep Show regularly go on sale. Mark's building in real life is Croydon's Zodiac Court, and the flats there can all yours for the guide price of £100,000 to £125,000.
The studio flats there aren't exactly full of character, but for the novelty value you can't complain.
Fresh Meat – £261,000
The students in Fresh Meat might not have exactly made it look the most appealing, but the house the show was filmed in is actually a pretty charming Victorian property. 28 Hartnell Avenue in the series is actually on Mayfield Road in Whalley Range, Manchester. It's about a 35 minute walk from the University.
According to Zoopla, the house is worth £261,000.
Tracy Beaker – £1.2million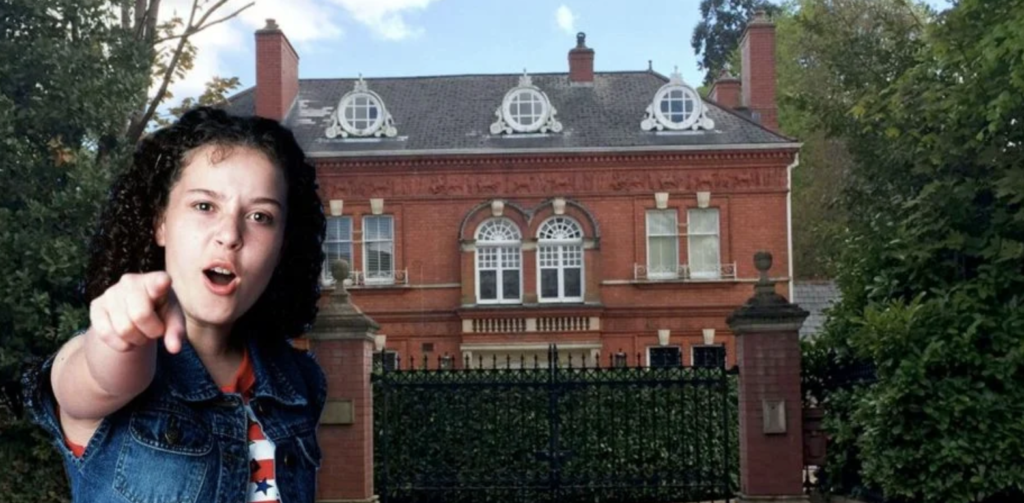 The real life Dumping Ground from Tracy Beaker is on Station Road in Llanishen, Cardiff – it's just an hour walk away from Cardiff Uni.
The house was used for series two and three of The Story of Tracy Beaker, and was featured in the classic Tracy Beaker movie – the one where her Hollywood mum comes back. The house is now a gated residential building, separated into apartments called "The Hollies".
The 10 bedroom, eight bathroom building has been priced at being worth £1,230,000, according to Zoopla. 
Friday Night Dinner – £1.45million
Ok, Martin and Jackie's house is really nice. The real location is 23 Parkside, Mill Hill, Barnet, London, which is a fancy area. Zoopla estimates the house is currently worth around £1.45million. No wonder Jim always wants to spend time there.
Gavin and Stacey – £145k
House prices in Wales are a lot cheaper than England. So the West family house in Barry is one of the cheaper on the list, with Zoopla estimating it is worth around £145k.
The two bedroom, one bathroom property is actually home to Glenda Kenyon, who says she regularly welcomes fans of the show. She says she's had visits from 28,000 viewers of the show in the past decade.
Speaking to Wales Online, Glenda said: "I'm so grateful for all this, it's really changed my life. People come from all over the world to see the set and they're so excited. They ask me questions about certain episodes and I don't know because I wasn't there when they were filming. I have coaches full of people arriving and I enjoy it. Sometimes it does get a little too much and I need my own space but I'll have people taking pictures outside, arriving on hen nights, it's all sorts. People have sent me gifts and cards as a thank you. I don't do it for the money, I do it because it makes me happy and it makes others happy."
The Inbetweeners – £805k
Will's house in The Inbetweeners is worth an estimated £805,000, according to Zoopla. The four bedroom and two bathroom property hasn't been up on the market in a few years – but there are a few pictures from when it last was.
Related stories recommended by this writer:
• This is how much it would cost to live in the most popular houses from Netflix shows
• Do you recognise these homes from famous film and TV series? Take this quiz to find out
• Quiz: Can you guess which celebrity lives in these incredible houses?