'It's much stricter here': This is how lockdown in Spain and Italy compares to the UK
You cannot leave your house, even for walks
This weekend, the UK government banned sunbathing. A sentence you probably never thought you would read. It seems completely ridiculous out of context, right? But if you live in Spain or Italy, it is as equally ridiculous in context as it is out of it.
As Brits kicked up a fuss this weekend over losing their sunbathing privileges, people living in Italy and Spain ticked off another day on an almost-month long calendar for living in strict lockdown. Sunbathing seems like a world away. Even outside exercise is a distant dream, with papers required for any time you venture outside your house – which is only legal if it's a trip to the supermarket (once a week) or pharmacy. If you have a dog, you may walk it once a day. That's all you get. And if this gets worse, it may become our reality too.
We spoke to people living in Northern Italy, Madrid, Barcelona and Siena about what it feels like to live in some of the most stringent lockdown environments worldwide. With it widely known that the UK is following a few weeks behind Spain and Italy's trajectory, they told us how to prepare for fines, stir craziness and inside exercise becoming your life too. But also about the people who still remain happy, singing on balconies, catching rays and taking care of others, as best they can.
'The only way I can describe it is surreal'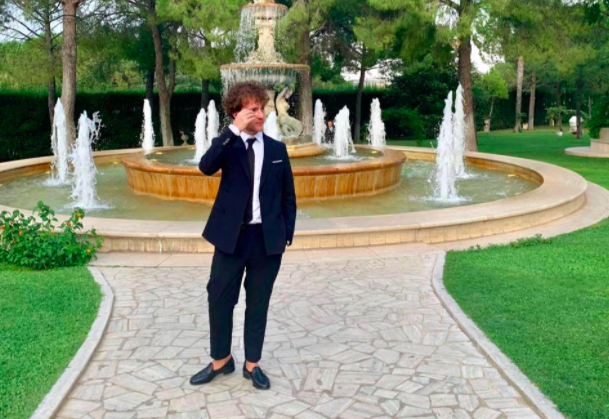 Gianmarco, an Italian student staying in North Italy, was in the area of Italy worst hit by the virus at first. He said: "At the beginning of this pandemic, the first cases were really close to where I live right now, but it wasn't until the second week of March that the Prime Minister adopted the same restrictions all over the country. Every shop is currently closed, you're not allowed to walk down the streets except for a few exceptions such as walking your dog, going to the pharmacies and to the supermarket.
"I feel like every person I have talked to since all of this happened has always shared this adjective: surreal. Not even our families, our grandfathers have ever lived through something like this. It's a life changing time. So I think my country is still processing everything. People are obliged to stay home and the majority of them is following the rules. We also started a nice tradition of singing and playing instruments on our balconies at 6pm which became very popular on social networks. But of course this is going to affect our mental health as well. Personally it's not easy to live 24 hours a day with the same person, knowing that the following days, weeks and months probably it's going to be the same, so you get anxious, you get irritated very easily. We're all just trying to be as calm and collected as we can be.
"Both situations in the UK and Italy affect me in a very specific way. My brother is living in London, and all of my family has been worried since the pandemic started because of what Boris Johnson said and intended to do about it. My brother knew what was going on here at the beginning of March, we were all locked in our houses, and he knew he had to do the same, but he still had to go to work, and none of the people he used to meet down the road were wearing masks or gloves. So it's been very scary for him and for us indeed. Luckily your government started to adopt the same restrictions as my country and the majority of the EU, which I genuinely think is the best thing to do during this horrific situation."
'You spend the first week in denial, then it hits you'
Ana is a Reading Uni student on exchange at Siena University in Italy. She told The Tab: "All the restrictions in Italy are the same. All the shops are shut except the chemist, the place to buy tobacco and the supermarkets. You're not allowed to enter the supermarket without wearing a face mask and gloves. When lockdown started it all got put into place pretty fast. The first day they shut down everything, by the fourth day they had closed all parks, banned exercise outside and police were heavily fining people (it ranges from 3,000-5,000 euros). I was very nearly fined for running! We aren't meant to be leaving our houses after 6.30pm and when we go outside we have to carry a paper stating why we are outside as often police will stop you and ask for it.
"Italy lockdown is so strict compared to the UK. When they announced lockdown people took it seriously and police were heavily onto you straight away. You have to think we have only been allowed to go outside to shop for the past three or four weeks, whereas in the UK people are allowed to go on walks etc and they're on the second week of lockdown. I don't think they realise how mild the lockdown is in the UK compared to Italy. It was hard to watch people back home not taking it seriously when other European countries were going into this pandemic.
"You try and just get used to the new situation. I think the first week you spend it in denial and around day eight my friends and I personally found it extremely hard because it was when realisation hit that we are going to be in this situation for a very long time, not just a couple of weeks but at least a good two or three months. But once you come into acceptance it became slightly easier to try and make more of a routine."
'The clap every night at 8pm is a lifeline, people come out to sing and dance on their balconies'
Abbie, a Northumbria student on her year abroad in Madrid, said: "You're not allowed to leave the house at all, apart from to go to the supermarket or pharmacy and you can only really do that once a week – there's police patrolling constantly in cars and on foot so it's a very tense atmosphere outside! And when you do go out you have to be by yourself, I've seen people get in trouble for even talking to someone else, even if they are two meters apart – the streets and supermarkets are completely quiet.
"You can't go out for any exercise. If you have a dog you're allowed to walk them once a day but only within 1km of your house. The rules are very tight on this too, I heard about someone who got arrested or fined because they didn't have the right paperwork on them to prove it was their dog! I live in the very centre of Madrid and it's like a ghost town… I've been handling it ok, my flatmates have all left apart from one who doesn't leave his room so I'm basically by myself. It was weird at first, I cried in the supermarket because I couldn't get Oreos. But I'm used to it now and feel pretty much fine.
"It's definitely a lot more strict than in the UK at the moment in terms of going out. Here we don't get our daily exercise like in the UK, but I also think the police enforce the rules in place a lot more strongly than in the UK. The fines here start from 600€ I think and can go up to 600,000€, not £30 which is what I heard the fines are in the UK. Also there is no nonsense with the police here, if you are caught doing anything you shouldn't be then there's an immediate fine – I have seen a lot of videos of people in the UK disobeying the rules and just being moved along, even arguing with the police about it. It's quite frustrating actually."
"In general I think the mood is quite optimistic and definitely one of solidarity. On the streets the mood is very tense and serious but I guess that's because of the restrictions. But every day at 8pm we go outside on our balconies for the 'aplauso sanitario' which honestly is such a lifeline, basically my one bit of human contact per day. We clap and it's so emotional, everyone waves across and smiles at each other and sometimes it goes on for ages – as soon as it starts to die down someone will start cheering louder and people join back in again. People play music sometimes and shout things like 'fuerza vecinos' which means literally translates to force neighbours but it's like an encouraging term. My friends' street is really amazing, he sends me videos often and I even walked down there at 8pm one day on the way to the pharmacy. They have gone on for an hour at times, playing music and dancing on their balconies, and even had disco lights which they projected onto the road!"
'People can be fined for going out to get crisps and beer'
Kirsty, who has lived in Barcelona for four years, told The Tab: "Barcelona has been on lockdown since 14th March. We're not allowed to leave the house unless we are going to the shop, to the bins, or to the pharmacy. I've been working from home since 12th March. Honestly, it's tough. There have been lots of ups and downs — the hardest part is not being able to go for a walk or a run. The government in Catalonia have shared a file which you can fill in that states your reasons for movement. Even dog walkers aren't allowed to go too far from their houses. The police can stop you and ask where you're going and can even check your receipts to see what you've bought. I read a story about someone being fined for going out to buy crisps and beer!
"It's a strange mood outside. When I do my shopping once a week, there's a real sense of fear on the streets. Face masks have become more common. Saying that, there are still people who aren't respecting social distancing. I've been reached over a few times in the shops by people and have been brushed by. Every night, people go to their balconies to clap for the people still working and the healthcare workers but I can feel the mood slipping. We're coming up to Easter now and the sun is shining – at this time of year people would normally be flooding to the terraces of the city, but now we're confined to our 50m sq flats."
"So we've had another extension of the lockdown announced. That will bring us up to 25th April. Finally, we're beginning to see a drop in the daily death rate and things are starting to look better. I really wonder how the Spanish government are going to manage the 'release' of people, maybe we'll be brought down to a more UK style confinement where we're allowed to go for daily exercise. I don't think we will see a return to normality for a long time and this summer will be a strange one without the flood of tourism that we normally have in Barcelona."
'We have a brilliant opportunity, just find positivity in it'
Isaac, also in Barcelona, said: "Restrictions mean you can't go outside other than to shop, go to work without a paper from the government to show you are allowed to leave for work or walk your dog without documentation. My flatmate got fined for skateboarding back from a shop. We travel quite far for the nearest vegan shop so we go as rarely as possible (twice in three weeks) as we respect the rules. It's a responsibility for those who are not as young and fit. We don't have daily exercise allowance here but think it's best to use it when you really need it. I have multiple family members at a very high risk of fatality from this disease and they have to travel to the hospital and pharmacies too so it's best to keep it safe for those people in my eyes."
"The mood here is typically good, the weather has been up and down. But when the sun is out, people are on their balconies and roof terraces, soaking up the sun, taking pictures and scrolling their newsfeed. My outlook on this is that we have a brilliant opportunity. We can finally pick up the guitar that we have been putting off learning, time after time. For me, I can learn Spanish as I've only been here since January. It's also time for finding peace. That's the most important. Find positivity in this, find a way to be grateful. Your house doesn't need to be a mansion to have fun, and not everyone has that. I only have my clothes, a skateboard and a kendama. That's it. Now I'm doing daily yoga, trying new recipes, reading, quitting smoking, getting to know my flatmates and catching some rays on my balcony listening to UK rap music.
"My advice for the UK is just don't abuse the right to go out everyday. If you don't need to, don't go out. Support your neighbours. Just try and be aware of others and know we are still all together in this, just from afar."
Related stories recommended by this writer:
• Unis could go bust if coronavirus keeps international students away, experts warn
• Fake tan, meal deals, iced coffee: We asked people what they miss about normal life
• These are the celebrities who are spreading the 5G coronavirus theory