This savage thread judges all the new Islanders entirely on their looks
I don't even know them but I can tell it's accurate
Someone has created a thread judging the new winter Love Islanders purely on first impressions and despite not even knowing them yet, it is scarily spot on.
The thread was posted on Twitter on the meme page Made In Poor Taste. It started by saying: "Judging the new Love Island cast based entirely on their looks" and then went on to share their professional cast pictures with a general comment about what they're going to be like as a person and their drink of choice.
Some of these are absolutely hilarious.
It described 25-year-old Siânnise Fudge as: "Obsessed with horoscopes, crystals and toxic masculinity. Not showered in weeks but disguises it with incense. Favourite drink – her ex's blood."
23-year-old Ollie Williams, who is heir to the Lanhydrock Estate, owns a beach and is mega rich, is described on the thread as: "Max Branning with cheap toupé. Favourite drink – Anything in the Queen Vic."
Once you see the similarities in his face and Max Branning's, it's the only thing you will ever see.
Next up is 25-year-old democratic services officer, Shaughna Phillips. According to the thread she is: "The first one to post a PrettyLittleThing discount code after leaving the villa. Favourite drink – whatever diet tea pays her the most money."
I mean, true.
21-year-old Sophie Piper's description reads: "Rochelle from The Saturdays' sister apparently. Like Tommy Fury but with a shitter sibling nobody cares about. Favourite drink – room temperature water."
Savage.
Callum Jones is described on the thread as: "Not sure if he's 19 or 39. Weird face. Dead behind the eyes. Can't be trusted. Favourite drink – fuck knows."
Btw, he's 23.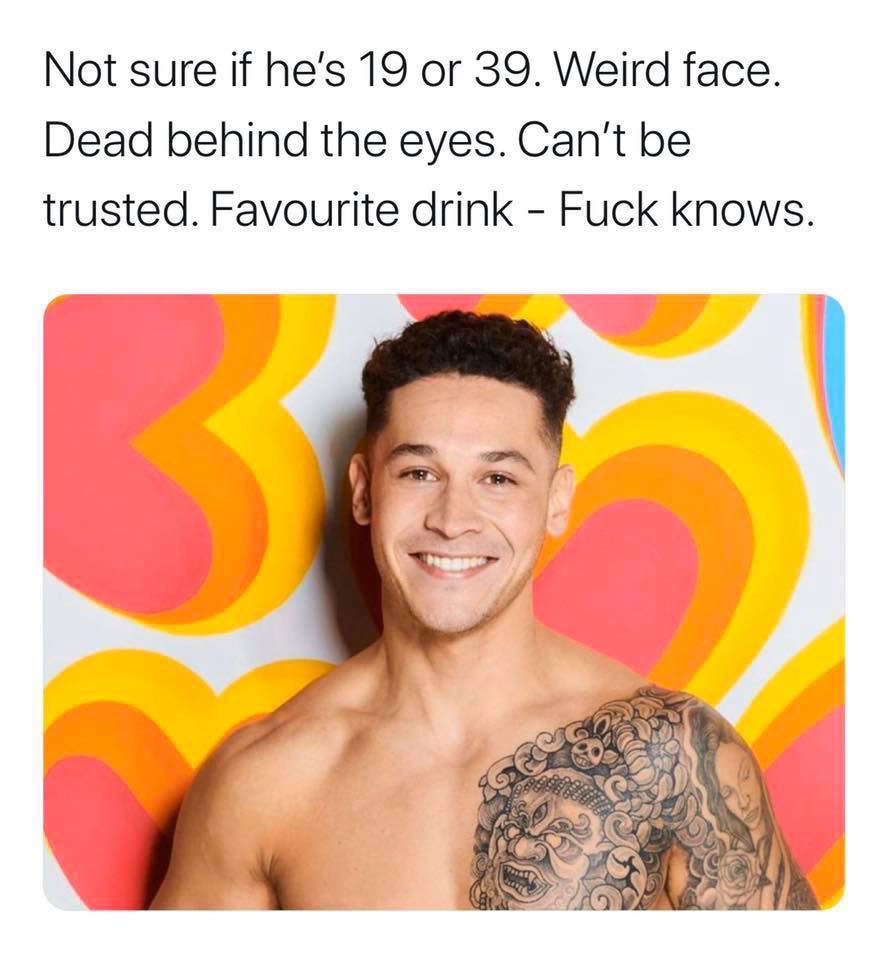 Up next on thread is Paige Turley, who is 22 and the ex-girlfriend of Lewis Capaldi – in case you haven't heard a million times already. She's described as: "Looks like someone deflated Gemma Collins. Lewis Capaldi's ex. Inspired the saddest song of 2019. Favourite drink – the tears of a nation."
Savage again????
Mike is a 24-year-old police officer from London. But according to Made In Poor Taste he: "Looks like a good guy. Will probably win if he picks a girl who isn't a total cunt. Favourite drink – rum and coke."
Next it's Connor the coffee bean salesman. The thread calls him a Poundland version of Example, adding he: "Chips in with 12 other mates for a bottle of Grey Goose to flex on Instagram. Owes £6,000 to payday loan companies. Favourite drink – card declined."
Who comes up with these?
Winter Love Island 2020 starts on Sunday, January 12th. If you want to be the first to know all the latest news and gossip, like The Holy Church of Love Island on Facebook.
Related stories recommended by this writer:
• They're here! Say hello to the winter Love Island 2020 contestants
• Inside the luxury £5.3million winter Love Island villa in South Africa
• All the insanely fit winter Love Islanders' Instagram accounts