Introducing the Sad Boy t shirt, official merch for every member of your Sad Boy house
Best enjoyed with a Ristorante pizza and a sense of regret
Are you sad boy in a sad house who likes sad things? Do you eat Ristorante pizzas for dinner, and put your dirty washing on the floor instead of in the washing bag?
Calling all Uni Sad Boys: There's now sad merch for your sad personal brand!
We've just launched the official Sad Boy t shirt – the uniform for every full time member of the Sad Boy club.
It's suitable for all the boys (or girls) in your Sad Boy house and no it's not lame if you all get a matching one.
The long sleeved Sad Boy tees come in black and white and are on sale here for a week only.
The white tee is available here.
The black tee is available here.
---
Uni Sad boys – get your tee here for one week only
---
How to tell if you're an official Sad Boy™:
There are lagerbeer bottles everywhere in your Sad Boy house
You eat pesto pasta for most of the week
Your bedroom walls are empty AF
You own a Sports Direct mug
You have used a pizza box as a plate
You leave the pizza boxes piled up on top of your bin
You use anything in your house as an ashtray
You're shit at rolling but think you're good
The house you live in has a lingering musty smell
You and your housemates play Fifa A LOT
You spend your entire nights in the smoking area
---
The perfect uniform for your Sad Boy House – get it here
---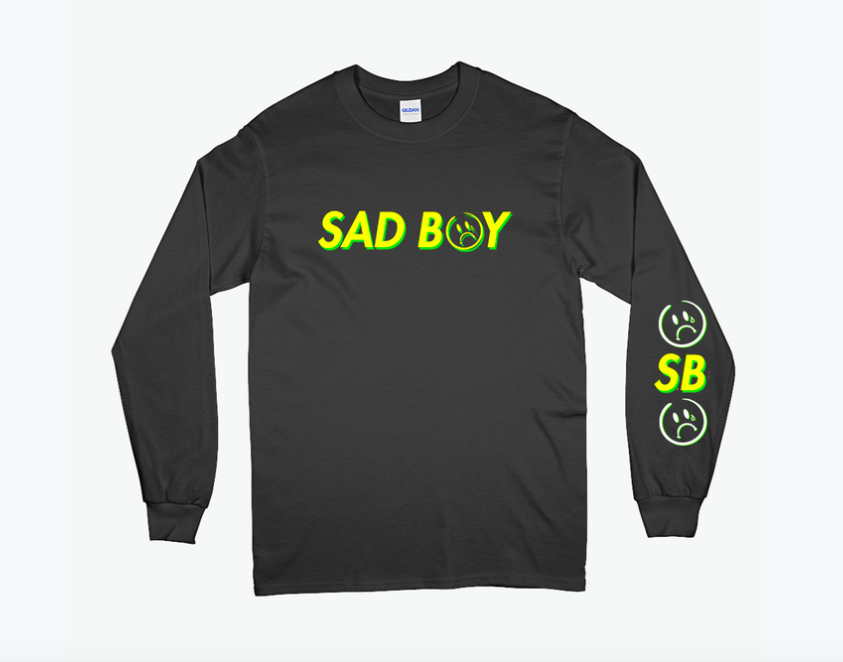 ---
The Official Sad Boy tee – on sale here this week only 
---
The tee features neon green and yellow text and ofc a sad face on the sleeve.
The t shirts cost £25 each, are unisex and come in sizes Small to Extra Large.
For the t shirt snobs: the tees are a 100% Ringspun cotton jersey knit.
Related stories
Here are all the signs you might be living in a 'sad boy house'
You can now buy an 'Enjoy the money, Jane' t shirt and nothing else matters
If you do any of these 23 things you are definitely a uni sad boy