Love Island Gossip Column: Alexandra and New Alex are dating?! And Love Island Australia will air on ITV
A brand new Love Island, here we go again!!!
Love Island may finally be over, but it doesn't mean the gossip ever has to stop.
So welcome back to The Tab's daily Love Island gossip round-up, bringing you the pettiest drama and the least believable tabloid exclusives from around the web today.
Alexandra and Specsavers Alex have posted a picture together and all the Islanders are hinting there's something going on between them
Considering he said he wanted to take Alexandra on a date last week, there could be something going on. Alex posted this picture of them from the Reunion after-party and fellow contestants commented things like "#justfriends" and "cute couple."
Also, why are all the Alexes so cringe on Instagram?
You can just tell he took 50 identical photos to this one to make sure he got the perfect selfie AND he's pulling down his shorts!!!
https://www.instagram.com/p/BmG-dGWF5re
Charlie and Ellie have made up and this professional photoshoot proves it
The couple had an argument after the show's reunion party on Sunday when Ellie went home without Charlie. Apparently they fought because Ellie thought Charlie was ignoring her and instead "partying with his pals." A TV insider told The Sun: "Charlie and Ellie had a screaming row at the end of the night. They're on the rocks already and it's only been a few weeks."
But it's fine guys, they've made up and it's all documented in these professional photos. Charlie came to Ellie's photoshoot in London and they chatted together on the sofa and in the garden. And of course paparazzi just happened to be nearby!
The real winners, Megan and Wes keep sharing cute videos of each other and I can't
Megan took a video of Wes washing his feet in the bath and he managed to hurt himself and dent his head. Forget Jani, these two deserve their own show.
Dr Alex has had his eye on one thing since he's left the villa – flashy cars
Alex was spotted looking at Aston Martins in Mayfair, all of which cost hundreds of thousands of pounds. Maybe he'll be able to buy one if he gets his job as a TV doctor. Unlike humans, at least the car won't cringe at every. single. thing. he does.
Megan said she wants to be the next 'Demi Rose'
A source told The Sun: "Megan's followed her career for years and she wants to do what Demi has done. She wants to be as successful as Demi."
If like most people you don't know who Demi is, she gained her fame after dating Kylie's ex Tyga and has appeared in music videos with DJ Khaled and Chris Brown. She has seven million followers on Instagram and has gone on to model.
https://www.instagram.com/p/Bjx96IBlMrL
And so it begins, Eyal has started doing Insta ads for generic clothing brands
FYI, that top costs £25. Twenty-five pounds for top that looks like a lifejacket with a tiny logo on it.
https://www.instagram.com/p/BmMMTGeFFlE
Danny Dyer brought Jack a present from DisneyLand
Although Jack and Danny are officially meeting tonight, Danny sent his daughter a preview of something he picked out for Jack at the Disneyland gift shop. Cute.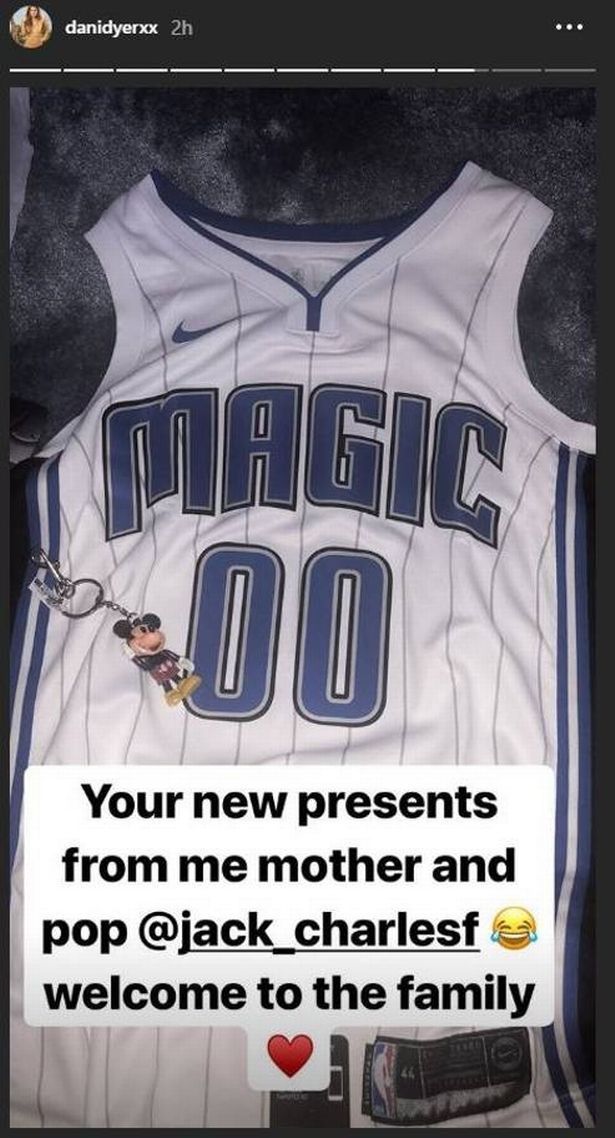 ITV will start airing Love Island Australia from next week
The channel will air the first ever series of Love Island Australia on ITVbe from Monday 13 August. The Australian version of the show has been highly praised as it's seen to be a lot more explosive than the British version. MORE LOVE ISLAND!!!
Recommended stories by this writer:
• If you thought Megan's surgery transformation was wild, then WOW look at Ellie's!!!
• How long the Love Island couples will last, according to a relationship expert
• Here are the most tragic sponsored Instagram posts from the cast of Love Island 2018 so far