All the truly unforgivable fashion trends you wore as a girl in the late-2000s
Literally who let us out like this
| UPDATED
I have so many questions for the girls of our country who grew up between 2007-2012.
How did our mums let us go into town wearing thin black leggings that showed everything? How did we manage to kiss a boy through all the layers of cracked dream matte mousse on our lips? And how did we have the time to do anything, other than backcombing our hair?
These are the questions we would probably rather not think about. But scrolling back through old Facebook photos, it's plain obvious British teenage girls in the mid to late-2000s went through some truly horrific fashion trends. So horrific, it's literally unforgivable.
No, but seriously now, who let us out of the house wearing all of this:
FAKE UGGS, BECAUSE THE SHOEZONE KNOCK-OFFS WERE REALISTIC ENOUGH
Only girls with access to a trust fund at the age of 14 managed to wear the real deal. The rest of the female population settled for a ShoeZone knock off, so badly made on their first outing they were likely to squish on one side and never be the same again.
THOSE SHINY PU LOOKING PAUL'S BOUTIQUE BAGS
You know the one: it came in neon pink, black or cream with the tacky charms dangling off it. And you definitely "forgot" to take the tag off.
JACK WILLS KNEE HIGH SOCKS, WORN EVEN IN SUMMER
There was no reason to wear knee high socks in day-to-day life e.g. for sport, at a festival. But the JW models in the catalogue sold it as a daily essential for around the house and sleepovers. The cheapest pair of knee high socks from Bicester Village outlet centre were the go to 15th birthday present, because pocket money didn't stretch far enough for anything else.
THAT NAVY OR GREEN JACK WILLS GILET WHICH LITERALLY EVERY SINGLE GIRL HAD AT ONE POINT
Mum swore this would be it for Christmas and birthday presents. Some parents had to remortgage the family home and sell the cat to purchase one of those navy or green gilets. It didn't matter if it was boiling hot, or freezing cold, you were wearing it.
ANYTHING JACK WILLS REALLY
And it was probably all sold on eBay for a fifth of the price, when everyone realised how tragic it had become.
THIN, CHEAP BLACK LEGGINGS WHICH SHOWED EVERYTHING
Okay, question: Where were our mums when we were leaving the house in these horror shows? We were basically naked. There's no way now anyone would go out wearing only a pair of leggings. They always had a hole in them, they always showed your black thong which you thought was discreet and they were literally a pair of tights – unforgivable.
SHAG BANDS IN EVERY COLOUR LEAVING BASICALLY NO SKIN REMAINING ON YOUR ARM
Red means you've definitely slept with half of Year 9.
BARRY M 100 LIPSTICK, OR CONCEALER IF YOU WERE KILLING TWO BIRDS WITH ONE STONE
Having voluptuous lips or a pop of colour was unheard of. Instead, Barry M 100 lipstick or trusty Maybelline Dream Matte Mousse, which was already caked on, was the go-to look. There was nothing quite like making yourself look like you don't have a mouth at all.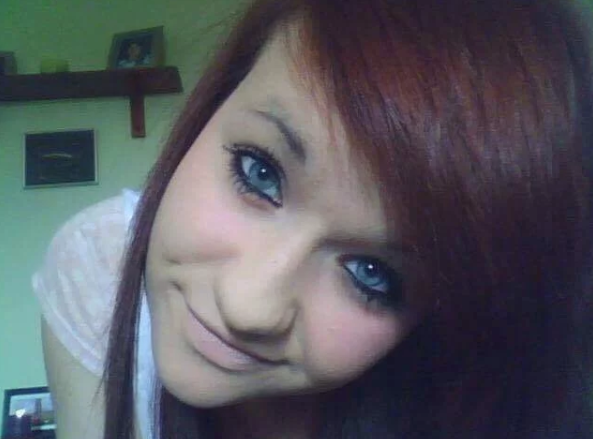 JANE NORMAN BAGS FOR YOUR P.E. KIT
What did people even buy in Jane Norman? Idk, but the bag was important.
THEN THE ABERCROMBIE BAG WITH TOPLESS MEN ON IT, FOR YOUR P.E. KIT
Abercrombie paper bags became the definitive marker of wealth – perfect to carry around sweaty P.E. kit in. With two hot guys on it, they were the glo-up from Jane Norman, and showed everyone in the year there was at least one Abercrombie & Fitch item in the wardrobe (even if it was the cheapest thing on the shop floor).
https://www.instagram.com/p/BUUT2qvAfQp
AND THEN THE LITTLE BROWN BAG FROM BLOOMINGDALES
The girls who had these would pretend that they'd just been to New York, when in fact the knock off off-brown/almost green bags were sold in every local shopping centre.
CHECKED SHIRTS WERE A WARDROBE STAPLE
How many checked shirts are currently in your wardrobe? None.
HUGE FRINGES THAT PARTIALLY BLINDED YOU FOR THE DAY
Renaming yourself Katie Katastrophe seemed like a great idea at the time.
BOLEROS AND OTHER CARDIGANS
Every day was a 1980's wedding when you were around.
BACK-COMBING HAIR UNTIL IT LOOKED LIKE A BIRD'S NEST
No amount of conditioner could reverse the damage at the end of the night, yet every morning you woke up and did it again. Mirror pics with the gals would include pushing your hair up with one hand for extra oomf, whilst pouting, the rawr claw, or the wide-eyed raised eyebrows "omg I left the front door open" look, as demonstrated by the Hello Kitty phone case blow.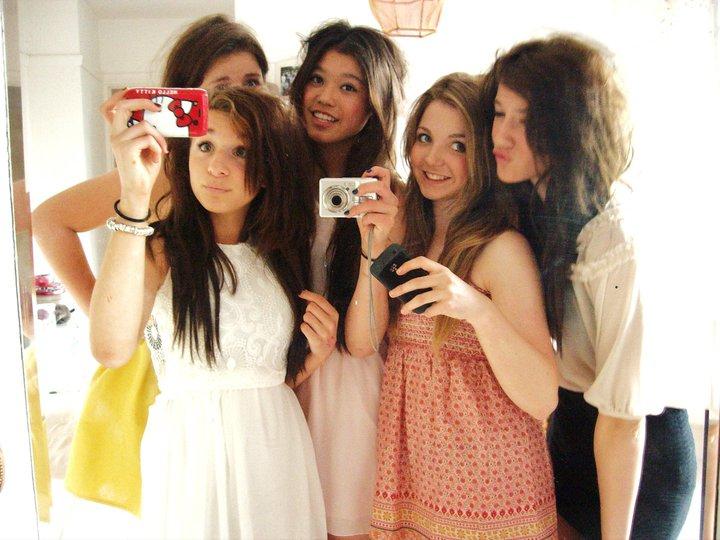 LOW-WAISTED MULTI-COLOURED SKINNY JEANS
Similar to the black leggings but only slightly better, why was it acceptable to walk out on the streets looking fresh out of a MIKA music video? They came in every colour, had saggy knees and the crotch area would always looked horrific. They weren't even tight at the end, giving them an undesirable slim cut look. You were thinking Hayley Williams, but you were looking plain terrible.
PENCIL THIN EYEBROWS BECAUSE BROW GAME WASN'T A THING BACK THEN
By the time the brows had been hacked with dad's Gillette razor, they were looking less like an eyebrow and more like an upside down Nike tick.
STUDDED BELTS WHICH WOULDN'T FIT IN THE BELT HOLES, SO THEY JUST HANGED THERE
To go with the multi-coloured skinny jeans through that nauseating All Time Low stage, the only thing edgier than the studded belt itself was the bravery of wandering into PULP, or worse, Blue Banana, to purchase it.
CLAGGY MASCARA
20 layers down, 150 to go.
CLIP IN FLOWERS, BOWS, HEADBANDS, ANYTHING
As if there wasn't enough going on with the hair already, there was a serious need to accessorise. Clip in flowers, bows or really tight headbands, which were basically a choker for your forehead, were essential to complete the look.
MAYBELLINE DREAM MATTE MOUSSE
The difference in colour between your orange caked face and neck was laughable. Who cares if product and skin tone don't match? Anything was better than looking pasty.
BLACK KHOL EYELINER ON THE TOP AND BOTTOM LID
Khol eyeliner made every girl feel mysterious and grown-up. It had to be drawn on every single possible place around the eye, except the eyeball itself. For some reason, Liv from Made In Chelsea still does this now, lol.
COLOURFUL VEST TOPS UNDER ABSOLUTELY ANYTHING
Mainly worn under school uniform to show some kind of identity, and to hide that brand new La Senza push up bra mum didn't know about.
NERD GLASSES FROM THE CINEMA
Why go to Claire's and buy an expensive pair of nerd glasses, when Vue Cinemas were giving them away for free instead at the Avatar 3D screening? Pop the lenses, and bonus points for painting them with nail varnish for extra style.
COLOURFUL BEAD NECKLACES WHICH WERE SO LONG, YOU HAD TO DOUBLE LOOP THEM
Coco Chanel might have said "when accessorising always take off the last thing you put on", but who would ever listen to some old fuddy-duddy when it comes to those yellow double wrapped plastic beads.
THOSE STRETCHY FLORAL TOPS YOU COULD ONLY FIND IN PRIMARK OR NEW LOOK
They're a style that's non existent in shops nowadays. They were low scooped, short sleeved and long to go over your bum enough to cover your black leggings. They were tight at first but would stretch and fade within a few wears. Just look at how tragic they were.
OVERSIZED PEARL EARRINGS
The aim was "girl with a pearl earring" vibes, but even Primark's finest just couldn't quite get you there.
NEW LOOK 915 DOLLY SHOES, IN ALL COLOURS
"Mum I am NOT wearing Clarks shoes to school they're LAME."
HAVING YOUR BRA POKING OUT OF A VEST
The signature mirror selfie look was the duckface, and a hefty amount of M&S's finest floral 28A on show.
OVERSIZED WAIST BELTS WORN UNDER PRE-PUBESCENT BOOBS
Extra snaps if the buckle was fucking huge as well.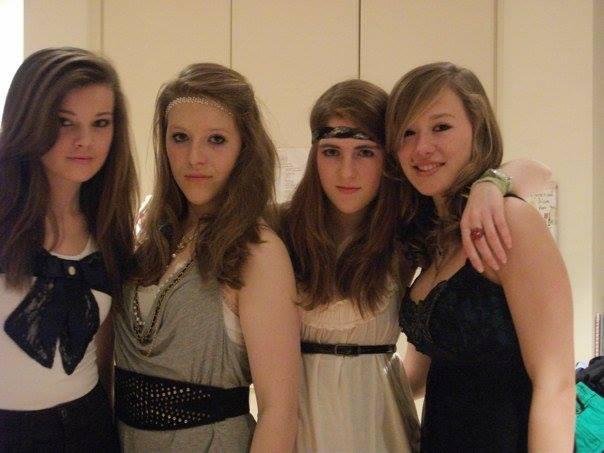 ANYTHING WITH A HOLLISTER LOGO ON IT
Literally anything.
DENIM SHORTS WORN WITH BLACK TIGHTS, EVEN IN SUMMER
High waisted, probably from Levi's, but too much for the conservative parents to handle without tights. Why was everyone so desperate to wear a pair of summer shorts in the middle of winter? And who thought the tights would bridge the two seasons together? This paired with the UGGs, resulted in a lot of lower body sweat.
BADGES OF BANDS AND POLITICAL MOVEMENTS YOU DIDN'T UNDERSTAND
Wait, Kurt Cobain is dead!? Che Guevara who?
WEARING NEON TO UNDER 18 NIGHTS aka "RAVES"
Step 1: Plan an outing to Primark.
Step 2: Decide who gets to wear what colour (neon pink, blue, green, yellow, orange) in the friendship group.
Step 3: Buy matching leggings, braces, t-shirts and vests in said colours.
Step 4: Go to an under-18 night, act five times your age and pretend you're sooo drunk off the one WKD you shared.
COLOURFUL TRAINERS
Adidas, Dunlop, Babysham, Hi-Top Converse, Slip-on Vans. The brand didn't matter, the colours and laces just had to clash.
PASHMINAS FROM THE BACK OF MUM'S WARDROBE
They made you feel so classy and sophisticated when you turned up to Sarah's 13th birthday party at Pizza Express.
THE TOPSHOP SLEEVELESS SHIRT WHICH HAD TO HAVE THE TOP BUTTON DONE UP
First it was tragic because there were no sleeves, flattering no one. Then it was even more tragic because we felt it necessary to button the top button up, suffocating you throughout the day. Teamed up with the nerd glasses, it's enough to give you nightmares.
SUPERDRY TRACKIES
Nothing else would do other than the sweet combination of overpriced, over-branded and somewhat comfortable sweatpants that only Superdry could provide.