These are the best outfits from Latitude this weekend
Rainbows and sassiness all round
This weekend played host to Latitude festival which took place in Suffolk's Heham Park.
Now in it's eleventh year, Latitude is a festival all about the vibe. A line-up of music, theatre, comedy, literature, dance and film are on par with the magical surroundings.
We captured a selection of the best outfits this year, expect rainbows, glitter and a whole lot of accessorising.
Louise, 23, Chelmsford
Louise pulls off festival chic with a palm print deep plunge playsuit coupled with some tan ankle boots, she finishes the look with simple matching brown accessories and choker.
Charlotte, 19, Norwich
When asked how she would describe her outfit Charlotte replied that she found it on her 'gap yah' (typical). She really pulls off the sheer ensemble with the pastel pink, tassels and beading adding a whole new dimension. This cheeky little number is bedazzled with a little matching glitter.
Bronte, 21, Dorset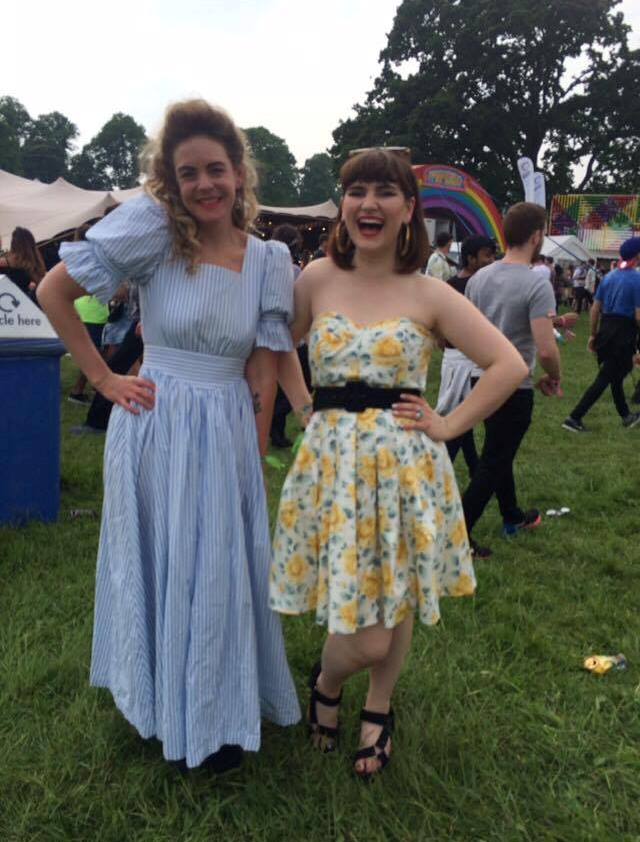 Bronte shows us how to work 50's glamour with a bold red lip and petticoat dress. The hoops and black belt add further sophistication and complete the thoroughly thought out outfit.
Lily and Winnie, 20, Bristol
Pulling off a unitard is no easy feat- let alone if its glittery and rainbow print. Lily and Winnie go the extra mile and show their commitment to looking good by piling on the festival accessories: fish nets, pom-pom headband, fur earrings, bum-bag, moschino belt.  Damn girls!
Isobel and Hettie, 21 and 23, Suffolk
These two looks are all about the statement trousers with both gals opting for patterned flares. Isobel keeps her outfit low key by wearing hers with a plain black halter, whilst Hettie goes for a white crochet long sleeved top.
Yana, 18, London
This look once again illustrates the power of a rainbow unitard.  Yana gives her sassy appearance an extra spruce with a bum bag, under-eye glitter and bindi.
Meg, 28, London
A showstopping outfit if we ever did see one.
Andreas, 28, Peterborough

Andreas proves that prints and patterns make an outfit, here he dons a paisley patterned shirt. Dressed down with a pair of stylish grey skinnies this look works mainly due to Andreas's cheeky grin.
Sam and Jess, 30, Nottingham
Jess wears a cute and easy to pull off outfit but adds extra glamour through her metallic nail varnish and bangle. Sam, on the other hand, gives any female a run for their money expertly teaming a bejewelled bomber jacket with an otherwise black outfit (trilby included) proving he must be a wavy guy.
Tom, Birmingham
Sometimes wearing clothes is just too much for some of us, Tom showed us that occasionally it is acceptable to wear your birthday suit. He sports items from next year's catwalks-frilly pants, visor cap and dollar bling. This guy isn't afraid to show some skin. $$$$$
Gabby and Paige, 19, Sheffield
Wearing clothes designed by Jaceys clothing, this pair stood out from the crowd. Both the bronze halter and the minty blue glittery tshirt dress are completely acceptable festival outfits.