York UCU has called off next week's strike action after 'positive local talks'
All teaching will go ahead as normal next week
The week of strike action scheduled to take place at the Uni of York next week has been called off. In an email to students today, Vice-Chancellor Charlie Jeffery has said that York UCU decided to call off the strike action following "very positive local talks".
Two weeks ago, the UCU announced five days of strike action set to take place at 140 UK universities, with lecturers at Uni of York and York St John Uni planning to strike from Monday 25th to Friday 29th of September. The news came alongside the official end to the marking and assessment boycott, which had previously been ongoing since April.
Charlie Jeffery has confirmed to students that "all teaching and learning will go ahead as normal" next week.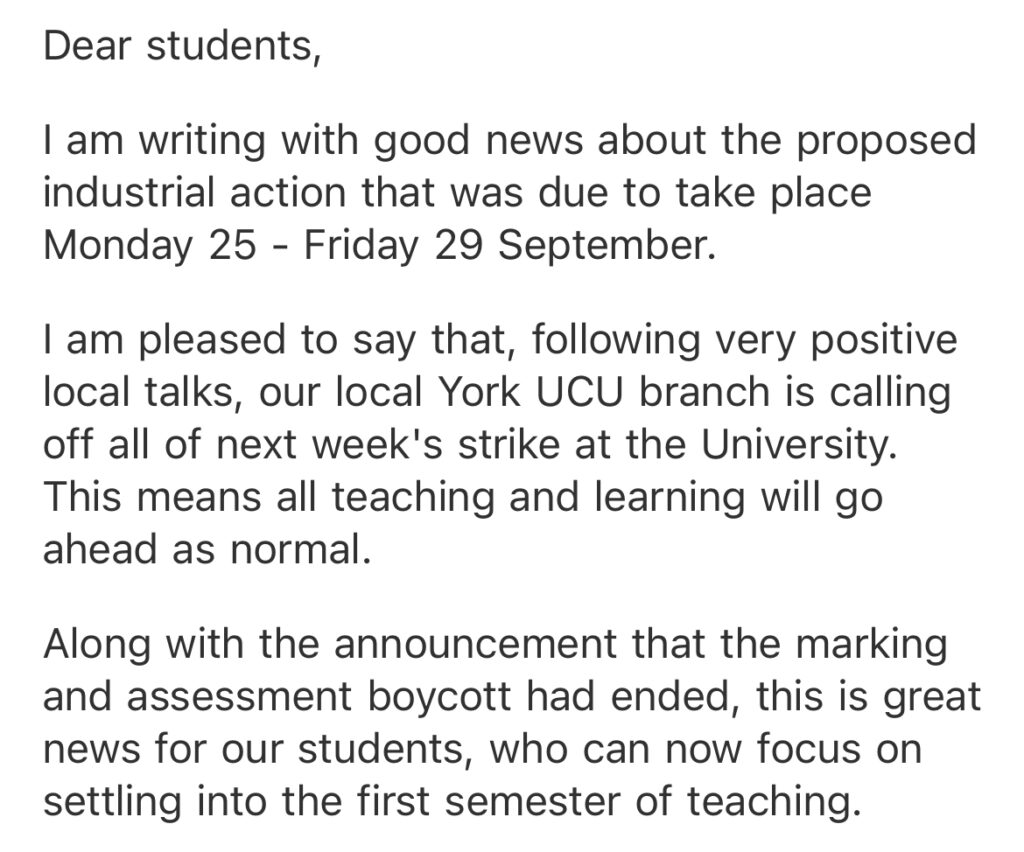 In the email, Jeffery said: "At York, we are fortunate to have a strong relationship with our local UCU, supported by regular and open dialogue. As we set out together in our recent article, we share some key principles on staff pay and sector funding.
"At the same time negotiations at national level continue, but it is my hope that we can use this example – of how we're bridging divisions here at York – as a platform for further influence in the national debate, and to push for an end to any more industrial action in the future."
In an email to staff, the Vice-Chancellor outlined the agreed arrangements that have allowed for the strike action to be called off. He said that the University has agreed to "extend the pause on pay deductions" for striking staff, and to allocate funding to "reflect the progress of marking and assessment".
He continued: "We will continue to make a shared case to the government and the opposition for fair and sustainable funding for the sector. We hope that through working together that we will model exemplary practice which will influence other institutions and our national bodies"
Related stories recommended by this writer:
• Uni of York ranks 15th in the Times' Good University Guide 2024
• University of York confirms absence of RAAC in university buildings