We spoke to the homeless people who've been sleeping rough in snow-covered York
Try to imagine sleeping outside in this weather
The weather over the past week has been an incovenience to us all. Transport hasn't been running on time, your student house may have been a bit chillier than usual, sports matches may have been called off.
For the homeless people of our city the snow and storms are more than just an inconvenience. We headed out to hear how tough the past week has been for them and also to hear how what we can all do to help them.
We spoke to seven people sleeping rough in York, the majority of them didn't want their photo taken but here are their stories.
Cal
Cal sits opposite Waterstone's cafe, in a nook sheltering him from the worst of the wind. He's 46 years old and an ex-electrician, who has been on the streets for 16 months.
He came to York from Leeds to be closer to his family, and arrived in York only a week before the snow arrived.
He and his wife both suffered from mental health problems, and had been thrown out of their house by the council for failing to meet their rent.
Despite being the registered carer for his wife, it would take up to three months for a hostel to house them together. In the meantime Cal is on the streets trying to get together enough money to buy a passport so he can re-apply for housing.
An organisation called "York No Second Night Out & Emergency Bed Protocol" lists a "Crash Pad" as "an emergency placement of statutory homeless customers (they are not generally resettlement customers)".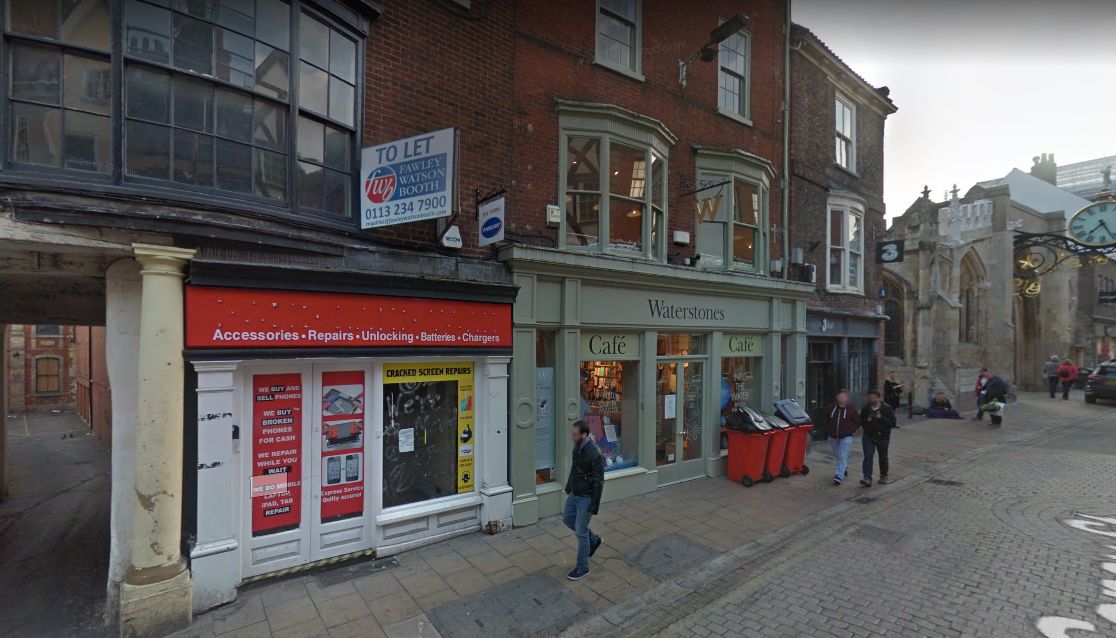 The council website lists these hostels as "self-catered; food, bedding and crockery are generally not provided." The website also states "it is your responsibility to pay any related amenity charges."
Cal said that despite the snow it was more dangerous to stay in those types of accommodation than to be on the streets, being in a confined space with unpredictable and often unstable people. It was safer to sleep on the outskirts of town at night, and return to the centre during the day.
His left eye was bruised purple, swollen and cut in places, another homeless man had attacked him with a Stanley knife on Parliament Street. When he reported this to an off duty sergeant, he was simply ignored.
Cal now carries a rolling pin to defend himself, concealed in his sleeping bag but close enough to reach in an emergency. The dosage of his mental health medication means that he can't defend himself after he's taken it, so at night he is forced out of town to seek shelter away from the city centre.
Chris
Chris has been on the streets for six weeks after his girlfriend died and he lost his job as a bricklayer. He was sitting on the steps of the church next to the Minster.
Every day he tries to save up enough money to sleep in a hostel. When he fails to do this he has only a thin blanket for warmth, which the snow had made both wet and cold.
He said he was just down on his luck at the moment, but he had no way to get off the streets and no plan as to where he could go in the future.
Andrew and Lizzie
Walking back past Cal, I found him talking to a man and a woman whom he often spent time with.
Andrew, 43, and Lizzie, 38 have been on the streets since May 2017. Lizzie is several months pregnant.
She's currently staying at Ordnance Lane housing options in Fulford, and hopes to soon find a permanent place to finish her pregnancy and have her baby. She says the snow has made her fear for the wellbeing of her unborn child.
Mark
Mark was sitting on Low Ousegate, leaning up against a traffic barrier. After breaking up with his fiancée he ended up on the street. He's been homeless for four months now, and says "because I've got bipolar mental health, I struggled a lot, massively."
He was unable to find a job through KHS personnel (a York-based employment agency) due to both his mental health, and the time that he had already spent on the street. He felt like he had "[nowhere] to go, nothing to do."
Mark described public attitude as, generally, "not very nice" and that most people assume that drugs are involved. He says, "at night time as well, lots of people are drunk, and they give us a load of abuse."
York offers several places to help homeless people, such as Carecent, referred to as "carebears" by Mark and others, a scheme put on in a church that is a good place to go for a warm breakfast and a catch-up.
However, other places in York aren't as accessible. For example, The Salvation Army, while "really good", has a waiting list. Furthermore, some of the hostels are unsafe. One of the hostels Mark was almost sent to had no cameras. It housed people that had just got out of prison. During the day, Mark goes "to bookshops, the library, McDonalds". At night, he's been "sleeping in doorways". He says: "It's dangerous out here, but it's even more dangerous in there."
Talking about the recent conditions, Mark says "It's the wetness. You can handle the cold, the wind as well. It's when everything gets wet, it's hard to get dry".
When asked what people can do to help, Mark said that more sleeping bags would be great, adding, "When I first had to live on the street, I didn't know what to do, didn't have a sleeping bag…I was worried [and] scared".
"There's a reason we're on the street. It's not our fault."
"Joe"
"Joe" declines to give his real name, he's 46 and has been homeless for three and a half years. A carer for his mum suffering Alzheimer's, he became homeless when she passed away.
He sleeps in a shop doorway and gets up just early enough to miss the employees making their way in to work. With limited hostel beds available, it's a waiting game. He says there are many homeless people so it's difficult to make a quick turn-around.
A stranger brings him a large cup of tea and "a sausage roll just in case, a cookie for now and a cookie for later", coupled with good wishes for a good day. He says if it wasn't for people's kindness he would go hungry, often for days at a time and he gets more food than money during the day.
He says the snow has been hard, really hard. It's difficult to keep warm and dry, especially with the strong winds. The first night it snowed he was covered and says it was awful.
Someone did give him money one day and he used it to buy socks and a new sleeping bag that offered a bit more insulation than his old one.
By his side is his self-named "survival bag", which he puts his sleeping bags in and then himself climbs in.
He says he moves around, just to keep warm. I look up to see two students headed towards us, hands full with takeaway cups. They hand him another large cup of tea and ask for the location of other individuals he knows to be sleeping rough. "It's good to get a nice, warm drink in you because if you get your core cold then that's it."
Joe says you can help homeless people like him by giving them something to eat, and blankets and socks are also needed. He woke up this morning to discover a new sleeping bag next to him, he has three now. He thinks the milkman left it for him, they speak to each other in the mornings but he's not sure, next time he sees him he's going to ask.
If you're interested in helping the homeless, you can obviously buy them a drink or something to eat and there are other opportunities available.
Volunteer at a homeless charity, such as Carecent, Arclight Project or York Foodbank.
Donate to Operation Warmth, which gives money to charities working with rough sleepers.
Contact The Salvation Army – 01904 405330 or Streetlink – 0300 5000 914 if you are concerned about the safety or health of a homeless person.