All the things not to do whilst on the Notts ski trip
Here is exactly how to avoid the drama on the slopes
It's nearly Easter and that can only mean one thing: the annual ski trip is nearly among us. It is possibly one of the best times of the year to enjoy yourself with your mates before the dreaded exam season starts. You managed to snag a coveted place, and it might well be one of the best weeks of your life if you can avoid the drama.
If like me, you've ever gone one on one of these trips, you'll know exactly what not to do. After going on the Val Thoren's ski trip last Easter, I've definitely learnt all the best tips to avoid the drama and survive a week of skiing and drinking. Here are all the things not to do whilst away on the ski trip:
1. Don't lose your skis at apres
Amongst a sea of identical skis, it's tricky to remember which pair belongs to you, especially after one too many at apres. Don't lose your skis and instead pair one with a friends to save yourself from being stuck on the mountain.
2.  Don't try and avoid the hangover
We found the mountain air means hangovers literally don't exist, so don't hold back from getting obliterated at apres. Enjoy yourself the most you can before coming back to Nottingham and facing the realities of exam season.
You're only young once, and a ski trip isn't just about skiing, some may argue apres is the best part about a ski trip.
3. Don't buy lunch on the mountain every day
Buying a baguette from Carrefour is a great hack to save money that could be better spent at apres.  However, if money isn't an issue, go crazy – the food is delicious just very expensive.
4.  Don't bring someone back to your room
When Lenton takes on the slopes, the inevitable will happen. But you don't want to be the person waking up in some random room. The rooms are small and are often shared between several people. I'm sure your mates will not be too impressed waking up to a stranger on the top bunk.
5. Don't just get a normal beer
If you prefer something sweeter to a normal beer and the wine looks a little pricy, beer peche is the way to go – you won't regret it.
6.  Dont destroy your room

If you completely trash your room, you will likely lose your deposit. I recommend making sure your room is spotless when you leave. After all, seeing your deposit hit your bank account a few months later feels like free money.
7. Don't go too hard at apres

If you are a beginner skier or prone to a debilitating hangover, maybe take it a bit easier than the others. Getting home could be a serious challenge and you don't want to miss out on the next day of skiing.
Some of the bars at the top are actually quite tricky runs, never mind after several pints and shots with your mates, and if you go too hard, you might find yourself having to slide your way down.
8. Don't go crazy on JOSS shots
Or maybe you should. I highly recommend a JOSS shot if you want an extra energy boost. Sometimes you can't find them on the drinks list, but ask behind the bar, and they are guaranteed to serve them. Alpe d' Huez is renowned for a JOSS shot.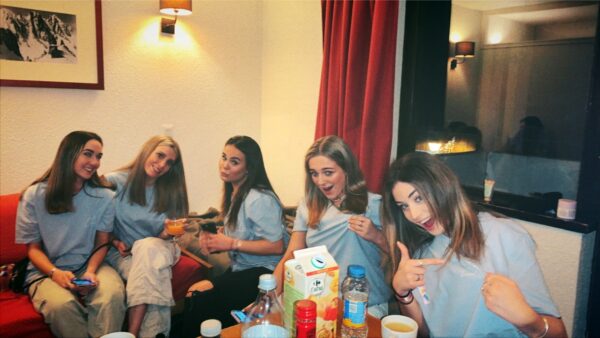 9. Don't waste your money on a flight
Although it's long, the coach journey can actually be pretty fun; just make sure you sit next to someone you can stand. Plus, you wouldn't want to miss the delicious food at the seven seas on the ferry.
10. Don't buy drinks in the club

Last year in Val Thorens, the rooms were within walking distance from the club. A great hack is to pop back into your room when you fancy a drink. Who needs to fork out more when you can get some cheap wine from Carrefour?
Just make sure you have a club stamp to re-enter, and obviously, make sure you execute your mission subtly.
Reccomended articles by this author:
• Things about being a Notts student that would send a Victorian child into a coma
• This is exactly what UoN will do if it catches you using ChatGPT
• Do you take the bins out? 20 signs you're Lenton's worst housemate