Manchester doesn't believe students are withholding rent. So we're getting the screenshots
This list is constantly being updated
Manchester University students are revolting. Fed up with soaring halls rents rising far above inflation. Fed up with mould. Fed up with mice. Rats. Silverfish. It's a top 25 university in the UK, it's just outside the top 50 in the world and yet students begin their experience at this prestigious Russell Group university living in halls where pests are simply described as a "normal feature" of their accommodation.
And so, students are taking it into their own hands. Manchester Rent Strike says 350 students are currently withholding their rent payment due last Thursday, collectively worth £500,000. They are calling on the university to cut rent this year by 30 per cent and commit to freezing rents for the next three years. However, rather than addressing students' demands, the University of Manchester doesn't even believe its own students.
The university wants you to believe Manchester Rent Strike has had zero impact. The university claimed the rate of rent payment last Thursday was the same as any normal year. "Participation figures of the rent campaign quoted by students are not correct", a spokesperson for the university told The Manchester Tab. The university has accused its students of making "guesses" and reduced their research t0 "people filling in an open form online".
Well fear not Nancy Rothwell – we've done the work for you. No guesswork. No filling out online forms. We've asked rent strikers to share screenshots showing they didn't pay their rent last week. In less than 24 hours, 51 rent strikers have shared screenshots of emails sent by the university telling them to pay their overdue rent. We will keep updating this article and adding new screenshots as they come in. If you are on rent strike, get in touch with The Manchester Tab and send us your screenshot via DM to be added.
Dear University of Manchester, here are all your rent striking students:
1.
2.
3.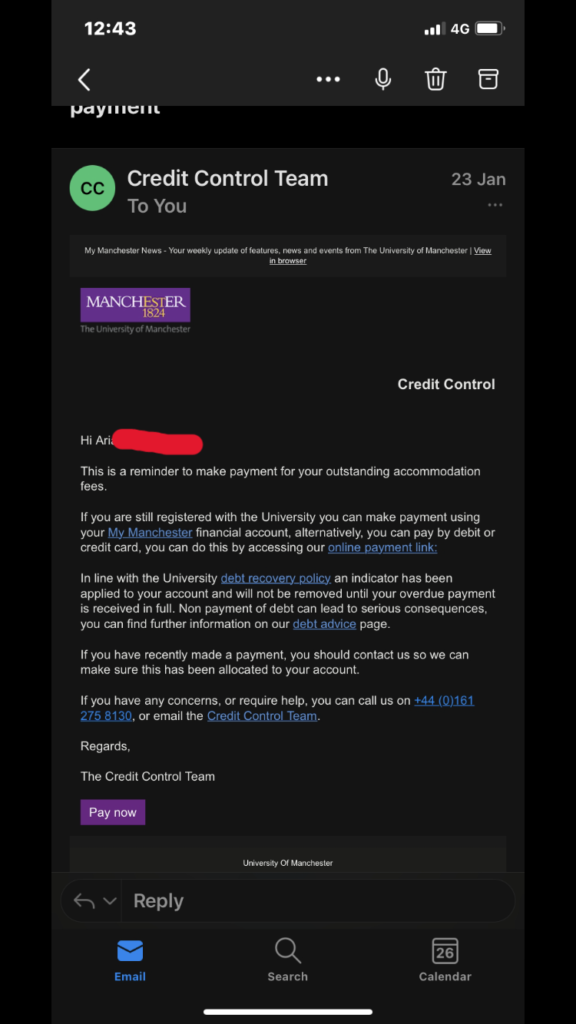 4.

5.

6.

7.

8.

9.

10.

11.

12.

13.

14.

15.

16.

17.

18.

19.

20.

21.

22.

23.

24.

25.

26.

27.

28.

29.

30.

31.

32.

33.

34.

35.

36.

37.

38.

39.

40.

41.

42.

43.

44.

45.

46.

47.

48.

49.

50.

51.

Are you on Rent Strike? This list is constantly being updated. Send a screenshot showing you are withholding your rent via DM to @thetabmanchester. All sources kept anonymous.
Related stories recommended by this writer: