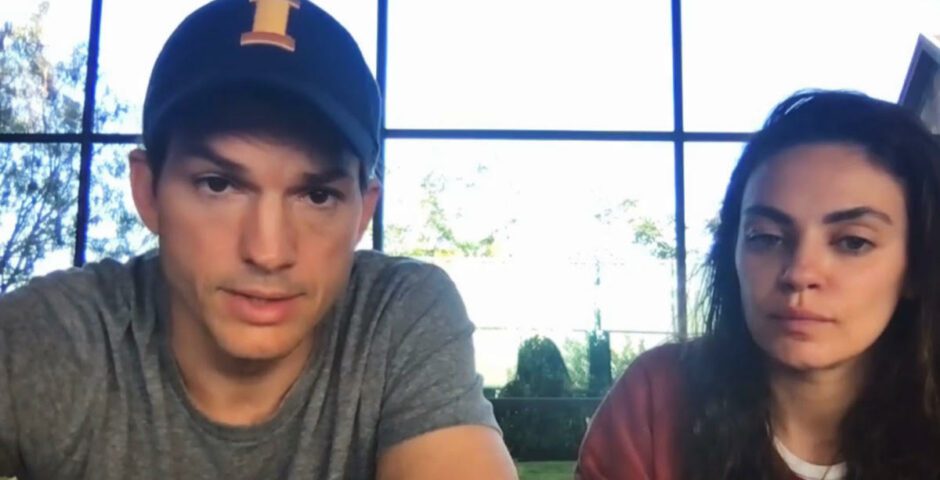 Inside the stupidly lavish house Ashton Kutcher and Mila Kunis did their apology video in
Not them saying it was inspired by Soho Farmhouse
Over the weekend, Mila Kunis and Ashton Kutcher posted a widely criticised apology video from their house after they came under fire for writing letters of support to the judge in favour of a less severe sentence for Danny Masterson, their friend who was convicted to 30 years in prison for rape.
On Twitter / X, @mattxiv pointed out where the video was filmed after confessing to deep diving into an Architectural Digest feature about their massive barn house, which they built from scratch and spoke to the publication about two years ago – alongside opulent pictures of how hefty their home really is. They call it KuKu Farms, and sadly I am not joking about that.
The massive barn house owned by Ashton Kutcher and Mila Kunis also has an entertainment and guesthouse barns, and a freestanding pavilion for a barbecue. "We wanted the house to look like an old barn, something that had been here for decades, that was then converted into a house. But it also had to feel modern and relevant," Ashton Kutcher told AD.
The house looks rustic, but it's also garish and glamorous. The two confessed it was inspired by Soho Farmhouse, the luxury staycation from the Soho House lot. You can definitely see the inspiration from it. Vicky Charles worked on it with the couple, and she used to be global head of design for Soho House. "We were obsessed with Soho Farmhouse and other projects Vicky spearheaded. We loved the way she mixed fabrics, patterns, textures—really her whole aesthetic," Mila Kunis said.
The most wild part of the house is a ginormous 10 foot chandelier that hangs in a reception room / lounge above a massive sofa."We thought it would be funny to have this incredibly opulent thing hanging in a barn. It kind of takes the piss out of the property," Mila says on the chandelier. They also have ridiculous throne style seats in the bathroom – they're going for a clash between the rustic and the opulent.
The house also has a massive pool with those grey rock style sunbeds in it, and some very wooden kids room with bunk beds. Very telling that of all these gorgeous locations in a massive house they're clearly obsessed with they decided to make their somber apology against a dry wooden wall in the corner.
Related stories recommended by this writer:
• Ashton Kutcher and Mila Kunis' backlash is a reminder – 'good friends' can be rapists too
• Right, this is why everyone is furious at Ashton Kutcher and Mila Kunis right now
• Sophie Turner and Joe Jonas relationship timeline, from meeting on Insta to divorce