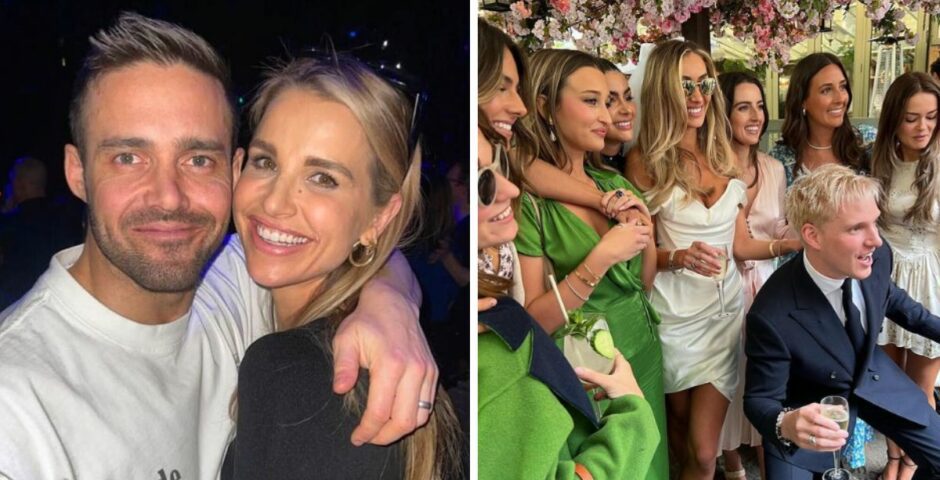 Spencer Matthews claims him and Vogue were not invited to Jamie Laing's wedding
'There's been some serious miscommunication from Jamie'
| UPDATED
Spencer Matthews has claimed that he and his wife, Vogue, were not invited to Jamie Laing and Sophie Habboo's wedding last week.
Spencer and Jamie became the best of friends while on Made in Chelsea together and people were quick to notice Spencer's absence from their legal wedding ceremony at the Chelsea Registry Office.
Spencer has faced criticism from people who have said he "snubbed" Jamie to go on holiday to Portugal but he has since cleared up the confusion.
During the latest episode of the Spencer & Vogue podcast, the couple put the rumours to bed after receiving "really mean messages".
"Sophie looked absolutely magnificent, we were absolutely thrilled for them, but we also did not know it was happening because we were not invited," Spencer explained.
"I'm being absolutely hammed for 'snubbing' my best friend's wedding to go on holiday. I'm not here to b***h about my best friend but there's been some serious miscommunication from him."
"I just want to set the record straight," Spencer continued to say. "I'm not here to whinge. I was not invited to this part of Jamie's wedding, and neither was Vogue."
Jamie and Sophie are having a main wedding celebration in Seville next month, which Spencer and Vogue could be in attendance at.
Jamie had previously insisted hardly anyone was going to the legal wedding and it would be a "tiny" affair and a "very small family thing".
Spencer has said told people that if he had been invited, he would have "flown over to Japan" if Jamie needed him too, but has insisted it is "water under the bridge now".
For all the latest reality TV news and gossip, like The Holy Church of Love Island on Facebook. 
Related stories recommended by this writer:
• Friends to fiancés: A full timeline of Jamie Laing and Sophie Habboo's drama-filled romance
• £4k dress to celeb-filled after party: Inside Jamie and Habbs' ridiculously chic wedding day
• An intense look at the biggest Made in Chelsea glow ups of all time
Featured image credit via Instagram @spencermatthews and @georgiahabboo.