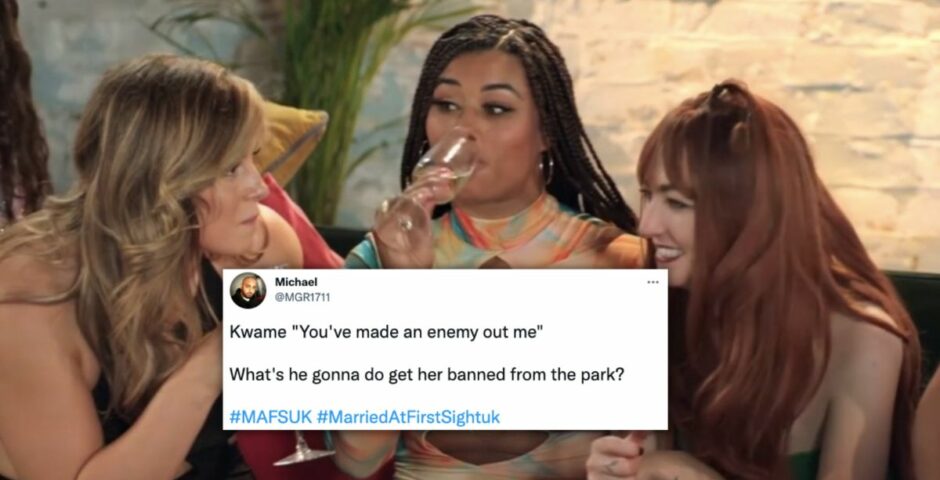 Just 20 memes even more chaotic than the Married at First Sight UK reunion episode
Married at First Sight UK season seven has officially come to an end but the drama has not stopped. The first of two reunion episodes aired on E4 last night and as to be expected, the drama was next to none. With shocking split revelations and arguments, it was a dinner party like no other. While fans were excitedly watching along to see all the chaos ensue, they took their opinions to Twitter and as always they have had everyone in fits of laughter. While you countdown the hours to the final reunion episode of Married at First Sight UK 2022, enjoy these 20 memes:
1. THE POWER COUPLE!
2. The real ones x
3. Looool, you've got to laugh
4. They deserve all the good things in life
5. Hehe oops x
6. No park bench for you x
7. 👀👀👀
8. I love that box so much
9. Nothing but love!
10. My favourite thing about the show tbh
11. A queen!
12. The producers love chaos and I'm so here for it
13. I believe it tbh
14. I see the thought process
15. FACTS
16. Obsessed with Gemma
17. Boy bye x
18. 100 per cent
19. In dire need of retraining
20. LOVE!
For all the latest reality TV news and gossip, like The Holy Church of Love Island on Facebook. 
Related stories recommended by this writer:
• Inside Maeva and James' boujie life: From £6million net worth to their animal print home
• Inside Thomas from MAFS' boujie Liverpool life: Cocktails, photoshoots and Scouse glamour
• Omg guys! Chloe and Toby from Love Island have reportedly broken up
Featured image credit via Channel 4,