This is what all The Umbrella Academy cast are actually like in real life
One of them was in the original Broadway cast of Hamilton
The Umbrella Academy has returned to Netflix with a bang, introducing new characters and even more chaotic storylines than the previous seasons which doesn't seem possible but is true. The actors of the show are all incredibly diverse in terms of age, nationalities and their acting backgrounds but they all come together to create an absolutely flawless cast. Seriously, all the characters were cast so well. But who are the actors outside Umbrella Academy and what are they like in real life when not in character and trying to prevent the apocalypse?
This is absolutely everything you've ever wanted to know about the cast of The Umbrella Academy. From what they're like in real life, their ages and hometowns to where you recognise them from and their social media handles so you can go stalk them all to your heart's content.
This is everything you need to know about what the cast of The Umbrella Academy on Netflix are like in real life
Robert Sheehan – Klaus Hargreaves
Robert Sheehan plays Klaus Hargreaves in Umbrella Academy and is 34 years old in real life. Robert was born in Laois, Ireland but now lives in London. Robert rose to fame in 2009 after starring as Nathan in Misfits which became incredibly popular amongst young people.
He was interested in getting into acting from when he was at school and went on to study film and television at the Galway-Mayo Institute of Technology. However he failed his first year after missing a lot of teaching due to filming a movie so decided to drop out altogether to pursue his acting career.
Robert's character Klaus in The Umbrella Academy is openly gay and Robert has responded to fans speculating about his own sexuality. In an interview with the Independent, he said: "I explored my sexuality, just to see if there were any tinges in a gay or bisexual area, but there wasn't really for me. I gave it a few tries though."
View this post on Instagram
However, Robert clearly does not feel bogged down by gender stereotypes, telling Attitude: "I really prefer how ladies' clothes look on me, to be honest. It's the great secret of retail: guys, get out there and go to the ladies' side of things." In this way he is similar to his eccentric character Klaus who is always pushing boundaries in the show.
Robert is on Instagram as @rozzymikes and currently has 2.9 million followers. He is fairly active on the platform and does post the occasional selfie and photo with friends but he seems to favour sharing content about his up and coming projects, including his newly published book, a collection of short stories called Disappearing Act.
Aidan Gallagher – Number Five
Aidan is the youngest lead cast member in The Umbrella Academy and is currently 18 years old. Aidan is originally from Los Angeles and was home schooled throughout his secondary school career so that he could focus on acting. He is yet to reveal whether he will be attending university.
Aidan is vegan and is heavily involved in environmental activism. Alongside his acting career, Aidan is also a musician and has released six singles that are all available on Spotify.
View this post on Instagram
Aidan's Instagram is @aidanrgallagher and he currently has 7.3 million followers, the most followers out of the whole Umbrella Academy cast; he also uses TikTok @aidangallagherofficial and has 5.2 million followers with his videos averaging one million  views each. Aidan also has a YouTube channel which has three million subscribers where he uploads vlogs, singing videos and interviews with other celebs.
Elliot Page – Viktor Hargreaves
Elliot Page is a 35-year-old trans actor who plays Viktor in The Umbrella Academy. Elliot rose to fame after starring as the titular role in the coming of age movie Juno, alongside Michael Cera. Elliot is originally from Nova Scotia, Canada but he now lives in Los Angeles like many other Hollywood actors.
Elliot came out as transgender in December 2020 and was met which much praise and support from the public and celebrities alike, including Miley Cyrus and Canada's Prime Minister Justin Trudeau. Elliot became the first trans-man to appear on the cover of Time magazine, on his transition he said: "I always felt like a boy. I wanted to be a boy. I would ask my mom if I could be someday."
View this post on Instagram
Elliot has been very vocal about his trans journey and has discussed candidly on social media and in interviews his experience undergoing top surgery. To mirror the journey Elliot was on in real life, the makers of The Umbrella Academy had his charter Viktor also come out as transgender.
Elliot's Instagram is @elliotpage and he currently has 5.9 million followers, Elliot is very active on social media and regularly posts selfies and fit checks.
Tom Hopper – Luther Hargreaves
Tom is 37 years old and plays the hairy, himbo heartthrob Luther in the show, he is the oldest of the lead cast. Tom is originally from Leicester and is the only English actor in the show (represent).
Before The Umbrella Academy, Tom was in the BBC series Merlin before joining the cast of Game of Thrones in season seven as Dickon Tarly.
Tom is married and when he isn't acting, he spends most of his time being a full-time dad to his son and daughter. Tom's Instagram is @tom.hopperhops with 1.7 million followers, where he regularly posts adorable photos of his family.
View this post on Instagram
It seems Tom is quite the culinary genius as his Instagram highlights are full of photos of his cooking and suggested recipes, apparently it's not only influencers who photograph their food before eating it.
Justin H. Min – Ben Hargreaves
Justin plays Ben in The Umbrella Academy and is 33 years old. Justin was born in California to Korean parents and he speaks the language fluently. There must be super-stardom in Justin's blood as his second cousin is also a famous actress, Ashley Park who is known for playing the supporting role of Mindy in Emily in Paris.
Before The Umbrella Academy, Justin went to Cornell University in America where he studied government and English. After graduating he worked as a journalist. Justin has been acting since 2012 and has starred as the titular role in the movie After Yang alongside Colin Farrell.
About his character in The Umbrella Academy and Asian representation in Hollywood, Justin told GQ: "There's a tendency in a lot of the scripts I read to write Asian-American characters who are perfect. They have no flaws.
"It feels like a bit of an overcompensation for all the negative portrayals of Asians on screen. As an actor, that's not interesting. You want to see people you can relate to, and we're all broken. We're all messed up."
View this post on Instagram
Justin's fanbase are known to be pretty hard core and for his birthday in 2021 some fans paid for his face to appear on a large billboard in Korea with the caption happy birthday.
Justin currently has 2.1 million followers on his Instagram @justinmin where he is constantly smiling and exudes nothing but good vibes.
Emmy Raver-Lampman – Allison Hargreaves
Allison is played by 33-year-old Emmy, who is originally from America but has also lived in Czech Republic, Ukraine and India. Emmy's first love is musical theatre, having starred in productions of Hair, Wicked and more recently in the original Broadway production of Hamilton. Through her Hamilton role, she was able to perform at the White House and is apparently on a first name basis with Barack and Michelle Obama, how cool is that?!
Believe it or not, The Umbrella Academy was Emmy's first ever acting role in front of a camera, she told The List: "The fans of the show are so incredible and so loyal and I've truly enjoyed getting to play Allison. I owe so much to her and this part because I'd never set foot in front of a camera before, until day one of Umbrella Academy.
"This is the thing that introduced me to TV and film and made me fall in love with it. I've learned so much and I've grown so much as a person, but also as an actor and I'm so grateful for it."
View this post on Instagram
Emmy's Instagram is @emmyraver where she has 2.1 million followers. She is clearly very interested in fashion as most of her posts are photos of her amazing outfits.
David Castañeda – Diego Hargreaves
David plays Diego in the show and is 32 years old. He was raised in Mexico but now lives in Los Angeles near his fellow cast members Elliot and Aidan. David originally studied to become an engineer and did not get into acting until 2009.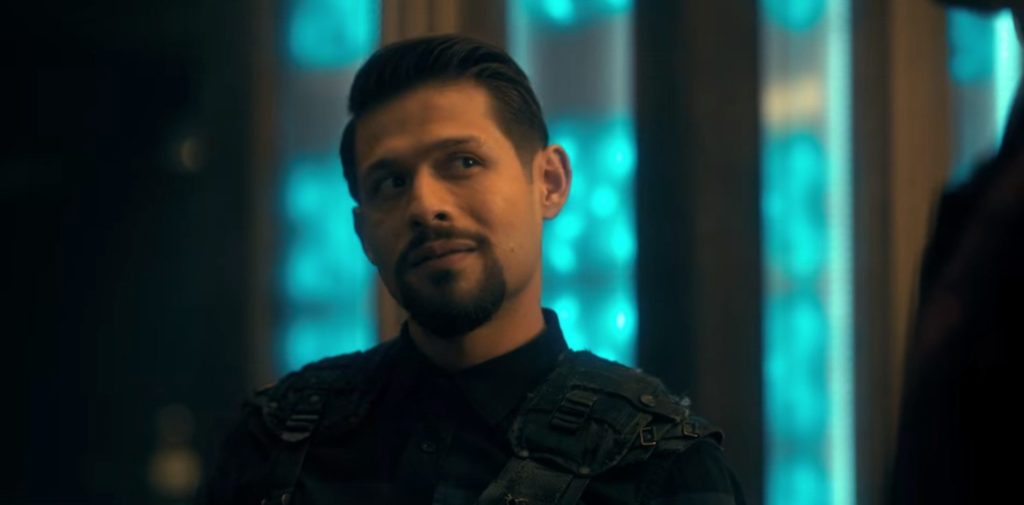 Before The Umbrella Academy, David has done films and TV shows in both English and Spanish. David has 2.3 million followers on Instagram. where he's @castenedawong, and regularly shares behind the scenes photos from the show and pictures of his fellow cast members.
View this post on Instagram
All seasons of The Umbrella Academy are available on Netflix now. For all the latest Netflix news, drops, quizzes and memes like The Holy Church of Netflix on Facebook. 
Related articles recommended by this author:
• Who is Gerard Way? The famous musician who created Netflix's The Umbrella Academy
• The Umbrella Academy love lives: Who are the cast dating in real life?
• Just 26 Umbrella Academy memes while we wait for Netflix to renew it for another season
Featured images via @elliotpage and @justinmin on Instagram.