An indisputable ranking of every Stranger Things character from worst to best
I believe in Steve supremacy
Stranger Things has one of the biggest ensemble casts on television, and one that continues to grow since they have a weird reluctancy to barely kill any characters off despite the gang facing off against massive demons every season. With a cast of characters this big, they're not all going to be amazing. It's safe to say that on Stranger Things, there's some great icons and some that should get abandoned in the black tendrils of the Upside Down. Here's all the main characters from Stranger Things ranked thoroughly from worst to best!
22. Jonathan
One of the blandest characters to ever debut in a Netflix season. Not a crumb of personality, not a morsel of interestingness. Refuse to believe a character played by Winona Ryder could ever birth someone so meh.
21. Argyle
A one note stoner bro joke that's got very old very quickly.
20. Dr Brenner
One of the most thinly drawn villains I've seen in a long time, and I let out the most humongous groan when I realised they were bringing him back for season four. Such a cliche sci-fi trope of a Dr character. Yawn. Matthew Modine is a great actor but I just zone out whenever Brenner comes on the screen.
19. Nancy
Nancy Wheeler is in essence a character I should like. The female detective characters in fiction normally thrill me. But Nancy Wheeler is a font of nothing. I enjoyed her in season one, but as the hair got progressively worse over did the seasons so did her ability to be watchable. Does anyone give an ounce of shit about her relationship with Jonathan? ANYONE?
18. Sam Owens
Another doctory character, but this one's quite nice! And that's… about it. Not much to say here. No one's got Sam Owens posters on their bedroom wall or a Sam Owens action figure, have they? He also helped the Byers move to California when I personally want them in Hawkins because I like when characters are all together – so, for that reason, he's my nemesis.
17. Karen Wheeler
I'm always quite shocked that Cara Buono managed to get main cast status for playing Karen Wheeler, because she's always just kind of… there. But not enough that I ever think of her as a main character? I loved the will they / won't they saga of her and Billy's sexual tension – and it was nice when she ultimately chose not to cheat on her husband with him. And subsequently saved her own life!
16. Mike
Very, very, very annoying. What on EARTH does Eleven see in this pest? Deeply unlikeable.
15. Will
What is it with the Duffer brothers and their insistence to make both Byers boys insufferably dull, may I ask? The *only* interesting thing about Will Byers is that he's heavily implied to be queer, but the show doesn't even have the balls to commit to that and have him come out. At least not yet.
14. Bob
Ow, not our Bob! Only ranked this low because we hardly knew him – but what a good egg! Died a hero, will be remembered as such. A lovely pure soul who didn't deserve his horrific death. The way that if he kept running rather than smiling at Joyce when he slammed the door he probably would have lived? Doesn't bear thinking about.
13. Eddie
Eddie has been such a fun new addition to season four, and has been definitely one of the highlights of the plot this time round. He stands out amongst the cast with his wild nature and I really hope he gets more time to develop as we get volume two of the current season and then onto season five. He's just good vibes!
12. Lucas
Lucas is just a solidly good guy, but not quite fun enough to get into the top 10 ranked Stranger Things characters. I really liked how his character arc went this season, with his internal struggle between wanting to be accepted into the popular fold whilst maintaining his relationship with his long term friends.
11. Robin
Maya Hawke is an icon, and Robin is too. Her and Steve's friendship is a blast – and she's the first openly lesbian character on the show. There's just something so effortlessly watchable about her and I'm glad that after season three she stuck around and became a more embedded part of the Hawkins gang. Her monologue in the asylum when her and Nancy went to try and talk to Victor Creel was one of the best things about season four, honestly.
10. Vecna
I love that with season four, Stranger Things embraced the art of the spoken villain. Vecna is pure 80s horror, with the campiness of a Doctor Who foe. I love that he's a bit of a tragic villain when you finally learn his back story, and he just feels like a real threat in a much more tangible way than the Mindflayer or the mindless animalness of the Demogorgon. Such a great addition to the season that was so fun to watch it made any scenes that were away from the Vecna / Hawkins storyline feel boring in comparison.
9. Dustin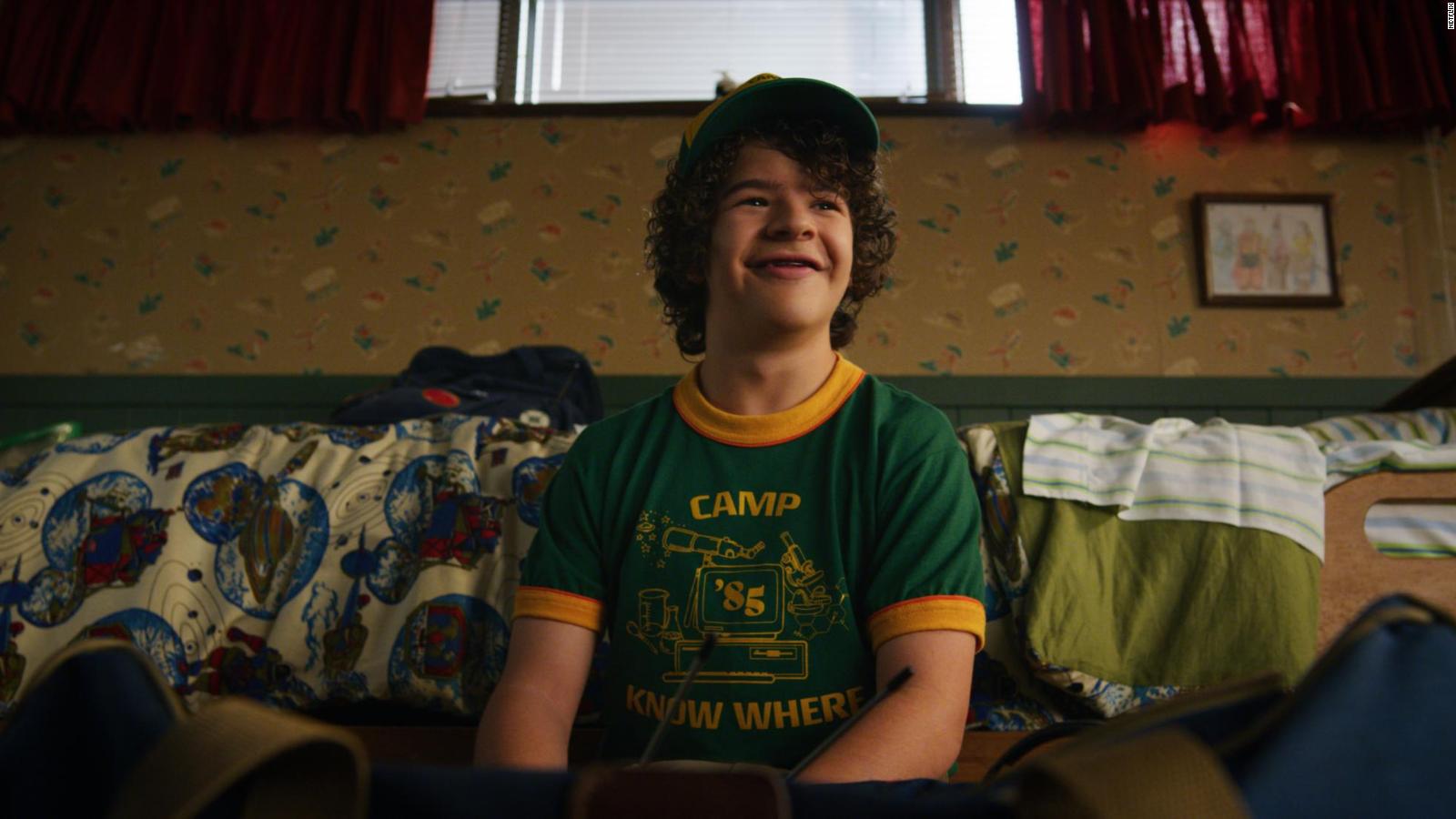 I mean, just look at him. Dustin was always the most likeable and lovable of the D&D squad – he's just a little ray of sunshine. As the character's grown older, he's never lost his charm. The twosome of him and Steve, which just ALWAYS ends up a thing as Steve frequently points out in season four, is a recipe for great telly.
8. Murray
Murray was a character of light comic relief that has slowly evolved into a major ally, and an essential part of whatever antics Joyce and Hopper get up to with the Russians. He's gone from guest laughs to main cast, and although I kind of preferred Murray when he was a character used little and often – he's indispensable to the good fight against the Upside Down and the Russians at this point. I've not got a clue what Joyce and Jim would do without him.
7. Erica
ICON.
6. Billy
Billy is an outstanding villain, because you know there's a good person deep inside. He's a product of his environment, of his mistreatment, and in his final moments he gets to do something heroic. He was great in season two, a real school menace amongst the chaos of the Upside Down – but it's in season three when Dacre Montgomery really shines in the role. What an arc, and although his death was necessary at the battle of Starcourt Mall, he's so missed this season.
And SO sexy.
5. Joyce
Winona Ryder's portrayal of Joyce Byers has honestly made the character one of the greatest mums in fiction. Joyce's hunt and quest to get Will back made the show what it became, and she's a mother to nearly every character on the show at this point. Her warmth, her drive and her tenacity and bravery make her the ideal first entry into the top five Stranger Things characters ranked.
4. Eleven
Eleven IS Stranger Things. She is a cultural phenomenon. The Halloween costumes of 2016 and 2017 were dominated by anyone who had a buzzcut rocking about in a pink frock, a nosebleed and some Eggos. Millie Bobby Brown brings so much depth to the girl who knows nothing but her life as a science experiment, before growing into Jane Hopper – and living her life like it's meant to have always been lived. Albeit with psychokinetic powers.
More than just a character, Eleven is one of the pop culture icons of the last decade.
3. Jim Hopper
David Harbour is just outstanding as Police Chief Jim Hopper. He's a character that's endlessly gruff but filled with so much heart and warmth. The dynamic between him and Eleven as they evolve into a father and daughter relationship is so beautifully done, and he's an action man hero man in a show of teens and mums that delivers brute force when it needs to be dealt. I love Jim. I do think he should have been killed off at the end of season three, but more Hopper is never a bad thing.
Let's hope him and Joyce FINALLY get together.
2. Steve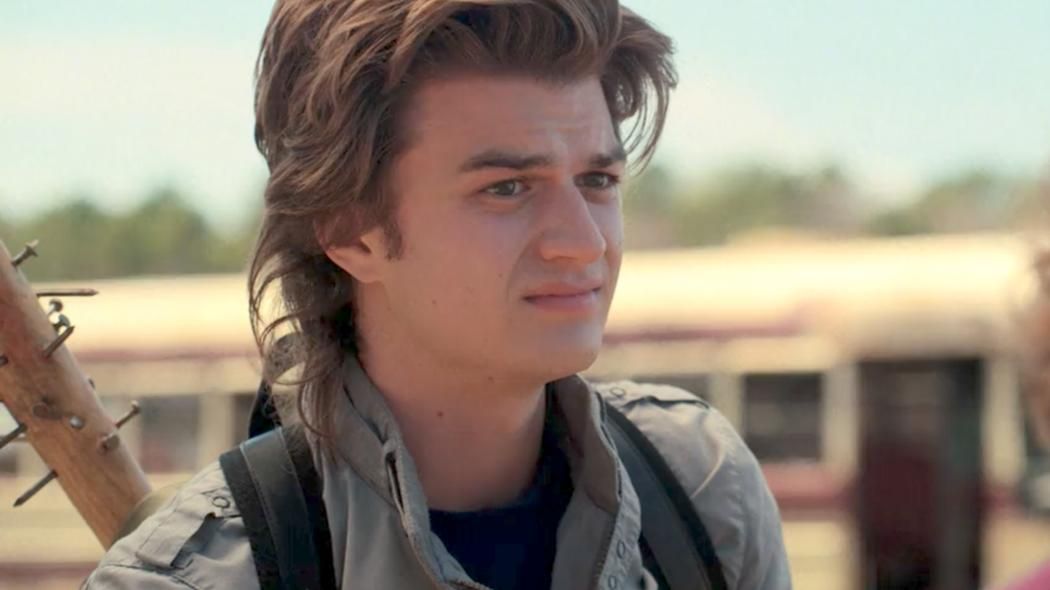 God, Steve. What a bloody guy. Steve having the evolution from pesky bully to reluctant hero to absolutely core member of the gang is a journey for the ages. Every single scene Steve Harrington is in, I'm happy. Ecstatic. In season three, him and Robin just had the best dynamic and now, in season four, he's the best of all the male characters in Stranger Things ranked here. I love a redemption arc so much, and Steve's is just perfect. And he's SO fit.
1. Max
Sadie Sink is the best actress on Stranger Things, and it's just a bonus that Max is also the best of all the characters ranked here. Max has evolved from a newcomer you can't take your eyes off, to a character showing Eleven the power of female friendship, to a girl going through the worst kind of trauma who then has to fight for her life to the tune of Running Up That Hill by Kate Bush. It's been a journey. Whenever Max is on screen, the show is at its very best.
Sadie Sink is a superstar, and her portrayal of Max has made the world see that.
Stranger Things is available on Netflix now. For all the latest Netflix news, drops, quizzes and memes like The Holy Church of Netflix on Facebook. 
Related stories recommended by this writer:
• Wait, who actually plays young Eleven in Stranger Things and is it Millie Bobby Brown?
• Quiz: Tell us your order at the Binley Mega Chippy and find out your degree result
• A rundown of all the new faces in Stranger Things season four