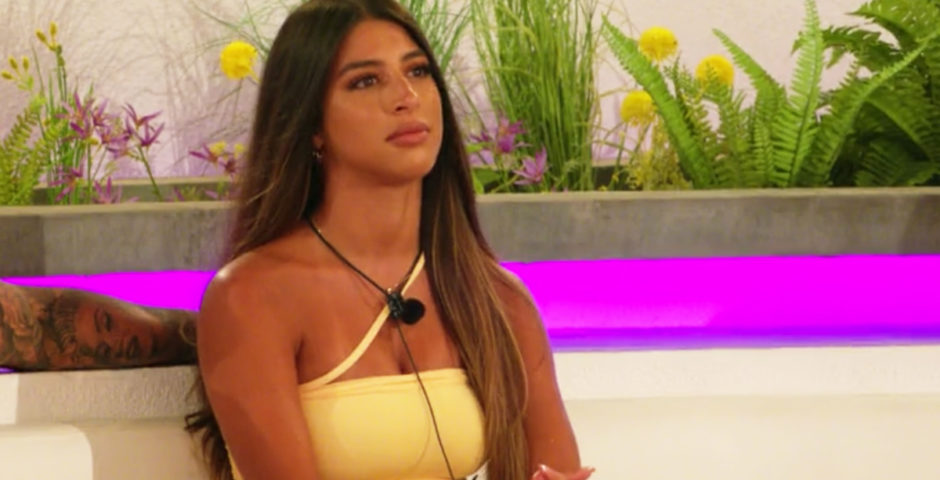 Shannon says she's 'gutted' about leaving and her group chat is called 'three episodes'
She described talking to Aaron as 'like getting blood out of a stone' 😬
Last night saw the shock exit of Shannon Singh from the Love Island 2021 villa. After Chloe came in and coupled up with her man Aaron, Shannon was left single and received a brutal text saying she had been dumped. This was the earliest dumping in Love Island history.
But, it doesn't sound like Shannon is too bitter about her dream summer being cut epically short, as she told ITV in her Love Island exit interview. She said that she was "pleasantly surprised" by the villa and found it "beautiful", adding she had gone in with the hope of meeting someone and having "the summer of a lifetime". She then said that her group chat at home is going to be called "three episodes".
Here's everything she had to say about her time, albeit short, in the villa.
She says the first coupling was 'interesting'
ITV asked her how she found the first coupling up ceremony, and Shannon described the experience as "interesting". "I said I didn't want anyone cocky and arrogant, but for them to make a kind of statement, they almost need to come down and be a bit like that," she said. "I found the coupling up interesting. I wanted someone to walk through that I thought, 'Here we go, I've got a good shot at this' but I didn't find that. I was glad that I had Aaron out of everyone. I was just gutted I didn't find that first physical attraction with someone."
Despite her not picking him, she 'rated' Aaron for stepping up and picking her but talking to him was 'like getting blood out of a stone'
In the first coupling, Shannon didn't step forward for Aaron, but he still went ahead and chose her. They then didn't really have a connection, and Chloe liking him became the reason Shannon was dumped. But she doesn't seem bitter over it all, saying she still "rated" Aaron for going with it and making that decision.
"The minute he walked through that door, his eyes did not get off me," she said. "I could feel it. We had a few chats and it was a bit like trying to get blood out of a stone with him. He's a really, really nice guy but he's just a bit too laid back for me. A lot of the girls were like, 'You're not giving it time'. But he agreed with me later, which was a good thing. I think when you meet someone there's got to be a little bit of a physical… something to get you excited."
Ok, so what was her opinion on the arrival of Chloe?
When asked about Chloe entering the villa, Shannon said: "We didn't even really know the boys and they were away already [on a date with her]. I think a lot of the girls were worried and I wasn't. I was honestly just like, 'Whatever'. She kept saying [Aaron] is really attractive. Which he is. Really easy on the eye. I think all the guys are good looking. I just think they were all too pretty for me."
When asked how she felt when they were gathered around the fire pit, she added: "I knew they were going to throw something in there, they always do. I knew it was going to be like she [Chloe] was going to take one of the guys. I just can't believe I forgot there were dumpings. I think all of us forgot there were dumpings. None of us really spoke about it. When I read it out Liberty was almost crying, she was like, 'What?' I did get a little bit emotional and then I eased up."
Shannon says she is 'gutted' about leaving the Love Island villa
When asked how she feels, Shannon quite simply said she is "a bit gutted". "Do you know what, out of all the girls, I think it is fair it's me because I didn't have any emotional attachments to the guys, but all the girls had tiny little things [going on], " she said.
She summed her time up as "very short lived" but added that the experience was "surreal" and she is "very grateful" for the opportunity. "I'm not coming away fuming from it, I'm coming away grateful," she said.
Now she's left Love Island, Shannon is heading on a girls' holiday
When asked what's next for her, Shannon said that she's most excited to see her family. She then said she wants to "keep doing me" and added: "I want to get back on my streaming. I think go on holiday with the girls and then suss out what I want to do. I think I'm going to have to spend a good couple of months sussing out what I want to do."
'Jake and Liberty will stand the test of time'
Shannon concluded her Love Island exit interview by saying her predictions are that Jake and Liberty will "stand the test of time". "I think Aaron and Sharon could have a little spark, I don't really know yet. The rest of them, I think it's going to change. I don't think it's going to be Faye and Brad as a couple until the end. I think people are going to come in and their heads are going to be turned, " she said.
Love Island 2021 continues on ITV2 at 9pm tonight. For all the latest Love Island news and gossip and for the best memes and quizzes, like The Holy Church of Love Island on Facebook. 
Related stories recommended by this writer:
• Enter the chat Chuggs: Love Island bombshell who owns a bucket hat business
• This is what all the Love Island 2021 cast did for jobs, before they entered the villa
• This is where all the Love Island 2021 cast went to university