Rinsing the government's LinkedIn profiles, based on how beggy they are
Deeply disappointed Matt Hancock wasn't pretending to cry in his profile picture
The worst of all social networks, LinkedIn is a place to flaunt your minor achievements, whether it's a gold D of E award, being cast as something other than tree number four in the Nativity, or having come up with some deep thoughts on synergy and vertical integration.
But what happens when you've made it to the very top of the tree, trading endorsements and connections until you find yourself sitting in cabinet as a government minister? What would your LinkedIn look like then?
They're traditionally the party of small business, but just how committed is this Conservative government to hustle culture? We had a dive to see just how beggy the profiles of the cabinet really are.
Boris Johnson – Prime Minister
A simple bio from Boris Johnson, although what has he really got to brag about at the moment?
It's a bit disappointing that the Prime Minister didn't see fit to include his Telegraph columns or his Have I Got News For You appearances. This pattern is one you'll see repeated.
Rishi Sunak – Chancellor of the Exchequer
You'd expect nothing less than impeccable, glossy personal branding from Rishi. Employment-focused messaging, no doubt relentlessly focus-grouped. A good headshot.
His personal bio is pure #hustle. None of that bone-dry achievement listing – this is the barebones of a Hollywood script.

And while his employment history is light on the ground, there's a good shoutout for the Saints.
You can also sign up to his newsletter, because that email list for the leadership bid isn't going to build itself.
Matt Hancock – Secretary of State for Health and Social Care
Incredibly disappointed that the profile picture isn't him fake crying on Good Morning Britain, but what can you do? The fact he's the only minister so far to use the "STAY HOME PROTECT THE NHS SAVE LIVES" branding suggests it's a personal choice.
He's got a strong bio, including the massive flex that he has degrees from Oxford and Cambridge.
Really rate the single recommendation, though.
Michael Gove – Minister for the Cabinet Office
Come on Michael, put some effort in.
Liz Truss – Secretary of State for International Trade
Very "I am the last remaining contestant on the Apprentice" vibes from Liz Truss' LinkedIn, which fits with her general vibe. The bio, however, is a bit of a buzzkill.
Grant Shapps – Secretary of State for Transport
You simply have to respect Grant Shapps putting his profile picture as a screengrab from a press conference. It's the only way he can trigger some repetition – inspiring memories of those heady days when he had to come out and bat for Dominic Cummings.
Plenty of endorsements for leadership, but it's unclear how much water they'd carry in an eventual Tory leadership contest.
Robert Buckland – Secretary of State for Justice
We're getting onto the deep cuts of the cabinet now, but there are some gems to be found. Lord Chancellor Robert Buckland has possibly the whitest cover photo and the most detailed bio ever seen on the platform.
I mean come on mate.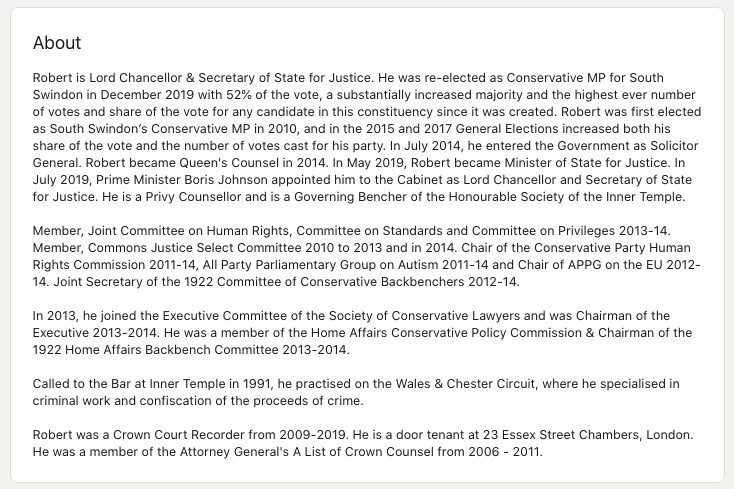 He's also the first one so far to put his uni on there – right down to being secretary of his college JCR for a term.
Robert Jenrick – Secretary of State for Housing, Communities and Local Government
Next up is Robert Jenrick, who is testament to the fact that only minor players in the cabinet need to put their non-government roles on here.
While Rishi Sunak can get away with just having "Chancellor" in his experience section, you need to really optimise your profile if you're at risk in the next reshuffle.
Brandon Lewis – Secretary of State for Northern Ireland
There's something about the way Brandon Lewis leans into the camera that makes it seem like he's about to drop the hottest dad joke of 2001.
Again, well done for keeping your uni on here.
But there's just something really tragic about the 99+ endorsements for politics. It's hard to shake the impression that he really needed to prove something.
Oliver Dowden – Secretary of State for Digital, Culture, Media and Sport
Oliver Dowden, the Secretary of State for Digital, Culture, Media and Sport, really wants you to know he's Secretary of State for Digital, Culture, Media and Sport.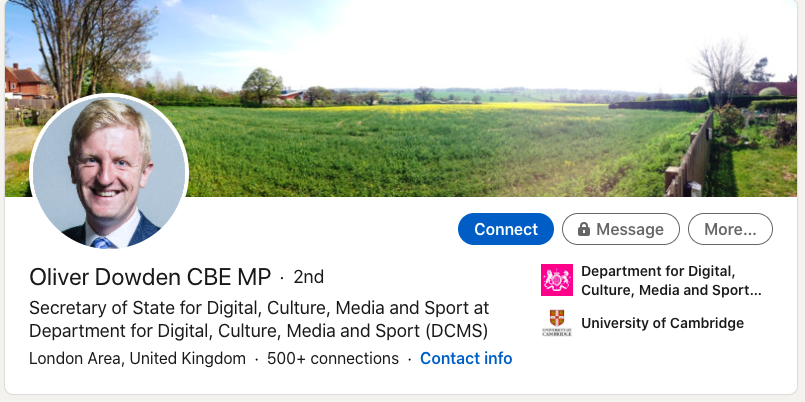 Like, really wants you to know he is Secretary of State for Digital, Culture, Media and Sport.
Amanda Milling – Minister without Portfolio
Minster without Portfolio, but not minister without profile, Amanda Milling hasn't bothered to update her LinkedIn since she got elected to the Commons.
Once again, if you're not holding a great office of state, you have to put your uni in your profile. Those are the rules.
Related stories recommended by this writer:
• Government announces 'new student Covid hardship funding' – of just £20 per student
• MPs say students should have their rent refunded by the government during lockdown
• Boris Johnson hasn't mentioned university students in any of his Covid addresses to the nation