These reactions to Emily In Paris on Netflix prove it's a car crash of a show
'Emily In Paris comes off as utterly tone deaf and offensive'
Netflix has just released a new comedy series, Emily In Paris, and the reactions to it are – shall we say, mixed?
The series is all about Emily (played by Lily Collins), a social media manager from Chicago who lands a job with a luxury goods marketing agency in Paris. When her boss is unable to transfer to Paris, the company they work for decides to send Emily, despite her lack of French knowledge, and she takes it upon herself to school her French colleagues in the ways of Instagram and her opinions of the modern world.
Yes, every critic that exists seems to have said that the show lives up to all the cliches and is borderline offensive, but viewers still seem to be obsessed with the easy viewing, trashy TV. Here's what everyone has been saying about the show.
For a start, the reviews of Emily In Paris are pretty damning
So, the series has been completely torn to shreds by critics. Mostly because it's said to live up to every cliche and stereotype there is about France. The Hollywood Reporter said main character Emily has "proud cultural ignorance". Whilst a review for The Guardian called it "an exorcism of all of the French cliches the writers could think of" adding: "You name a stereotype, and within the first three episodes, Emily has not only encountered it, but tried to rectify it, to adjust it to the American way."
On a TV reviewing site, critics called it: "Embarrassing series, completely wrong image of Paris. It's ridiculous, badly acted. As if Paris was all about fashion, romance, and croissants. No." Another wrote: "A series that could have been great if it hadn't caricatured the French. In this series, the French are described as arrogant, dirty, lazy, mean, bitter. But luckily this young American arrives to explain to us how life works. It's just deplorable, I wonder why French actors agreed to star in this series."
The Independent quite savagely wrote a list of people who will hate the show, including "anyone who has eaten a croissant".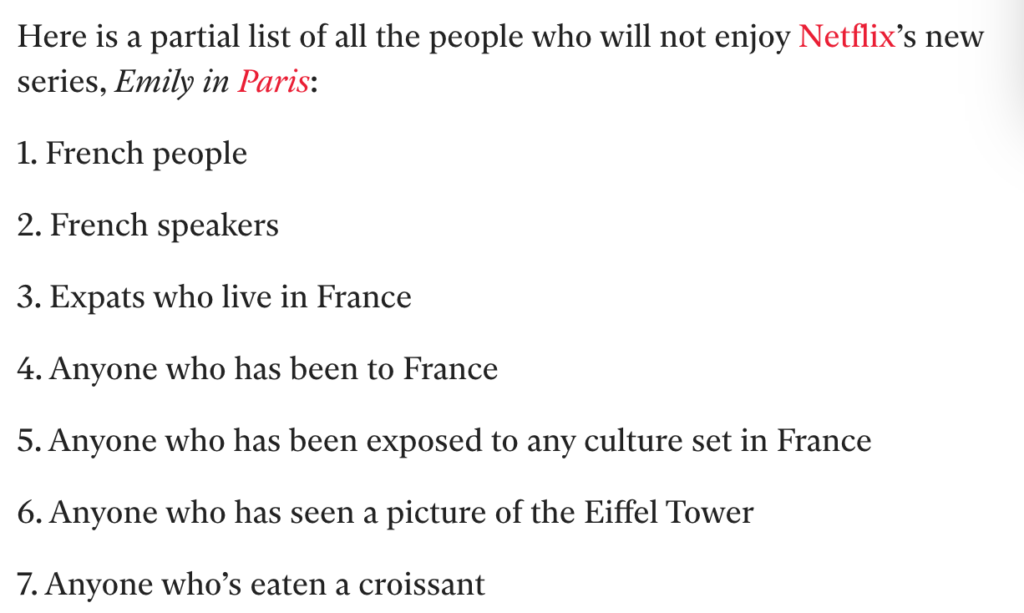 The review rated the series one star, said it is "dire" and said we should probably just leave Emily there, in Paris. Fair.
Twitter reactions to Emily In Paris aren't much better either, but we love trash after all
Ok, so most of Twitter is saying they're "addicted" to Emily In Paris, loved it and are obsessing over her outfits and needing a second season. But the show is also being slated, like a lot. People are saying it's "completely unconvincing", "tone deaf and offensive", it romanticises cheating and considering the show is about fashion, Emily dresses really… badly? Yikes.
Emily In Paris is available on Netflix now. For all the latest Netflix news, drops and memes like The Holy Church of Netflix on Facebook. 
Related stories recommended by this writer:
• Emily In Paris creator already has *a lot* of ideas for season two
• The 13 best new scary films and series on Netflix this spooky season
• These 29 memes about Ratched on Netflix are even better than the outfits