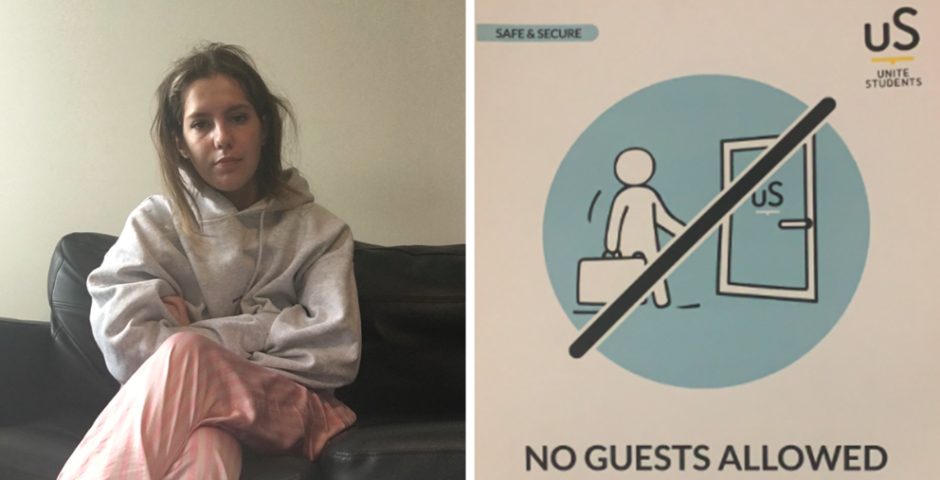 Students in Unite halls aren't being told about Covid outbreaks in their buildings
They're having to find out about cases through group chats instead
Students in privately-run Unite halls aren't being told about Covid outbreaks in their buildings.
Three students in different halls across the country told The Tab they were instead finding out through group chats they'd made themselves.
The lack of communication has left the students, studying in Leeds and Newcastle, feeling frustrated and anxious.
Through group chats, students in Broadcasting Tower, Leeds, have found out about 22 cases in their building. Jasmine McNamara, who has tested positive herself, said: "If you have tested positive or are self isolating you are asked to fill out a form on the Leeds Beckett page to inform the uni, and are also expected to tell the reception desk of your building. So they are 100 per cent aware of how many people have it, but don't share the information with us."
The frustration from not hearing about other cases has led Jasmine to delay reporting her own case to the accommodation – although she is self-isolating.
Unite is the country's largest private halls provider, renting out over 74,000 rooms to students across the country.
Five flats in Emilie's Newcastle halls have tested positive and are self-isolating, she says. Again, she only found out through group chats for the Manor Bank halls – or via Snapchat. Frustrated at the lack of communication, she says: "I still haven't heard anything, but they closed reception for safety and we have to email if we expect a delivery because there's no one to collect it."
One tenant in The Tannery, Leeds, says Unite emailed to tell her about one of her flatmates testing positive, but not cases in the rest of the building. "I only knew because of our group chat for the accommodation," Lucy, a film fresher at Leeds, told The Tab.
"The only time I heard from them was an email to say that a girl in my flat had tested positive, which obviously I already knew. It would have been nice to know as soon as people in the building had it so more people would get tested asap and stop going out."
Unite told The Tab it does not disclose infection numbers, and informs people only when their flatmates have tested positive. A spokesperson told The Tab: "Our policy is that students should inform us if they have tested positive for Covid-19 or if they are self-isolating using our MyUnite app. Flatmates are notified of positive cases in their immediate household, as per Government guidance. It is an individual's responsibility to inform their university.
"We are working closely with our university partners, local councils and Public Health England to provide the best support possible to students, as well as to our staff, at this challenging time."
If you're having an issue with halls or accommodation in the pandemic, tell us your story by emailing [email protected]
Related stories recommended by this writer:
• This is what it's like being one of the thousands of students locked down in halls right now
• '9k 4 What?': Here are all the signs put up by students under forced lockdown in halls
• Leeds Beckett insist halls fire exit locked with cable ties is 'not a fire exit'