Here are all the real life filming locations of Enola Holmes, Netflix's Sherlock film
Tewkesbury's house was in a Jonas Brothers music vid!
Enola Holmes has just dropped on Netflix, and it's gone straight to the number one spot on their top 10 list. Filming for Enola Holmes took place at locations all across the UK, including London and various countryside stately homes.
In the Netflix film, Millie Bobby Brown plays Sherlock Holmes' younger sister, Enola. It shows Enola following in her brother's footsteps to get to the bottom of not one but two mysteries. The film also features a whole load of other famous people, who you definitely recognise.
Warning: Some spoilers for Enola Holmes ahead
Here are all the real life filming locations for Enola Holmes on Netflix:
The Holmes' house
For the exterior shots of Ferndell Hall, the Holmes family estate, Benthall Hall in Shropshire was used.
From shots on Google Maps, below, you can see Benthall Hall is usually a lot less overgrown than it is when used as a filming location for Enola Homes. Production designer Michael Carlin said: "The gardeners and the people taking care of the house at Benthall were brilliant in allowing the gardens to get really overgrown and letting us drape overgrown vines all over the exterior."
Filming for the interior of Enola Holmes' house was in West Horsley Place, in East Sussex. This was used for Enola's and her mother's bedrooms, the library, the kitchen, the orchard and more.
The production team were able to spend "weeks" in the house, brining Enola's home to life. Apparently West Horsley Place has 50 bedrooms and is from the 15th century – it's even been visited by Henry VIII.
London streets
The streets when Enola first arrives in London were filmed at the Royal Naval College in Greenwich, where the production team built a "massive set".
Enola Holmes' production designer said: "We needed to create a real culture shock for her entering the city for the first time so we built a massive set in Greenwich with a lot of shop facades and gritty streets, hundreds of extras, 30 horses and dozens of vehicles from horse drawn carriages to carts to two-story omni buses with plenty of farmyard animals wondering about."
It's also been used in films like Les Miserables and The King's Speech.
London's East End
In the film, Enola goes to London's East End to look for her mother, where she fights Linthorn, who is trying to find and assassinate Tewkesbury. For these scenes, a set was created in outbuildings at country estate Luton Hoo.
The Basilweather's house
Basilweather House is the home of Viscount Tewkesbury, his mother, uncle and grandmother. The filming location for this in Enola Holmes is Hatfield House, a country home in Hertfordshire.
Hatfield House was also in the film The Favourite, and the Jonas Brothers' Sucker music video.
Train stations
At the start of the film, Enola meets her brothers Sherlock and Mycroft at a train station. This is filmed at Arley Railway Station, in Worcestershire.
When Enola escapes to London, she goes to a different train station. This is filmed at Kidderminster Town Railway Station.
Meeting place at the end
At the end of the film, Mycroft and Sherlock put an advert in the paper and wait for Enola to come to try and find her mother. This is filmed in Drum Court, a circular garden within The Treasury Building in Westminster, London.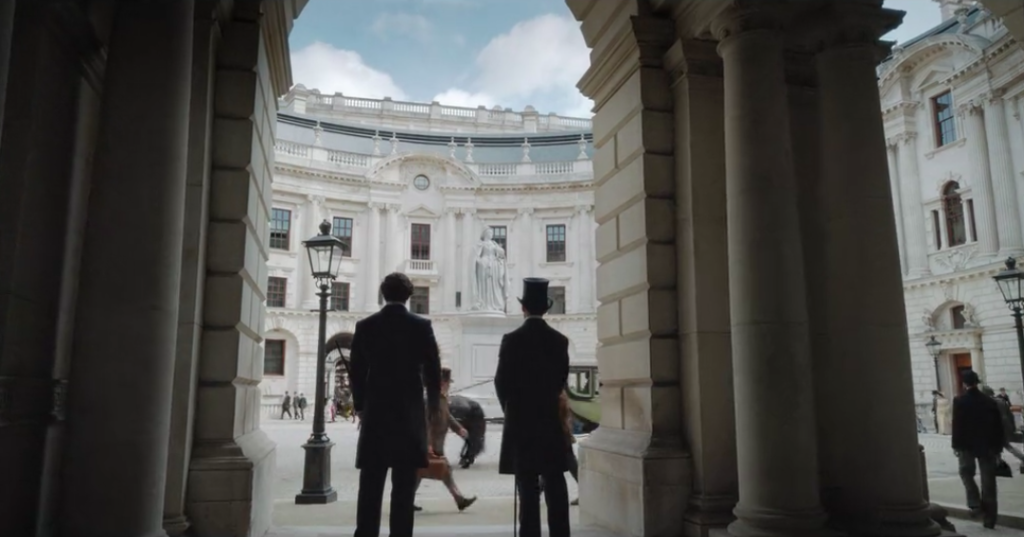 Related stories recommended by this writer:
•
• Enola Homes ending explained: What did that final line actually mean?
• Okay, but can we talk real quick about how great the outfits are in The Duchess?